Shinjita Das, MD, encourages patients with psoriasis to enjoy their lives, even if they are self-conscious about the red, scaly patches that the disease can cause on their skin.
"Skin diseases can be very debilitating. You can't hide them."
Psoriasis is not contagious, says Dr. Das, a Massachusetts General Hospital dermatologist. But she understands how difficult it can be to walk out the door with a noticeable rash. "Our skin is how we present to the world," Dr. Das says. "That's why skin diseases can be very debilitating. You can't hide them."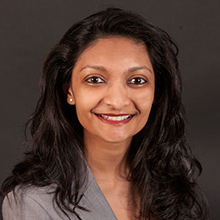 There is no cure for psoriasis, a common skin condition that affects up to 3 percent of the U.S. population. The disease typically begins during the teen years and is thought to be connected to a person's genes, with higher prevalence among Caucasians. Sometimes a strep infection, such as one in the throat, can be a trigger. Psoriasis is also associated with health conditions such as arthritis, high blood pressure, diabetes and depression.
The skin disease is the result of the body overreacting to a trigger, which causes cells to build on the surface, Dr. Das explains. Most types of psoriasis produce red patches with thick, silvery scales sometimes called "plaques." There are several variations.
Everyday Skin Care:
Shower with lukewarm water and use a fragrance-free bar soap.
Pat dry with a towel. Do not rub your skin.
Then, immediately apply prescription topical medications. Follow that with a fragrance-free moisturizer. When the skin is clear, just apply moisturizer.
Helpful Psoriasis Treatments
Because the disease course is unpredictable, it can be stressful for patients. And flare-ups can be serious, causing patients to miss school or work. When plaques build on the feet, patients may not be able to walk without pain. When they form on the hands, patients may not be able to prepare food or take care of themselves.
Even though the cause of psoriasis is unknown, researchers have found that stress, skin injuries such as cuts, as well as certain medications can start a flare-up. Patients also tend to have more flare-ups in the winter when the air is dry and there is less sunlight.
The good news is that the skin disease is not always painful and not usually itchy. Some patients can go long periods without a flare-up. Dr. Das helps patients manage psoriasis with daily skin care routines, prescription creams, medications and light therapy treatments, where a patient is given doses of light from a machine at the hospital.
Treatments:
Topical steroids and non-steroidal creams, foams, lotions and gels
Ultraviolet light and laser treatments, natural sunlight
Oral medications
Injectable medications
Having a Game Plan
Sometimes even a little time in natural sunlight can help, says Dr. Das. She advises that, when trying to manage the disease with sunlight, patients protect their skin with sun block if they plan to be outside for more than 15 minutes a day.
Her goal is to give her patients a game plan so they know what to do when they see signs that the plaques are coming back. "A lot of patients suffer alone and they don't have to," Dr. Das says. "Psoriasis can be well-managed by a dermatologist."
Philanthropy can help researchers gain a better understanding of skin diseases, explore new therapies for complex skin conditions and support the development of related research careers.
To support the work of Dr. Das and her colleagues in the Department of Dermatology, please contact us.