You are using an unsupported browser. Please use the latest version of Chrome, Firefox, Safari or Edge.
Massachusetts General Hospital has taken on medicine's biggest challenges, from advancing care for diseases like cancer to fighting novel infections like COVID-19, since our founding in 1811.
The MGH Fund empowers us to make further progress to improve patients' lives, strengthen communities and create a healthier world.
The MGH Fund by the numbers
The MGH Fund is the hospital's main source of flexible funding, used at the discretion of the hospital president. It supports the areas of greatest need across the hospital not only during times of crisis, but also for the long term.
Gifts made to the MGH Fund in FY20
Given to the MGH Fund since 2010
Supported the most recent My Giving Helps: The MGH Fund + United Way employee campaign
Where donations to the MGH Fund have originated, in addition to all 50 U.S. states and Puerto Rico
Our Vision
The MGH Fund allows the hospital to respond when a need or opportunity arises, whether it's combating a public health emergency, supporting an innovative patient support program or funding a researcher's promising scientific lead.
One gift to the MGH Fund has infinite possibilities. Your generosity could help us to: 
Apply new approaches in prevention and detection to catch illness before it progresses.
Reimagine the patient experience using the latest technology.
Build state-of-the-art facilities that expand clinical operations.
Make discoveries that change the face of medicine.
Create a modern education hub for Mass General providers and staff.
Set global standards for health care safety and quality.
Expand our reach to more people of color and highly vulnerable communities.
Continue investing in community care across New England.
The MGH Fund empowers us to make further progress to improve patients' lives, strengthen communities and create a healthier world. This support touches every aspect of our mission:
Transforming Patient Care
Whether treating individuals for a rare condition or a common health issue, Mass General provides top-quality care to everyone who walks through our doors. This commitment was demonstrated during the COVID-19 crisis, when we mobilized quickly to care for more patients with the disease than any other hospital in the region. The MGH Fund fuels important patient care initiatives, from our community health centers in underserved communities to our Home Base Program, which serves enlisted veterans, service members and families. 
Breaking New Ground in Medical Research
Mass General has a long tradition of making discoveries that push medicine forward. We know that truly revolutionary discoveries often come from the most outside-the-box ideas. But this kind of "risky" research is routinely neglected by traditional institutional funders, making philanthropic support essential to turning innovative ideas into reality. The MGH Fund helps our experts develop treatments, techniques and technologies that impact lives around the world. 
Advancing Medical Education
From our roots as the original teaching hospital of Harvard Medical School to our current position as the top-ranked postgraduate residency training program in the nation for medical students, Mass General has always been dedicated to educating the next generation of trailblazers — and we always will be. But health care never stops changing, so providers should never stop learning. The MGH Fund enables investments that keep our doctors, nurses and staff at the forefront of their respective fields. 
Building Healthier Communities
Since our founding, Mass General has been deeply committed to caring for under-resourced communities close to campus and across the globe, addressing some of the most complex health care concerns facing our patients worldwide. The MGH Fund allows us to look beyond purely clinical factors and confront social determinants that impact our patients' health, including income, geography and education. It also helps us lead systemic change to advance health care equity and find solutions for a host of public health challenges, such as obesity, substance use and youth mental health. 
Did you know ...
Gifts to the MGH Fund are not used to fill gaps in the hospital's budget. Rather, these gifts ensure Mass General continues to make a difference in all aspects of its mission, which spans patient care, research, education and community health.
Featured Story
In Good Hands: A Patient's Perspective
A Mass General patient for more than 50 years, Nathalie Binney shows her gratitude through her philanthropy.
Read more
Amplify Your Impact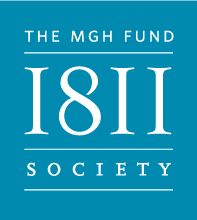 The 1811 Society
The 1811 Society recognizes donors who make an annual leadership gift of $1,000 or more to the MGH Fund. The society celebrates the longstanding tradition of philanthropy at Mass General while supporting our hospital as we push new boundaries in our third century of medicine.