With your support, we can provide the best possible care to every patient who needs it.
Support Mass General
Your tax-deductible gift to Mass General will help fund programs that give patients access to the latest advanced technologies, clinical trials and promising treatments. There are a variety of ways to make a gift:
Start Your Fundraiser for Mass General
Join Mass General's fundraising community. Working together we can do great things and raise support and awareness for Mass General.
We've put together a guide full of tips and resources to help you through every step of planning a successful fundraiser. Questions about getting started? We're here to help, contact us today!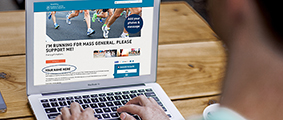 Explore Opportunities for Giving
Have an immediate impact on the lives of patients and ensure a healthy future for everyone we take care of at home and abroad. Explore areas of need below. Can't find what you're looking for? Please contact us to discuss additional opportunities.
Get In Touch
Want to learn more about the impact you can make by giving to Mass General?
The Development Office is here to help. Contact us here or connect with us on social media, using the buttons on the right. We look forward to hearing from you!
One Gift, Infinite Possibilities
The MGH Fund supports the hospital's most exciting and innovative projects. Donations sustain up-and-coming research, innovative technologies and state-of-the-art clinical centers.  The fund helps launch innovative global health programs in places where they are needed most.
Corporate Philanthropy Supports Diverse Areas at Mass General
Since 1811, Mass General has provided care to those in need while conducting groundbreaking research. Your business can play a vital role in supporting our hospital's patients today and for generations to come. Companies' support has come in the form of outright gifts, buying tables at fundraising dinners, volunteer leadership on hospital advisory councils and in-kind donations.