You are using an unsupported browser. Please use the latest version of Chrome, Firefox, Safari or Edge.
Million Dollar Match. Act Now.
Don't wait! Make your tax-deductible contribution to the MGH Fund, and double the impact of your support, before the December 31st deadline.
Mass General is pushing the boundaries of community care.
Since its inception, Massachusetts General Hospital has been deeply committed to caring for communities. In fact, it's written into our founding documents: "When in distress, every man becomes our neighbor."
This clarion call is more than a poetic phrase; it's also a smart strategy for solving the world's most pressing health care challenges. Time and again, investments in community care and in global and public health have yielded insight that allows Mass General to address complex issues facing our communities, including communities of color and other underrepresented and marginalized populations.
We're living in an era of troubling inequity, where far too many people in the United States and around the world lack access to health care. Mass General is striving to erase this and many other disparities so that every person has the opportunity to live a healthy life, regardless of race, ethnicity, education level, sexual orientation or income.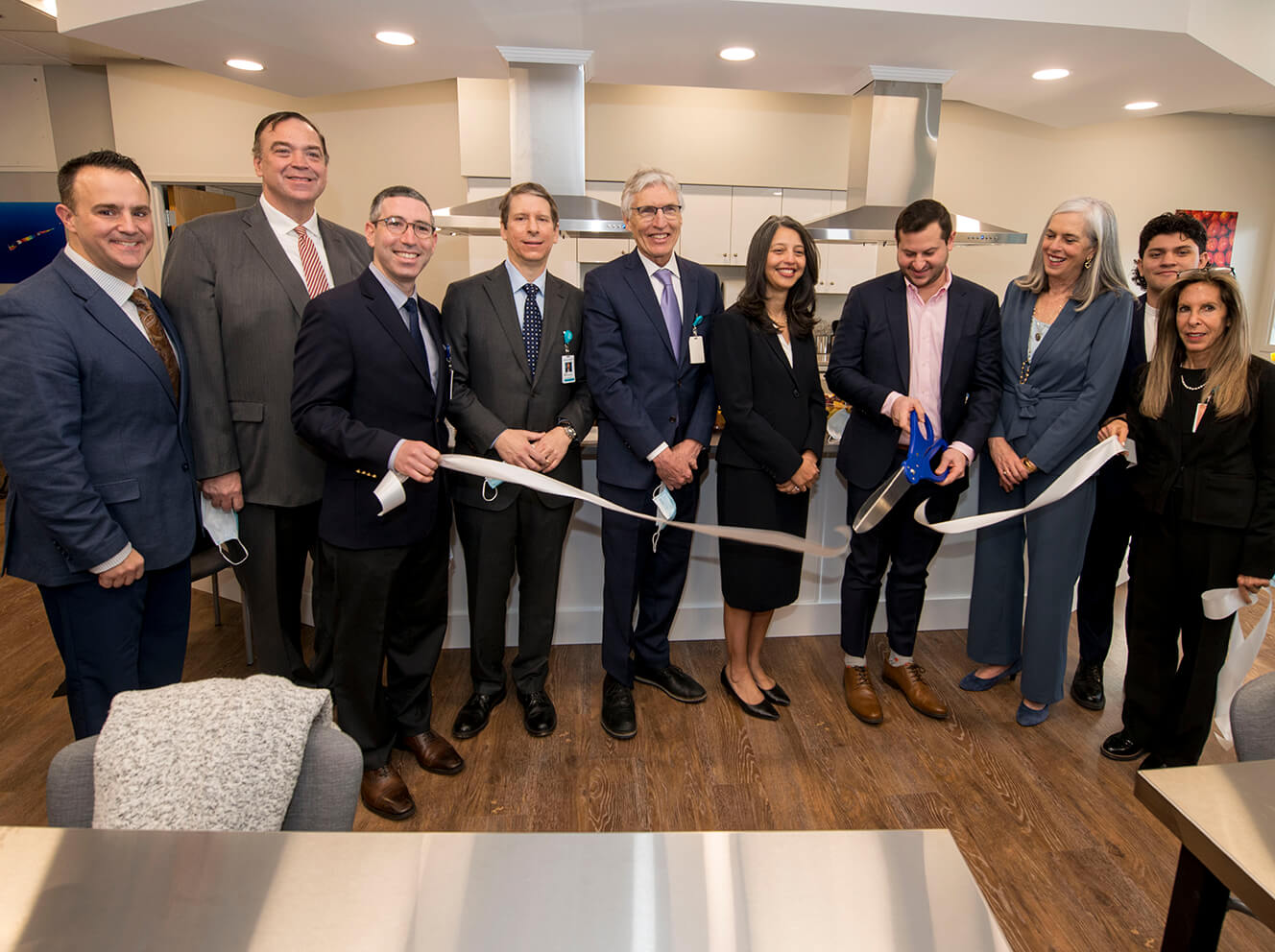 A New Teaching Kitchen in Revere Opens Doors to Healthier Eating
Since early 2020, Massachusetts General Hospital's Revere Food Pantry — located in the Mass General Revere HealthCare Center — has been serving about 80 patient families weekly with plant-based foods, oils, spices and cookware to help them prepare healthy meals at home. Now, thanks to funding from Mass General Brigham and research grants from the Ardmore Institute of Health and the Vitamix Foundation, the Food Pantry recently added a new teaching kitchen, enriching its recipe with an essential ingredient: culinary medicine.
"Today we honor one of our most sacred responsibilities as a society: that no family, no child, no person should face the injustice of hunger," U.S. Rep Katherine Clark said at the teaching kitchen's ribbon cutting on March 22, 2023. "Access to food is a fundamental human right and every day, this facility upholds that truth. We are already transforming the lives of 80 families every week. With this exciting expansion, I'm sure that number is going to grow."
Read More
Leading the way.
Mass General is the only academic medical center to:
Win both of the top community health prizes in the United States: 

the Foster G. McGaw Prize and the Spencer Foreman Award for Outstanding Community Engagement.

 

Lead global health initiatives across all clinical departments of the hospital.
We're dedicated to caring for our communities in innovative new ways.
Research shows that 88% of health and well-being is determined by where people live, work and spend time. To maximize wellness in our communities, we must address the social determinants of health — such as race, housing, employment and education — and invest in prevention.
Imagine a future where …
We continue to invest in innovative care and solutions for the most difficult community health problems.
We expand our partnerships with communities of color and the most disenfranchised communities, at home and abroad.
We reduce health inequities and create long-term impact where it's needed most.
With health equity as our cornerstone, Mass General will continue to redefine an academic medical center's role in the local and global community.
Deep collaborations across cities and time zones will be central to these efforts.
We seek to make an impact on social determinants of health, gun violence, structural racism, policy, and other complex issues that prevent people everywhere from attaining good health and well-being.
Through this work, we'll improve the health of families, build healthy futures for youth, decrease the impact of trauma and violence, enhance access to care and deepen community engagement.
Funding priorities in this area include community programs like the Center for Gun Violence Prevention, expanded community and global health program staff, training for care teams, research exploring the root causes of and interventions for pervasive public health problems, and endowed leadership positions.
Mass General is thinking big about the future. We need your help to write medicine's newest chapters.