As long as physicians have practiced medicine, they've largely had to rely on one indicator to measure the severity of pain: a patient's own perception.
Patients interpret pain differently. What seems like severe pain to one patient might not bother another.
At Massachusetts General Hospital, Jianren Mao, MD, PhD, is working to end this reliance on self-diagnosis. He believes the process doesn't accurately determine the level of pain and, in many cases, leads to a reliance on opioid pain relievers. Dr. Mao and his staff are devising a composite pain assessment score. It will incorporate several factors, including a physician's objective perspective, to better pinpoint how much patients hurt and how they should be treated.
"Pain is subjective," says Dr. Mao, director of the Mass General Center for Translational Pain Research. "When we test a patient – whether it's with an MRI or diagnostics – it shows only circumstantial signs. These tests don't tell you how much pain there is."
Safer, More Effective Medicines
Dr. Mao hopes the composite score and other initiatives the center is pursuing will allow physicians and patients to collectively improve pain management and provide pharmaceutical companies with an opportunity to create safer, more effective medicines.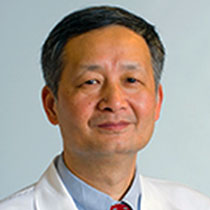 Patients interpret pain differently. What seems severe to one patient might not bother another. Not to mention, some patients overrate their pain and receive an unnecessary prescription, while others shrug off debilitating pain and miss out on necessary treatment.
Anyone who has been treated for pain is undoubtedly familiar with the numeric rating scale. Offering a number anywhere from 0 – for no pain – to 10 – for "worst pain imaginable" – patients try to relay what they're feeling. Children use a scale with cartoon faces that gradually change from smiles to agonized grimaces to get across their level of pain.
Old System and Opioid Overuse
Relying on a single score focuses on the intensity of pain but, Dr. Mao says, it fails to consider the impairment of a patient's ability to do everyday tasks and which type of treatment can be most effective. "When you see a high score, you then have to do things in a single dimension," he says. Doctors end up treating numbers and prescribing medicine until the patient self-reports that the number is lower, he says, but, in the mean time, they might not have addressed the patient's functionality.
The composite pain score that Dr. Mao and his team have created considers a range of factors.
An influential 1986 medical paper said opioids offered a "humane" way to handle pain. That seemed like a reasonable proposition at the time, Dr. Mao posits, but the U.S. now grapples with an opioid epidemic. In recent years, Mass General has launched a major effort to treat and prevent substance use disorders tied to over-prescribing opioid painkillers.
Some opioids and anti-inflammatory medicines insufficiently treat pain and have significant side effects, he says. As a patient uses an opioid more frequently, Dr. Mao adds, the body adjusts and higher dosages are often prescribed, making the single-scoring method all the more flawed and harmful.
Broader Pain Assessment
The composite score that Dr. Mao and his team have created considers a range of factors.
The new system still includes the patient's view of pain intensity. But it also incorporates a physician's opinion of how pain is affecting the patient, the person's ability to physically function, his or her emotional state, and whether or not he or she will get satisfaction from a type of treatment.
Dr. Mao is creating an algorithm that will give proper weight to those five considerations. He intends to validate the system through further research at the MGH Pain Management Clinic.
If the system is accepted by other medical professionals, Dr. Mao hopes it will improve pain management and give pharmaceutical companies an opportunity to create drugs that are effective but less addictive.
"A lot of times, collaboration between academics, agencies and the general public is how things are invented," Dr. Mao says. 
More Pain Initiatives
His project is not the only one that Mass General pain researchers are pursuing. Brian Wainger, MD, PhD, of the Department of Anesthesia, Critical Care and Pain Medicine, has created a technique that derives pain-sensing neurons from patient skin samples as a possible way to investigate the causes of pain. Gary Brenner, MD, PhD, the director of the Mass General Pain Medicine Fellowship, is developing gene therapy for the often painful peripheral nervous system tumors associated with neurofibromatosis.
Other projects include the study of acupuncture as an alternative to opioids – work being undertaken by Lucy Chen, MD. The Mass General Center for Translational Pain Research is also developing a mobile app for patients to record their experiences so that doctors can intervene in real time to adjust their treatment.
A few years ago, Boston-area patients Susan Stoddart and her husband, Chris Snook, made a donation toward Mass General pain research after being treated in the hospital's pain clinic. Dr. Mao says the donation supported the start of his scoring system research, but more is required to advance the work.
"We need additional help to further analyze the composite scoring system," Dr. Mao says. "A lot of times, collaboration between academics, agencies and the general public is how things are invented."
To learn more about how you can support pain research at Mass General, please contact us.
The Research Institute: Saving Lives Through Science
The Massachusetts General Hospital Research Institute is the largest hospital-based research program in the United States, with a community of over 8,000 people working across more than 30 institutes, centers and departments.
Our researchers work side-by-side with physicians to pioneer the latest scientific advancements for curing disease and healing patients in Boston, across the United States and around the world.
To learn more about the Research Institute, please visit our website.