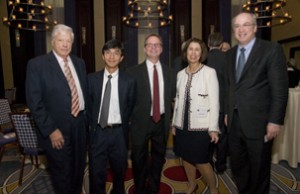 With the largest hospital-based medical research program in the nation and an unparalleled international reputation for research excellence, Mass General is home to many of the world's leading biomedical researchers.  It is also the birthplace of countless discoveries that have improved and extended the lives of people worldwide. Not surprisingly, Mass General attracts the best and brightest young biomedical researchers from around the globe.
But researchers, especially early-career scientists with innovative yet unproven ideas — the "game changers" of the future — face an uphill battle.
That makes support of the MGH Research Scholars Program essential. This funding gives medical researchers — whether they are in the early phases of their careers or are more established and venturing into a new area of investigation — the freedom and flexibility they need to follow science wherever it leads. Time and time again, history has shown that brilliant scientists who are given free rein to explore new frontiers are the ones who make the greatest, often wholly unexpected, advances.
Depending on Visionary Philanthropists
Typically, scientists depend  upon funding from agencies like the National Institutes of Health (NIH) to carry on their research. But applying for NIH funding take an enormous amount of time that could be much better spent on medical research and the NIH rarely funds projects with little supporting data. Even for well-established scientists, the odds of receiving NIH funding is under 50 percent.  For first-time applicants, the rate is a dismal 10 percent.
Mass General has long aspired to provide substantial support for exceptional research faculty whose research is not readily funded by the NIH or other traditional sources.  But the hospital lacks the resources to do this alone.  It depends on the support of visionary philanthropists willing to partner with brilliant research superstars so they can fulfill their promise and, in the process, make discoveries that will move us ever closer to finding new, better treatments and even cures for a host of diseases.
This funding gives medical researchers . . . the freedom and flexibility they need to follow science wherever it leads.
An anonymous donor has committed $10 million to support outstanding researchers at Mass General. This major gift has enabled the hospital to launch the MGH Research Scholars Program. Through it, significant ongoing support will be awarded to extraordinary scientists deemed likely to make transformative advances in scientific thinking and medical practice.
Retaining Highly Promising Faculty
"This gift has jump-started our efforts to attract and retain highly promising research faculty," said Mass General President Peter L. Slavin, MD. To encourage additional philanthropic support, the donor structured the gift as a challenge grant.  For every $500,000 raised, the anonymous donor will match that amount with $500,000, up to $10 million.
One of the first to step forward with a gift of $500,000 was James Orr III, a founding member of Mass General's Research Advisory Council (RAC). "I feel strongly about the importance and enormous value of supporting scientific research, and I'm very excited that my gift has helped get the match challenge under way," Mr. Orr said.
This is a unique opportunity to form an ongoing partnership with the scientist who receives the funding.
Individuals who make a gift of $500,000 may choose to name a Research Scholar Award. This is a unique opportunity to form an ongoing partnership with the scientist who receives the funding. Researchers are eager to share information about their projects and findings, giving donors who generously support their work the exciting opportunity to follow the science as it unfolds.
Kick-starting Research
The Research Scholars Program will provide five years of support of $100,000 per year to each recipient. The program invites applications from Mass General faculty-level researchers who devote at least 80 percent of their time to research, regardless of their field of study, and who do not already have significant, flexible support. The program is designed so that the application process is simple and the selection process is objective, thorough and achieves the right balance of support for basic, clinical and translational research.
Applications are first reviewed and ranked by Mass General's Executive Committee on Research (ECOR), and the top 20 applications are then reviewed by an award committee, which makes the final selection. Co-chaired by Mass General scientist and Nobel Laureate Jack Szostak, PhD, and Bruce Walker, MD, acclaimed Mass General physician-researcher, the MGH Research Scholars Award Committee is comprised of renowned scientists from within and outside Mass General who serve on the hospital's RAC or Scientific Advisory Committee.
Providing exceptional scientists with substantial funding not only allows them to make major strides in their work; it also enables them to obtain the data needed to secure additional funding from traditional sources.
"Mass General has so many research superstars," said RAC member James Cash Jr., PhD. "It's important to identify them, kick-start their research and reduce the time they spend on obtaining funding so they can focus on their important work."