You may have heard of cystic fibrosis or muscular dystrophy, but a genetic disorder called tuberous sclerosis complex (TSC) is much more common. TSC—in which benign tumors form in the brain and other major organs of the body—can be a nasty disease.
"We honestly change lives here by diagnosing early and finding treatments that work."
It's not always recognized or treated aggressively enough, says Elizabeth Thiele, MD, PhD, director of Mass General's Herscot Center for Children and Adults with Tuberous Sclerosis Complex. "We honestly change lives here by diagnosing early and finding treatments that work," says Dr. Thiele, one of the world's foremost TSC experts.
A hallmark of TSC is epilepsy—85 percent of those with TSC have seizures—but tumors can also grow and affect the kidneys, heart, lungs, skin and eyes. TSC also increases the likelihood of autism and certain cancers like that of the kidney. Through Mass General's research and clinical programs, much is being learned about these interrelated disorders.
"With what we've been learning, we're able to keep people with TSC healthier now," says Dr. Thiele, a pediatric neurologist who is also an expert on epilepsy. She founded the center in 2005, through the generosity of donors Carol and James Herscot. The Herscots' son Brad was diagnosed with TSC more than 40 years ago. Then, not even many physicians knew about the disorder.
"Now when I talk to parents whose babies have just been diagnosed, I can give them a lot of hope that even 20 years ago wasn't there," Dr. Thiele says.
Understood and Supported
TSC is lifelong but may or may not get worse over time. For some, the symptoms are mild and many remain undiagnosed. There are adults with TSC who have high IQs and are college professors, Dr. Thiele points out. But some have uncontrollable seizures or can't speak or move.
Dr. Thiele says that she is proud the Herscot Center is the largest and most comprehensive TSC center in the world. Through childhood and adulthood, TSC patients can seamlessly continue to receive their care there. It is the only program with its own neuropsychologist and psychiatrist. Other Mass General specialists are available to personalize the care to each patient's constellation of symptoms and organs affected. "Our patients truly feel understood and supported," Dr. Thiele says.
Dr. Thiele is renowned for creating a low glycemic index diet that has achieved dramatic results in controlling seizures.
Also director of the hospital's pediatric epilepsy program, Dr. Thiele is renowned for creating a low glycemic index diet that has achieved dramatic results in controlling seizures. She points to the amazing story of a New Jersey family, whose then 19-month-old son was suffering TSC-related seizures so bad that surgery had been scheduled in New York. Instead, he came to Mass General and she put him on the low glycemic diet. The boy became seizure-free on the diet and is now doing well in the third grade.
New Thinking about Tuberous Sclerosis
In medical circles, TSC has attracted interest because of its link to cancer, Dr. Thiele explains. There are two gene mutations known to cause TSC. About 10 to 12 years ago, scientists found that proteins produced by both genes are part of a cellular pathway responsible for cell growth and metabolism throughout the body. On that same pathway are other proteins that, if mutated, result in cancers. Drugs that stop these abnormal processes are being examined as possible treatments for cancers and TSC.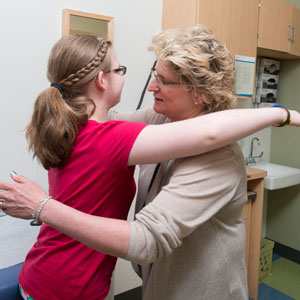 A couple years ago, Dr. Thiele and her research group presented a hypothesis that is changing the thinking about TSC. They suggested that it originates in stem cells called "neural crest" cells during early development before they've become brain cells, or tissue, cartilage or bone. Establishing the cell of origin provides a target for treatment. Dr. Thiele is now investigating gene transfer therapy as a possible way to do that. "I think it's going to be a very exciting next five to ten years," she says.
Lifelong Lifeline at MGH
Dr. Thiele knows she changes people's lives because she sees that happening weekly. Recently she treated a baby who wasn't on the right medications until she was brought to Mass General. "That baby's life would have turned out very differently otherwise," she explains.
People with TSC need to watch their health throughout their lives. "But we can try to take some of that incredible burden off them," Dr. Thiele says. "We can be the vigilant ones so they can focus on their own lives."
Philanthropy is essential to Dr. Thiele's plans to expand the center's clinical care and research programs, add specialists, and start support groups for parents and for young adults with TSC. To learn more about how you can help, please contact us.