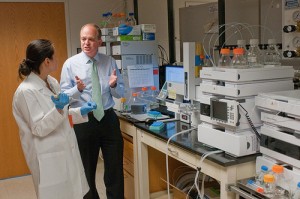 There's no doubt that exercise improves health. In addition to reducing mortality, its well-known benefits include lowering the risk of heart disease, stroke and type 2 diabetes. Yet what happens inside the body that enables exercise to counteract disease is not well understood.
At Massachusetts General Hospital, scientists and clinicians are seeking to solve that mystery. Their goal is to develop new treatments and exercise strategies that will benefit everyone from elite athletes to patients with heart disease who can't walk across the room. With exercise, it is indeed survival of the fittest.
"If you can perform sustained, intense exercise on a treadmill — even if you have known heart disease — your overall risk of death is low," says Robert Gerszten, MD, director of Clinical and Translational Research for the Corrigan Minehan Heart Center at Massachusetts General Hospital. "Your risk is surprisingly similar to someone who has never had a diagnosis of heart disease."
Dr. Gerszten and his colleague Gregory Lewis, MD, an MGH cardiologist and a former Olympic rower, are on the frontier of a new field called metabolomics. Their team focuses on metabolites — the proteins, fats and carbohydrates produced by the thousands of chemical reactions that keep the body alive and help with digestion and elimination of waste. Metabolomics is the systematic way of categorizing these chemicals to help understand what's happening in the body.
The notion of analyzing chemicals to learn more about human biology has been around since Nobel Prize winner Linus Pauling collected breath samples more than 40 years ago.
Metabolites Reflect What You Eat
As a field, metabolomics has recently exploded as a result of new analytical techniques to measure chemicals as well as lessons learned from scientific breakthroughs such as the sequencing of the human genome. Scientists believe metabolites may be better indicators of health and disease than genes.
Someone with a gene for heart disease may never get sick. On the other hand, metabolites are like reporters. They capture what's happening in the body. Your metabolism changes when you exercise. Your genes don't. Metabolites also reflect what you eat. The metabolites in a bacon double cheeseburger will show up in your blood, not in your genes.
In 2010, an MGH research team was the first to develop a chemical snapshot of the physical changes that occur in the body during and after exercise. Using a mass spectrometer, a device that precisely analyzes proteins and chemicals in the blood, the team was able to study hundreds of metabolites at a time.
In 2010, an MGH research team was the first to develop a chemical snapshot of the physical changes that occur in the body during and after exercise.
Dr. Lewis, the lead author on the study, notes that just 10 minutes of exercise increased some metabolites associated with body's ability to burn fat. "What was interesting," he says, "is that while the blood pressure and the heart rates returned to normal in minutes, the metabolic changes continued for at least an hour after the exercise ceased. And the more fit the individual, the greater the changes in fat-burning metabolites, indicating that exercise has both an immediate and a cumulative effect."
Even more exciting were the results found when a cocktail of the metabolites that increased the most with exercise was infused into mouse cells in a petri dish. The combination set off a complex chain reaction that increased activation of a gene involved in regulating cholesterol and blood sugar levels. In other words, the metabolites that increased as a result of exercise, were not only a sign of fitness, they were actually promoting it.
How Much Exercise?
"Our results have implications for development of diagnostic testing to track and improve exercise performance as well as interventions to reduce the effects of diabetes or heart disease by improving a patient's metabolic 'fingerprint,'" says Dr. Gerszten. "Defining which of these metabolites become deficient and need to be replenished during exercise could lead to the next generation of energy drinks. This could not only help healthy individuals achieve their best exercise performance, but also improve the health of those with cardiovascular disease."
The next step, says Dr. Gerszten, is to marry these findings with clinical information to evaluate the effects of metabolic supplements. How much can the person exercise? How are the lungs and heart performing? With its Cardiac Performance Program, Mass General is one of the few places in the country that has the expertise to apply these laboratory discoveries to humans. A national referral center for exercise testing, the facility contains state-of-the-art equipment that tests peak exercise capability, maximum oxygen uptake and other barometers of cardiac, pulmonary and muscle performance.
Dr. Gerszten says the bridge between the research and clinical side is like having two cameras. His work represents the camera inside the body that explores what's happening at a molecular level. In contrast, the Cardiac Performance Program is the camera outside the body that evaluates how the body responds.
The research occurring within the Cardiac Performance Program can also affect what's happening inside the body. In an ongoing study, Dr. Lewis and his colleagues are assessing the effects of exercise training on metabolism over a period of time. "Early results show that even if exercise did not cause weight loss, it can have a positive effect on their metabolism and their ability to exercise," says Dr. Lewis. "This, in turn, may lower the risk of heart disease."
Launched in 2010 by Adolph Hutter, MD, and his colleagues, Aaron Baggish, MD, and Dr. Lewis, the Cardiac Performance Program combines research with comprehensive cardiovascular care for highly active individuals. These include professional athletes as well as others who exercise vigorously in sports or in their occupations. As team cardiologist for the Boston Bruins, the New England Patriots and the New England Revolution, Dr. Hutter has spent the last 40 years evaluating athletes for risk of sudden death.
A competitive athlete's heart may look bigger, like the heart of someone at risk of sudden death syndrome. "The differences are important to recognize," says Dr. Hutter. "We need to identify the few people at risk in an efficient and reliable manner that does not unintentionally alarm and prevent participation in sports for the vast majority of athletes."
While a muscle such as a bicep gets stronger with more exercise, it's more complicated with the heart, says Dr. Baggish. The type of exercise matters as well.
A study of Harvard University football players and rowers, published in 2008 and led by Dr. Baggish and his colleagues, was the first of its kind to follow athletes over several months. The results demonstrated that changes in the heart's structure and function varied by exercise, whether it was strength or endurance training. The biggest difference related to the relaxation of the heart muscle between beats. It increased in the endurance athletes (the rowers) but decreased in strength athletes (the football players), yet still remained in normal range. In the heart, relaxation is critical for efficient circulation and prevention of heart failure.
While the study focused on healthy young athletes, it could potentially benefit patients with heart disease in the future. "Just as not all heart disease is equal, not all exercise prescriptions are equal," says Dr. Baggish. "This should start us thinking about whether we should tailor the type of exercise patients should do to their specific heart disease."
"Just as not all heart disease is equal, not all exercise prescriptions are equal," says Dr. Baggish.
A Key to Survival
Another study led by Dr. Baggish offers an even more immediate example of translating science into action. The study, which began in 2000, analyzed marathon-related cardiac arrests over 10 years. The numbers were reassuring — 1 in 184,000, or just 59 runners, suffered cardiac arrest of the nearly 11 million marathoners studied. In most cases, underlying heart disease was the reason for the collapse.
The key factor in survival was CPR from race bystanders. The ones who collapsed and had CPR performed had a 50 percent chance of survival. Otherwise, the rate was less than 5 percent, says Dr. Baggish, a 15-year veteran runner of the Boston Marathon©, who was the cardiologist for the 2012 event. As a public health response to these findings, Dr. Baggish taught chest compression-only CPR to runners at the marathon expo the weekend before the race. And with runners from 30-plus countries, the benefit of such training multiplies far beyond Boston.
There is still much unknown about how exercise affects health.Mass General is leading the way in making discoveries that promote health for the competitive athlete as well as the heart patient who wants to return to a full life. "My definition of an athlete is someone who places a high premium on activity in his or her life," says Dr. Baggish.
To support the programs and research in the Cardiac Performance Program at the Corrigan Minehan Heart Center, please contact us.

Massachusetts General Hospital
Principal investigator, Center for Immunology and Inflammatory Diseases, Massachusetts General Hospital
Director of the Clinical and Translational Research Program, MGH Heart Center
Associate professor of Medicine, Harvard Medical School
Senior associate, Broad Institute of Harvard and MIT
The Gerszten Laboratory investigates the molecular basis of injury responses in cardiovascular disease.