Charlie Michaelson and his late wife, Ruth, of Brooklyn, New York, were new parents in 1977, frightened they could lose a second daughter to Sudden Infant Death Syndrome (SIDS). Instead, caregivers at Massachusetts General Hospital intervened and saved her life.
"My gratitude to Mass General and the people there is unending," Charlie says. When the Michaelsons updated their living revocable trust – an estate planning instrument designed to protect their assets from the probate process – they added a specific bequest gift to the hospital. "Ruth and I wanted to leave something behind."
Desperate to Find Answers
In September 1976, the Michaelsons lost their three-week-old baby girl, Dena, to SIDS, the sudden and unexpected death of a seemingly healthy baby younger than a year old.
The next year, another daughter, Rachel, was born to Ruth and Charlie. But at just two days old, she was found in the hospital's nursery turning blue. She was rushed to intensive care and kept under observation.
Mass General "may have been the only place in the world that could have saved our child," Charlie says.
Ruth and Charlie frantically called around their network in New York to find a specialist and get some answers. Then, by chance, they learned of the Pediatric Pulmonary Laboratory at Mass General, which offered to help immediately.
SIDS Experts at Mass General
When the Michaelsons reached Boston that afternoon, Charlie remembers the compassionate staff who stayed past their shift to welcome the family and help arrange their lodging before their appointment the next morning. "That was our first experience with Mass General, and it set the tone for the attachment we maintain today."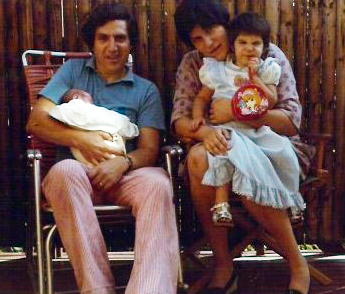 The Michaelsons' doctor was former Mass General pediatric pulmonologist Dorothy Kelly, MD. "When I met her, I cried," Charlie says. "Here was somebody who could really help us."
Dr. Kelly and Mass General kept Rachel alive in the pediatric ICU and monitored her blood oxygen levels for a week. Before they sent her home, the team arranged for Dr. Kelly to keep tracking her oxygen levels remotely.
Rachel survived, and today she lives in Providence, Rhode Island, with four sons of her own. Mass General "may have been the only place in the world that could have saved our child," Charlie says.
Gratitude Inspires Giving Back
The Michaelsons maintained their gratitude to Mass General for decades. As thanks, they contributed regularly to the MGH Fund in support of the hospital's overall mission and priorities.
In 2009, they moved to Boynton Beach, Florida, and set out to revise their estate plans to comply with state statute. Their attorney asked if they wished to include charitable provisions in their living revocable trust.
Creating an Everlasting Impact
Ruth and Charlie evaluated their assets and determined that their family would not be affected if some of their estate were set aside for philanthropy. Thus, they chose to leave a legacy at charitable institutions important to their life.
At Charlie's death, the trust will distribute a gift to Mass General with a preference that it be used to support the hospital's research and treatment of SIDS.
"Philanthropic support for MassGeneral Hospital for Children (MGHfC) enables every aspect of what we do to advance the health of children," says Ronald Kleinman, MD, physician-in-chief, MGHfC. "It strengthens our family-centered clinical care model; advances innovative pediatric research; and emboldens our commitment to caring for underserved children and their families locally and around the world."
To support a Mass General program important to you with a bequest, please contact the Office of Planned Giving at (617) 643-2220 or mghdevpg@partners.org.