When Massachusetts General Hospital fellow Rebecca Aures, MD, returned from maternity leave to the Pediatric Intensive Care Unit (PICU) in March, she didn't know her return would include converting MassGeneral Hospital for Children's PICU into a COVID-19 ICU for adults.
In addition to serving on the frontlines of the COVID-19 pandemic, Dr. Aures and her family wanted to show their own gratitude to the health care community. They made a generous gift to Mass General's Emergency Response Fund (ERF), which was established to support the hospital's immediate response to devastating events like the COVID-19 pandemic. Half of their gift will support the Mass General Brigham Center for COVID Innovation, which develops innovative tools to flatten the curve and protect frontline clinical staff in the Boston community and beyond.
My Giving Helps
Additionally, their gift is part of the hospital's My Giving Helps: The MGH Fund + United Way employee campaign, which celebrates a long-standing culture of philanthropy at Mass General and reaffirms the hospital's commitment to improving the health and well-being of its patients and community. Dr. Aures is one of many employees who have made gifts to the ERF.
"We wanted to give what we can to an area that is so crucial in fighting this pandemic."
O'Neil Britton, MD, chief medical officer at Mass General and a lead co-chair of the 2020 My Giving Helps campaign, says employees like Dr. Aures underscore the generosity and commitment of everyone who works at the hospital. "The staff and faculty at Mass General are incredibly dedicated to what they do every day. Their willingness to work in uncertain situations in the service of others is really remarkable. Giving back through this campaign demonstrates how truly special our employees are and how they go above and beyond to uphold our lifesaving mission. Through our collective efforts, better days are ahead."
Taking on Motherhood and COVID-19
Dr. Aures decided to postpone sleep training her 4-month-old daughter, Emilia, to ensure it didn't fall on the same week she was "on service," working as the primary fellow in the pediatric ICU. She knows she is at risk for bringing the disease home, but she is careful to take the proper precautions to reduce her risk as much as possible.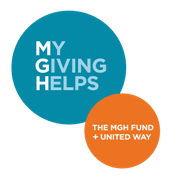 "Having a 4-month-old reinforces how much you want the health care community to be well staffed and well taken care of," says Dr. Aures. "My husband and I are so lucky to have the resources to give this gift. We wanted to give what we can to an area that is so crucial in fighting this pandemic."
To join Dr. Aures in supporting the Emergency Response Fund, please click here.