March 30, 2019

B Papadakis is running the Boston Marathon® for Massachusetts General Hospital because she and her family want to give back to the hospital that provided medical care that changed their lives.
Twenty years ago, B was pregnant with triplets.
Within the first 24 hours, a NICU nurse suspected Lena, one of the identical twins, might have a serious medical issue.
Doctors at another hospital had given B and her husband, Manny, devastating news: Tests showed their identical twins had a medical condition and would not survive long after birth. The best chance was to continue the pregnancy with one child.
B, an identical twin herself, could not accept this diagnosis. She sought a second opinion on her ultrasound, and then was referred to Michael Greene, MD, a Mass General obstetrician and gynecologist who specializes in high-risk pregnancies.
Within hours of B contacting Dr. Greene's office, he personally called to reassure her and took over her care.
At week 32, Alexandra, Joanna and Lena were born. Alexandra and Joanna each weighed only a few pounds, but were doing well. But within the first 24 hours, a nurse in the Patty Ribakoff Neonatal Intensive Care Unit (NICU) at MassGeneral Hospital for Children (MGHfC) suspected Lena, one of the identical twins, might have a serious medical issue.
A Difficult Time
Doctors diagnosed Lena with a Type C TE fistula — an abnormal connection between her esophagus and trachea and other esophagus problems, meaning she could not eat without surgery.
The family split their time between their New Hampshire home where Alexandra and Joanna stayed and the NICU. They were waiting for Lena to grow big enough for surgery, then to recover.
One of B's most treasured moments from that difficult two months was when she arrived at the NICU and found pediatric surgeon Dan Ryan, MD, with Lena.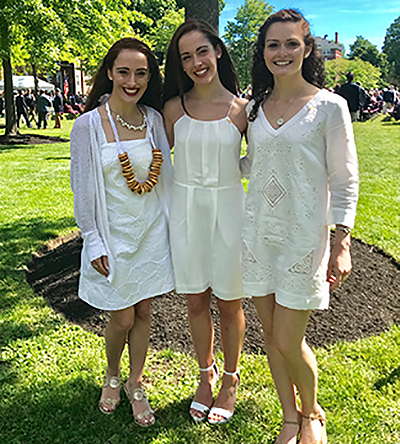 "I had triplets," she recalls. "One of them was critically ill and I walked into the lead gastrointestinal and surgical doctor rocking my daughter and whispering a song to her. Mass General medical providers are not just highly talented. They are passionate people who make a difference."
Lena's Medical Journey
Lena has undergone more than 30 surgeries at Mass General and Mass Eye and Ear. Early on, surgeons reconstructed Lena's trachea and prompted it to grow, using a piece of her own rib.
In one year alone, as a preschooler, Lena was hospitalized for pneumonia about 20 times. Twice after surgeries, Lena was placed in medically induced comas to give her esophagus and trachea time to heal.
"Most of Lena's trachea and her ability to swallow has been 'man-made' by this amazing team that has followed her since her birth," B says.
Hospital providers, like pediatric nurse, Elise Drew, RN, gave our family the best medical care and support, B says. "Every time, I couldn't even make it through a day and my husband and I were sobbing, Elise was the person who kept us together," she remembers.
After age 10, Lena's health improved. Now, at 20, she is followed by T. Bernard Kinane, MD, chief of the MGHfC pediatric pulmonary unit.
Today, Lena is a sophomore at Boston University, taking pre-med courses.
"Every image I have of my mom, she is either overcoming something or pushing through something."
From Past to Present
B, 52, says running for the Mass General Emergency Response team will be her second Boston Marathon to honor Lena's caregivers. She ran for the Mass Eye and Ear team in 2017.
"Our family has been defined by Mass General and Mass Eye and Ear," she says. "These two hospitals have the most amazing people working inside of them."
Lena is in awe of her mother's training efforts, which she does while working full-time as vice president and global controller of Synscort, a big data software company in Massachusetts. In 2018, B broke her ankle and got a concussion during training. This year, B developed severe plantar fasciitis to the point she could not walk without pain, only two months before race day. After working with doctors and introducing cross-training, B got back to training. She is determined to be at the marathon start line and do the race, even if she has to walk part of it.
A Mother's Commitment
"I guess my mom is superhuman," Lena says. "Every image I have of my mom, she is either overcoming something or pushing through something."
When B started running marathons, Lena was a teenager. Her mother's commitment inspired her to publicly talk about her past health problems.
"When I was little, it was always a story that I wanted to hide from people," Lena explains. "As I got older, I embraced it a bit more when I saw that my mom could go back to that painful period and use it as her platform to help others."
Please consider supporting B Papadakis and the other dedicated runners raising funds for Emergency Response. For more information, please contact us.
John Hancock-Mass General Boston Marathon® Partnership
Mass General is proud to be an official Partner of John Hancock in the Marathon Non-Profit Program. The Non-Profit Program provides over 1,000 Boston Marathon® bibs to select non-profit organizations throughout the community, which provides organizations with a significant fundraising opportunity. Last year, John Hancock Non-Profit Runners raised over $10M for their causes. Learn more about our John Hancock-Mass General Boston Marathon partnership that continues to provide significant support for our three signature causes: Pediatric Cancer, Emergency Medicine, and Home Base.
Additional 2019 Entries
Thanks to John Hancock's support, Mass General has received 20 additional entries for the 2019 Boston Marathon®. Runners wearing them will raise funds to benefit the Home Base program. This Mass General-Boston Red Sox Foundation program helps veterans, active service members and their families deal with the invisible wounds of war.
Additionally, through the Run for MGH Team, runners who acquired their own entries for the Boston Marathon® raise funds for various Mass General programs that are near and dear to their hearts. Programs being represented by 2019 runners include: Caring for a Cure, Cystic Fibrosis, Down Syndrome, the Lurie Center for Autism and the Mootha Lab.
To learn more about the Mass General Boston Marathon® Program, please visit our website.