Even if you aren't running the Boston Marathon, show your support for the MGH team in a commemorative team T-Shirt!
Buy Your 2015 Marathon Team Shirt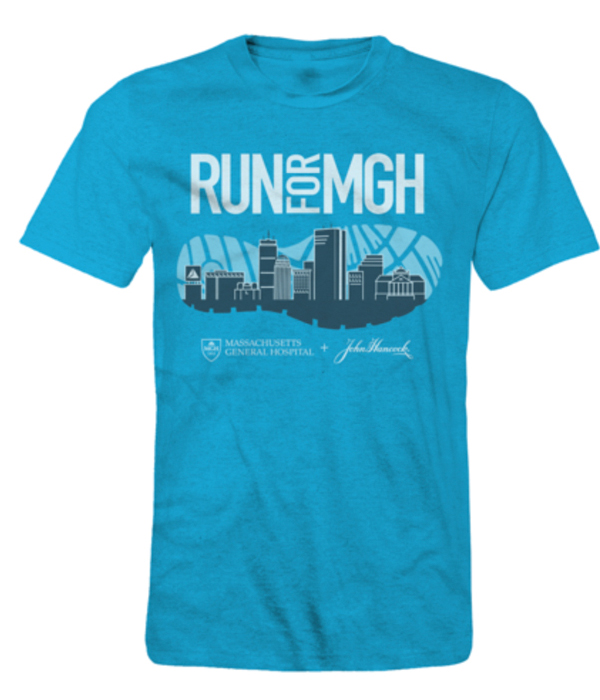 Get your Mass General Marathon Team Shirt today! 2015 is slated to be another incredible year for Mass General's Marathon Team of runners in the 119th Boston Marathon. Commemorate their efforts with these lightweight, breathable T-shirts.
Mass General & Boston
The Mass General Marathon Program is fielding two teams with two great causes in the 2015 Boston Marathon®. The Emergency Response and Pediatric Cancer Teams are running to provide much needed support for cancer care and research, and emergency preparedness programs that help us respond to any emergency.
Our Partners
Mass General is proud to partner with John Hancock Financial Services as it prepares for the 2015 Boston Marathon© with the funds raised benefiting pediatric cancer care and emergency preparedness programs at Mass General.
Why We Run
What would motivate you to train in the snow, sleet and freezing cold to run 26.2 miles? Watch these videos to hear the amazing stories that are inspiring our Mass General Marathon Team members to run the 2015 Boston Marathon.
News
Stories about how Mass General responded to the bombings at the finish line in 2013, the Marathon Team's impact over the years, and a message from team captain Dr. Howard Weinstein.
Training Tips
Learn how to prepare for the 2015 Boston Marathon® with training tips on topics including:
Nutrition
Cold weather running
Injury prevention and recovery
F.A.Q
Answers to questions about running the 2015 Boston Marathon© with the Mass General Team:
Submitting offline donations
Gift matching
Becoming a team captain