March 10, 2020

The Boston Marathon was the furthest thing from Jordan Weil's mind a decade ago. As an adolescent, the Florida native had her fair share of challenges, as she battled brain cancer on two separate occasions. Each time, she received treatment at MassGeneral Hospital for Children (MGHfC).
Today, Jordan is training to run the Boston Marathon as a member of Mass General's Marathon Team in support of pediatric cancer. She wants to support the hospital she considers her second home, by raising money for cancer care and research initiatives that enhance the quality of life of young patients.
Care teams at Mass General invest significant time in advancing efforts that improve their patients' quality of life; each day, they tackle the most complex cases in the world and are focused on transforming care for all patients.
"It's a huge honor to be involved and give back to Mass General."
"It's a huge honor to be involved and give back to Mass General," Jordan says of her desire to participate in the acclaimed annual event and support MGHfC's Division of Pediatric Hematology & Oncology. "I'm a huge proponent of the kind of treatment I received."
Grateful for Red Carpet Treatment
Jordan was one week shy of her 12th birthday when, in 2006, she was diagnosed with a rare form of brain cancer. A resident of Fort Myers, Florida, she was rushed to a children's hospital in Miami for emergency surgery. The surgery was successful, but Jordan still needed treatment. She recalls that her parents chose MGHfC after researching hospitals across the country. They believed the Pediatric Hematology and Oncology division at MGHfC could offer the best path to recovery.
Together with her mother, Jordan lived in Boston for six months as she underwent successful radiation treatment at Mass General's Francis H. Burr Proton Therapy Center. The staff became like family, she says. And despite the circumstances, the experience of living in a new city was something she appreciated, too.
This year marks the 10th anniversary since Jordan completed her second round of radiation therapy.
After treatment, Jordan's life returned to normal. But four years later, when she was 16, residual cancer cells had enhanced and she had a second brain surgery. There was little doubt she would go anywhere other than MGHfC for treatment. The doctors and nurses were, after all, like a second family. "My mom said to me, 'It looks like they roll out the red carpet for you.'"
Running the 2020 Boston Marathon
Despite loving the Boston area, Jordan did not anticipate returning to Massachusetts after her second round of treatment was complete. But after earning a bachelor's degree in business from the University of Miami in 2016, she landed a job in consumer and market research and analytics for Proctor & Gamble. One of its subsidiaries is Gillette, the razor and personal care company based in Boston, where she now works.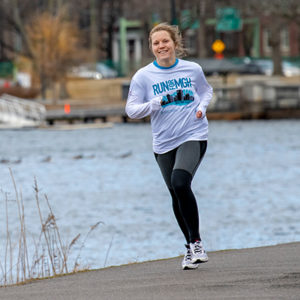 Jordan is now 25 and lives in a suburb of Boston. Other than a few issues with her left peripheral vision, a side effect of her surgeries, she is in good health.
This year marks the 10th anniversary since Jordan completed her second round of radiation therapy. A few months ago, a Mass General fundraising coordinator reached out to gauge her interest in running for the Mass General Pediatric Cancer marathon team. It seemed like the perfect way to celebrate the anniversary and give back to a place and its people that mean the world to her.
Howard Weinstein, MD, chief of the Division of Pediatric Hematology and Oncology, says he was thrilled to see Jordan on the marathon team. "She was a courageous patient and always had a positive attitude," Dr. Weinstein says. "Her desire to give back by raising money for our program is very inspiring to our pediatric oncology staff. I am confident that she will cross the marathon finish line just like she did with her cancer therapy."
Supporting Pediatric Cancer Treatment
Jordan enjoys long-distance running among other fitness activities including CrossFit, and she is prepared to have a strong marathon. She also hopes to raise at least $7,500 for MGHfC. "I'm incredibly healthy, thank God," she says. "I always say it felt like a family there and it still feels like a family."
Please consider supporting Jordan Weil and the other dedicated runners raising funds for Pediatric Cancer.
John Hancock-Mass General Boston Marathon® Partnership
Mass General is proud to be an official Partner of John Hancock in the Marathon Non-Profit Program. The Non-Profit Program provides over 1,000 Boston Marathon® bibs to select non-profit organizations throughout the community, which provides organizations with a significant fundraising opportunity. Last year, John Hancock Non-Profit Runners raised over $10M for their causes. Learn more about our John Hancock-Mass General Boston Marathon partnership that continues to provide significant support for our three signature causes: Pediatric Cancer, Emergency Medicine, and Home Base.