April 17, 2020

Think back one year, to this weekend in 2019, when a novel coronavirus was not a part of our daily reality. Thousands of Boston Marathon® athletes were stretching their legs and loading up on carbohydrates. Excitement was the only contagion. Our Mass General Marathon Team members were gearing up to run in support of three hospital programs: Emergency Response, Pediatric Cancer and Home Base.
The John Hancock partnership has raised $19 million to advance patient care, research and education at Mass General.
This year, instead of cheering on their teammates, Mass General's three marathon team captains are serving on the frontlines of the hospital's COVID-19 response effort: David F. M. Brown, MD, chief of the Department of Emergency Medicine, is triaging an influx of COVID-19 patients and leading a team of clinicians. Howard J. Weinstein, MD, chief, Pediatric Hematology-Oncology at MassGeneral Hospital for Children, is ensuring that our youngest COVID-19 patients are treated with compassion and receiving the very best in care. And Brigadier General (ret.) Jack Hammond, executive director of Home Base, is leading the build-out and operations of Boston Hope, a COVID-19 medical center recently constructed inside the Boston Convention and Exhibition Center.
A Community Rises Above
The COVID-19 pandemic has derailed lives and livelihoods, events, families and communities, including the community of runners on the Mass General Marathon Team. Over the past five months, our runners have raised thousands of dollars and trained on Boston hills with the goal of completing the infamous course. But COVID-19 also derailed their expectations to run the Boston Marathon in April. It is now scheduled for Sept. 14, 2020.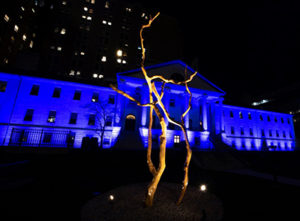 Despite great loss and new challenges, communities are coming together. The Mass General community is no exception. On Wednesday, April 15, Mass General joined longtime Boston Marathon® partner, John Hancock, and lit up the White and Bulfinch buildings in blue, to show appreciation for frontline workers in the community.
Since 1998, John Hancock has supported Mass General by providing invitational Boston Marathon entries to athletes interested in running and fundraising for the hospital. The partnership has raised $19 million to advance patient care, research and education at Mass General.
Mass General's Emergency Response
In 2014, with support from John Hancock, Mass General launched an Emergency Response Marathon Team to recognize the lifesaving response of hospital employees during the 2013 Boston Marathon bombings. Funds support training and resources to advance emergency preparedness and disaster medicine efforts.
Listening and Lifting Up
This support matters now, more than ever. As chief of the Emergency Medicine, Dr. Brown is seeing an unprecedented volume of critically ill patients. He recognizes that part of his job is to encourage and support his team on the ground, in the face of such uncertainty. "I listen," Dr. Brown says. "I make sure they feel valued and that their concerns are heard. I thank them for their incredible dedication and for their willingness to serve in this time of great need."
Mass General's runners continue to inspire. Fundraising continues. Training continues.
Usually on Marathon Monday, Dr. Brown employs words of a similar tone to support and energize his team of runners who participate in the Boston Marathon to support his emergency department. And while his focus this Monday will be on responding to the COVID-19 pandemic, he plans to be on the marathon course in September to cheer his runners on, with the same fighting spirit that has found its place at the core of his impressive legacy.
In the meantime, Mass General's team of marathon runners continues to inspire. Fundraising continues. Training continues. The collective strength and dedication have not let up. Our runners have stories. Stories of courage. Stories of giving back. Stories of losing someone special. The extra few months simply add fuel to an already burning fire within the runners, to complete the Boston Marathon and to represent an institution that is part of their story.
John Hancock-Mass General Boston Marathon® Partnership
Mass General is proud to be an official Partner of John Hancock in the Marathon Non-Profit Program. The Non-Profit Program provides over 1,000 Boston Marathon® bibs to select non-profit organizations throughout the community, which provides organizations with a significant fundraising opportunity. Last year, John Hancock Non-Profit Runners raised over $10M for their causes. Learn more about our John Hancock-Mass General Boston Marathon partnership that continues to provide significant support for our three signature causes: Pediatric Cancer, Emergency Medicine, and Home Base.