Long Term Appreciated Securities
Instead of giving cash, your gift of appreciated stock, bonds or mutual funds to Mass General can multiply benefits for both parties. The hospital will employ the full value of your shares of securities. And you will avoid paying capital gains tax that would be due if you were to sell the shares. Your charitable tax deduction will be for the full fair market value of the shares too. It all adds up to a smarter way to give.
Gift Annuities and Trusts
Life-income gifts allow donors to give and to receive. By establishing a charitable gift annuity or charitable trust at MGH, you can support your favorite charity and receive an income for life and a charitable income tax deduction.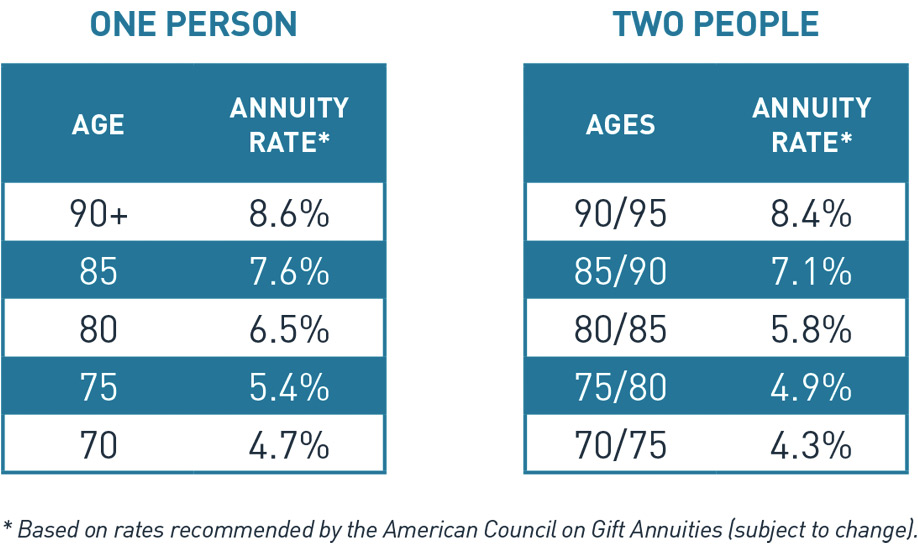 To find out how a life-income gift may work for you, try our Online Gift Calculator here. With this tool, you can get a general idea of your benefits from a charitable gift annuity, a deferred charitable gift annuity or a charitable remainder trust.
With a charitable gift annuity, you and/or another person you name receive a fixed income for life. Your annuity rate is based on beneficiary age(s) (see table to the right). Calculate your personal benefits here.
For details about specific types of life-income gifts, please visit:
• Charitable Gift Annuity
• Deferred Charitable Gift Annuity
• Charitable Trusts
Tax Free IRA Charitable Distribution
Did you miss out last year? This year, use your Individual Retirement Account (IRA) to make a difference at Mass General. It's easy and might save you taxes.
If you're at least 70½ years old, now you can make a gift from your IRA directly to Mass General and, for federal tax purposes, exclude those funds from your gross income. Simply instruct your IRA administrator to directly transfer a gift of up to $100,000. It will count towards your required minimum distribution this year and make a real difference at Mass General.
How do you qualify?
• You must be 70½ years old or older at the time of the gift
• Your gift must go directly from your IRA to a qualified charity
Download sample instructions
• Gifts cannot exceed $100,000 per taxpayer
• Gifts must be made by Dec. 31, 2018 to take advantage this tax year
How do you make a gift with your IRA?
• Contact the institution holding your IRA and inform them that you want to make a qualified charitable distribution from your IRA to Mass General
• Complete the necessary paperwork to request the charitable distribution
• Notify Mass General and let us know how you want your gift to be used