As a teenager, Jeanmarie Metelus Jr. was living with his family in Haiti when the devastating 2010 earthquake hit the capital city of Port-au-Prince. Now, at age 20, he is in Boston excelling in college-level computer science classes and developing sophisticated web applications thanks, in part, to the Youth Scholars Program at Massachusetts General Hospital.
Over the past six years, the MGH Youth Scholars Program has provided educational and career opportunities to help him learn and grow into an accomplished computer science student, says Jeanmarie. He joined the Youth Scholars Program when he was a freshman in high school and is now a rising junior at Boston College.
MGH Youth Scholars are high school students from Boston, Revere and Chelsea. They come to Mass General during the summer to gain exposure to different careers related to science, technology, engineering and math (STEM).
Each year, about 30 students in each high school grade level are selected for their academic achievement and interest in STEM. Weekly meetings during the academic year include opportunities for youth scholars to shadow professionals and participate in learning programs hosted by various departments at Mass General.
Youth Scholars Bloom
The Youth Scholars Program stands as an example of Mass General's commitment to serving its community.
During the summers following their sophomore, junior and senior years, students are placed in internships. They also receive guidance on applying to colleges.
"We support them throughout their high school years and through college with academic coaching, scholarships and everything you might do to help them get through college," says Christy Egun, director of Boston Partnerships for the Center for Community Health Improvement (CCHI).
The program stands as an example of Mass General's commitment to serving its community.
"CCHI works on public health issues, and we consider educational attainment to be the foundation for one's overall health," Ms. Egun says. "It's a program that can really change the trajectory of a young person's life."
Journey to a New Life
Born in Boston, Jeanmarie moved with his family to Haiti. While there, he showed an early interest in STEM fields. "When I was a kid, I would wind up taking my toys apart to see how they worked," he explains, "so I've always known my career would be closely related to engineering."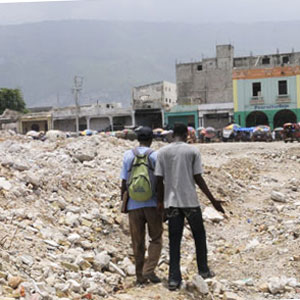 In 2010, Jeanmarie's family was preparing to move from their home in Les Cayes, Haiti, back to the United States when a 7.0-magnitude earthquake struck Port-au-Prince. His family arrived in the devastated capital city in the immediate aftermath of earthquake as they made their way to the United States.
Despite the chaos in the wake of the earthquake, the family made it to Florida. Eventually they moved to Boston. There, following his interest in science and technology, Jeanmarie attended the John D. O'Bryant School of Mathematics and Science.
Younger Siblings Follow
Selected for MGH Youth Scholars in ninth grade, he was interning with an information technology group at Mass General by his sophomore year. Later, he switched to the MGH Laboratory of Computer Science (LCS), which better aligned with his interests.
Moving from the high school program to the college level was his next big step. Students like Jeanmarie who make this transition are known as Youth Scholar Alumni. This summer, students and staff celebrated the college graduation of the "Bicentennial Scholars," the first group who entered the Youth Scholars program as ninth graders when it began in 2008.
As a testament to the program's success, Ms. Egun notes that younger siblings often follow in the footsteps of older brothers or sisters who participate in Youth Scholars. Jeanmarie's younger sister Naika, a rising junior in high school, is a youth scholar this year.
Building Apps for Success
In the LCS, Avni Khatri, program manager for the Knowledge and Learning Technologies Group, describes one of Jeanmarie's successes — a web form he created for use by the hospital Police and Security staff. All MGH staff now use the form routinely to request badge access to locations on campus.
Jeanmarie says he wants to leave a mark and help people, much like the people he has come in contact with at Mass General.
"Having this program in place helps us," Ms. Khatri says. "Between his experience here and his college classes, he's become more proficient with web technologies and is learning how to build complex applications."
Jeanmarie is now working on a mobile-friendly application to help the hospital's medical residents track their achievements. He enjoys seeing his code come to life. Asked what he wants to do in the future, Jeanmarie says he hopes to be successful in his career. He also wants to leave a mark and help people, much like the people he has come in contact with at Mass General.
"I have received guidance and support from many individuals at MGH. I hope to one day be able to provide the same to others," he says.
For more information, or to support the Mass General Youth Scholars Program, please contact us.