Luke (Tug) Bailey can ride a swing or bounce a ball happily for hours. But when his parents or grandparents attempt to pull him into their world, conflict occurs. The 12-year-old has autism. He speaks a few words, but becomes so frustrated when people do not understand him that he will bang his head against concrete, walls and other hard surfaces.The experience of having a grandson with autism led Bob and Donna Landreth of Midland, Texas, to connect with Massachusetts General Hospital. They recently pledged $5 million to Mass General's Lurie Center for Autism for research into inflammation in the brain, which MGH scientists are investigating as a cause of autism for a subset of the autistic population.
The experience of having a grandson with autism led Bob and Donna Landreth of Midland, Texas, to connect with Mass General.
Bob knows that the research he is funding may not help his grandson, but he wants to use a portion of the money he received from selling his oil and natural gas producing company to help other families. Like most family members of an autistic child, Bob and Donna worry about where Tug will live and what type of life he will have once he is too old for public school. They know the pain of watching their daughter Robin try to find the best services for Tug, while dealing with his daily needs and discovering ways to communicate with him.
When Tug was a baby, the family noticed that he wouldn't track their fingers when they held them in front of his face. He was delayed in crawling, walking and other developmental milestones. And just when most babies become more interested in modeling their adult parents, at 14 months, Tug was fascinated by spinning objects.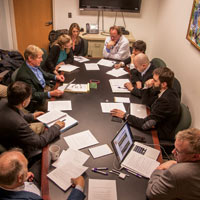 "The sad part is he's happy in his own little world," Bob says. "Our world is scary to him. When we try to drag him into our environment, we have friction. But we have to do it. It's the only way he is going to grow."
As many as 1 in 88 U.S. children have a diagnosis of autism spectrum disorder, according to the Centers for Disease Control and Prevention. Even so, there is still much that researchers do not understand about these disorders that affect boys four times more often than girls and are classified by a group of symptoms, behaviors and developmental delays.
The Landreths had considered several institutions in the United States for a donation. Bob, a chemical engineer, was meticulous about doing his own research. He met Chris McDougle, MD, director of the Lurie Center for Autism at Mass General. He asked Dr. McDougle questions and sent many late-night emails. Dr. McDougle's enthusiasm and determination to understand a specific but potentially significant subset of autism sold Bob and Donna on Mass General.
The research
Dr. McDougle told the Landreths he wanted to investigate whether there was a link between autoimmune disorders and autism. He said for years he had noticed about 20 percent of his autistic patients had family members with autoimmune disorders such as multiple sclerosis, lupus or rheumatoid arthritis.
His theory: An environmental event, such as a common infection, like the flu, or exposure to a toxin, creates a response during pregnancy unique to women with autoimmune disorders in their families. He theorizes these pregnant women have a special immune response and the antibodies they release cross the placenta to the unborn baby and trigger autism.
The Landreths' funding will make Dr. McDougle and his team's research possible.
The Landreths' funding will make Dr. McDougle and his team's research possible. The research will take a path with no sure conclusion, but one that has the potential for a major breakthrough. At this stage, the study would not have attracted large-scale federal funding.
Two prongs are planned: clinical research in humans and, in parallel, preclinical research in laboratory animals. Clinical research will include collecting detailed family histories of autoimmune disorders through face-to-face interviews with relatives of individuals with autism. The autistic individuals and a control group will then receive MR and PET scanning at the Athinoula A. Martinos Center for Biomedical Imaging at Mass General.
Researchers will inject a safe, radioactive drug compound into participants so they can use PET scans to produce computer images that light up areas of inflammation in their brains. The scans will be tricky because the large machines may frighten individuals with autism who suffer from anxiety. And, the drug compounds must be used within 20 minutes to produce the best images.
The patients with autism will be eligible for a clinical trial that will compare an anti-inflammatory medicine to a placebo. They will receive a second scan to look for changes in brain inflammation following their treatment.
This type of work has not been done to this extent for autism, and Mass General is one of the few places in the world that can do it, Dr. McDougle says.
This type of work has not been done to this extent for autism, and Mass General is one of a few places in the world that can do it, Dr. McDougle says.
"Neuroinflammation's sort of a hot topic right now. I think for good reason," says Jacob Hooker, PhD, of the Martinos Center who is a member of the research team. Dr. Hooker and his team have studied neuroinflammation and chronic pain in migraine, ALS and multiple sclerosis and are beginning such work in Huntington's disease.
"There's increasing preclinical evidence in many diseases that neuroinflammation is part of the pathology," Dr. Hooker adds.
The other arm of research employs a mouse model to determine whether exposure to an infection or toxin during pregnancy leads to offspring developing the core features of autism: atypical social interaction, deficits in communication and increases in repetitive behavior. Bill Carlezon, PhD, of McLean Hospital, is leading this arm of the project. McLean is a Partners HealthCare institution, like Mass General.
To date, most autism research has focused on genetic causes, which makes Mass General's research unique, says Dr. Carlezon. About 100 genes connected to autism have been identified, but all together they account for 10 to 20 percent of autism spectrum disorders diagnosed.
"We feel by focusing on the environment, we are using a strategy that may help us come up with a big piece of the autism puzzle," he says. The MGH research is aimed at understanding how the brain works to provide a broader understanding of the disorder. Questions that will be asked include whether inflammation is causing autism-related behaviors or relieving them by fighting back against a process that researchers have not yet identified. In addition, if inflammation is determined to be a cause, medications used to treat it for other conditions could be tried for autism.
Seeking answers 
Ultimately, the research team and the Landreths want to find answers that will prevent autism. "It's a lofty goal, but one that everyone on the team feels we can accomplish," Dr. Carlezon says.
Dr. McDougle is hopeful that the project will provide answers quickly for the subset of the population with autoimmune disorders in their families. The project is scheduled to begin in 2013.
For Dr. McDougle, who has devoted his career to caring for children and adults with autism and other neurodevelopmental disorders, time is of the essence. He doesn't believe that we should accept the status quo for how individuals with autism have been able to function as adults. "Adults with autism are not valued by society," he says. "The services for them are inadequate and unacceptable."
Every parent and grandparent wants their child to feel loved, appreciated and valued.They want their child to enter adulthood ready to claim their independence.
Bob and Donna know their grandson has made progress over the past few years, but they still think about Tug's future when he greets them with a kiss and then wanders away from social interaction. They hope Mass General's research into inflammation in the brain produces some clear-cut results. Bob plans to participate in the team's scientific meetings and monitor progress closely.
Another reason the Landreths chose to support Mass General is because of the generosity of Nancy Lurie Marks and the Nancy Lurie Marks Family Foundation, which helped establish Mass General's Lurie Center with a gift of $29 million in 2009. The gift built upon the success of a MassGeneral Hospital for Children's autism program previously known as LADDERS.
Mrs. Marks and the foundation recently issued a $5 million challenge grant to encourage other philanthropic investments. This gift will help fund clinical services — which are poorly reimbursed — ensuring patients and their families have access to quality comprehensive care over a lifetime. Matching funds, however, may be applied to the Lurie Center's clinical, research, education and/or policy initiatives. The longstanding commitment of the Lurie Marks family has helped Mass General remain on the cutting edge of treatment for children and adults with autism.
Bob and Donna Landreth have a very personal stake in seeing the research succeed. "One of my prejudices against research is it takes so long to get answers," Bob explains. "We have got to figure out a way to speed up the process because while we're all focused on finding answers, every year in the United States roughly 40,000 new cases of autism spectrum disorder are diagnosed."
To learn how you can support autism research or clinical services, please contact us.