They are former gang members whose tattoos keep them in the crosshairs of violence. They are ex-prisoners who want rid of tattoos so they can get jobs or be good role models for their children. A tattoo removal program at Massachusetts General Hospital is devoted to helping such people get a second chance at life.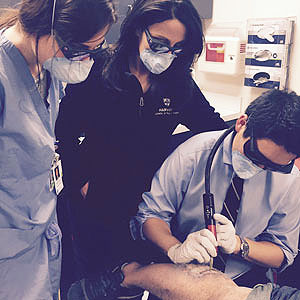 Known as Project Phoenix, it was founded two years by Mass General dermatologist Shadi Kourosh, MD, MPH. Dr. Kourosh and her dermatology residents devote one day each month to Project Phoenix patients, who are treated without charge.
Wielding high-intensity lasers, they painstakingly break up layer after layer of inked skin. Removal by lasers can take an average of 6 to 12 treatments, depending on the number of tattoos and their color, size and location, as well as the density of the dyes.
Obstacles to Opportunity
Considered cosmetic, tattoo removal is not covered by health insurance and, under normal circumstances, can cost thousands of dollars. "Were it not for Project Phoenix, the cost would be a true barrier for them," says Dr. Kourosh, who is director of the Dermatology Department's Division of Community Health at Mass General.
Even with numbing medicine, the process is painful. Yet the high-risk youth accepted into the program are highly motivated to show up month after month for laser treatments. "Despite the pain and the time it takes, their tattoos have created so many obstacles and so much distress in their lives that they are very committed," Dr. Kourosh says.
"It will take only one session to create a tattoo, but multiple painful sessions to remove it."
She recalls the young father who one day found his toddler coloring all over his own arms so he could "be like daddy." Ashamed of his criminal past, the father wanted the tattoos gone before his son was old enough to understand what they meant. Dr. Kourosh says this man now holds a good job and contributes to his community. He sought tattoo removal because he wanted to be better role model for his son.
"He thanks us every time we see him for making such a difference in his life," she says.
Seeing Boston's Need
Dr. Kourosh was inspired to start Project Phoenix by volunteering with a Dallas tattoo removal program during her residency in Texas. There, she met a man who had been in a gang. He had turned his life around, but his visible tattoos disqualified him from realizing his dream to be a Marine. Once his tattoos were removed, he was able to enlist and serve his country.
When she was recruited by Mass General in 2013 to start the MGH Dermatology Department's Division of Community Health, Dr. Kourosh realized there was a need in Boston for this service as well. She reached out to one of her mentors, Rox Anderson, MD, director of Mass General's Wellman Center for Photomedicine. He is the inventor of many of the lasers used in medicine. Dr. Kourosh credits Dr. Anderson and Bill Farinelli of the MGH Wellman Center as "phenomenal mentors" in building this program, and for facilitating the donation of a laser by the Syneron-Candela corporation.
As tattoos have grown in popularity the past 30 years, so has the need for removal, Dr. Kourosh explains. About three in ten Americans have at least one tattoo, up from roughly two in ten just four years ago, according to a 2015 Harris poll. Nearly a quarter of those with tattoos come to regret having them.
Tattoo Removal Waiting List
"When I counsel young people," Dr. Kourosh says, "I tell them it will take only one session to create a tattoo, but multiple painful sessions to remove it."
"With more funding, especially if we could hire staff to help us coordinate the program, we could help many more people."
"There is also research indicating that tattoos are a risk factor for infection with HIV and hepatitis C," she adds. As part of a tracking study of patients, they have found that many are not receiving screenings for these health risks. Those who come to the clinic for tattoo removal are also offered screenings.
There is currently a waiting list for Project Phoenix. "We're in touch with local teachers and law enforcement and have more referrals than we can handle," Dr. Kourosh says. She and her volunteers are dependent on philanthropy for supplies like numbing and disinfecting agents, safety goggles and laser replacement parts. "With more funding, especially if we could hire staff to help us coordinate the program, we could help many more people," she says.
For more information about supporting Project Phoenix and other Dermatology Community Programs, please contact us.