Each year about 1 million people go to U.S. hospitals because they have pneumonia. This common lung infection can make people of all ages very sick, from infants to the elderly. It can strike at any time, but more people develop pneumonia in the winter. The winter months bring an increase to respiratory infections and influenza, which can lead to pneumonia.
The winter months bring an increase to respiratory infections and influenza, which can lead to pneumonia.
Pneumonia can cause patients to cough, feel fatigued and have trouble breathing. Healthy adults can take up to three weeks to recover. In some cases, pneumonia can be fatal. Worldwide, it kills millions, many of them children who do not have access to vaccinations, health care and medications and who may be malnourished and not able to fight off disease.
From my career in pulmonary and critical care medicine at Massachusetts General Hospital, I know that pneumonia presents a diagnostic challenge. The disease has more than 30 different causes including bacteria, viruses, fungi and chemicals.
Research to Improve Testing
One of my current research projects is to study the genetics of tuberculosis, a much more contagious disease of the lungs. My hope is to transfer the knowledge of how microbe genetic material can be used to distinguish between different kinds of pneumonia and determine which antibiotics are appropriate for treatment.
Tips to Prevent Pneumonia
Get an annual flu shot. The flu is a common cause of pneumonia.
Pregnant women and people with respiratory conditions like asthma should be especially vigilant about getting flu shots.
Children younger than age 5 and adults over 65 should get vaccinated against pneumococcal pneumonia, a bacterial form of the disease.
If you have a medical condition, check with your physician, the shot may also be recommended for you.
Quit smoking if you can.
Avoid excess use of alcohol (more than 3.2 ounces a day for men, 2.6 ounces a day for women). Alcohol abuse can make it difficult to clear your lungs, a risk for pneumonia.
See your doctor for fever, shortness of breath or a cough that is severe or does not seem to go away.
Studies of pneumonia patients have shown that giving the proper medication a few hours sooner can lead to quicker recoveries as well as fewer complications and deaths.
Today, we have traditional lab testing of a patient's cough and blood sample, which is helpful, but does not always reveal the type of pneumonia a patient has developed. And current tests can only identify bacteria in one-third of patients. Results usually take three days to return and may take weeks in the case of tuberculosis.
If we suspect bacteria as a cause but do not know the exact type, we must prescribe a broad-spectrum antibiotic to treat a wide range and give the patient the best chance of getting better. But a less-specific antibiotic can mean we are affecting the delicate balance in a patient's body and killing off "bad" and "good" bacteria. Overuse of antibiotics can make germs resistant to them. So the next time a patient needs an antibiotic, it might not work as well.
My hope is that research leads to quicker, more specific test results for pneumonia. With better testing, we can treat the disease faster, giving patients a quicker recovery. Improved testing will also lower the rates of drug-resistant microbes that threaten the health of our community.
To learn more about supporting lung research and patient care at Mass General, please contact us.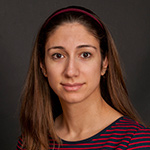 Maha R. Farhat, MD, MS, is a Mass General pulmonary and critical care physician and biostatistician who studies drug resistance in bacteria and how they can be diagnosed using gene-sequencing methods. Her clinical interests include pulmonary infections including tuberculosis and non-tuberculous mycobacterial disease.