This year's Storybook Ball drew its inspiration from the classic children's adventure tale, "Treasure Island." On Oct. 17, 2015, more than 550 guests sailed into a swashbuckling world of pirates and buried treasure at The Castle at 130 Columbus Ave. The annual fundraiser for MassGeneral Hospital for Children (MGHfC) raised $1.6 million to support research initiatives and patient care programs. Since its inception, the event has raised more than $23 million for MGHfC.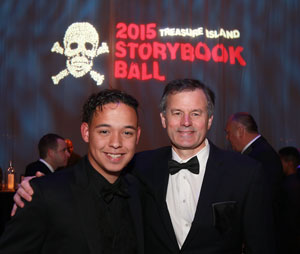 The evening's program spotlighted pediatric brain disorders and brain surgery. MGHfC is recognized internationally for groundbreaking research and clinical care that has greatly advanced the understanding and treatment of conditions affecting the developing brain.  These include pediatric epilepsy, traumatic brain injuries and concussions.
"Treasure Island," by Robert Louis Stevenson, is a coming of age tale, and so guests heard the coming of age story of featured patient Josh Canales. Sixteen years ago, Josh was diagnosed prenatally with spina bifida, a defect of the spinal cord. In the first four days of Josh's life, MGHfC neurosurgeon William Butler, MD, performed one surgery to close the opening in Josh's spine and a second to insert a shunt in his brain. The shunt would alleviate Josh's hydrocephalus, an accumulation of spinal fluid in the brain.
Fast forward to 2015. Josh is a high school sophomore with a passion for soccer. In February, his shunt became infected and he fell severely ill. Dr. Butler stepped in once again, this time performing a rare surgery to open a ventricle in Josh's brain that would allow for the permanent removal of his shunt. Today, Josh is living without the worry of hydrocephalus or another shunt infection. (Watch Josh's full story in the video below.)
Highlighting Concussion Concerns
Storybook Ball co-chairs Adriana Hassan, Melissa Lynch, Jennifer Nassour and Rebecca Seidenberg opened the evening's program. Mrs. Seidenberg, wife of Boston Bruins player Dennis Seidenberg, spoke about her family's own experience with brain injuries:
"Throughout his career, Dennis has had a few significant injuries but the scariest was when he suffered a serious concussion during a game," recalled Mrs. Seidenberg. "Dennis and I have 3 children that are all involved in sports. As a parent, I am concerned about the possibility of concussions and how it could affect their developing brains. I feel better knowing that MGHfC has programs like the Sports Concussion Clinic, to help kids get back to doing what they love."
Collaboration to Defeat Disease
The speaking program also included Ronald Kleinman, MD, MGHfC physician-in-chief, and Allan Goldstein, MD, MGHfC surgeon-in-chief. Mass General President Peter Slavin, MD, thanked guests for their generosity and reminded them how important their philanthropy is to advancing MGHfC's mission.
"Medical care for children is chronically underfunded, and much of the work that MGHfC does every day is not reimbursed by medical insurance," he said. "At MGHfC, we all work together to defeat the enemy of disease – so our children can enjoy their own adventures, outside the hospital."
Designed by Rafanelli Events, life-sized sails transformed The Castle into a pirate ship. Throughout the evening, guests played luxury booth games for high-end prizes donated by local supporters and businesses. There was also a live auction, where guests bid on one-of-a-kind treasures including a trip to Italy to visit the celiac disease research lab of Alessio Fasano, MD, and a private hockey lesson for 20 kids with the Boston Bruins. Proceeds will fund important programs for the hospital's youngest patients and their families.
To learn more about the Storybook Ball or to make a contribution, contact us.