Cool your brain. Stay connected. Look after your basic needs. Take a break from the news.
That is advice from clinical psychologist Luana Marques, PhD, MGH Research Scholar 2020-2025 and associate director of the Center for Anxiety and Traumatic Stress Disorders at Massachusetts General Hospital.
More than one-third of Americans say the pandemic is having a "serious impact" on their mental health.
She is also founder and director of Community Psychiatry PRIDE (Program for Research in Implementation and Dissemination of Evidence-Based Treatments), a program focused on bringing evidence-based practices to everyone and everywhere. Since the advent of the COVID-19 crisis, Dr. Marques has been out in front with expert guidance on how to cope and manage anxiety, producing educational videos, appearing on national and international television, and raising public awareness about using cognitive behavioral skills to build resilience.
More than one-third of Americans say the pandemic is having a "serious impact" on their mental health, according to a recent American Psychiatric Association survey. Mental health is the next wave of the pandemic, contends Dr. Marques, who in addition to her roles at Mass General, serves as president of the Anxiety and Depression Association of America and is an associate professor of psychology at Harvard Medical School. She seeks to provide reassurance that all of us are experiencing strong emotions. "It is ok to not be ok," she says.
Serving the Underserved
Dr. Marques has always been passionate about the need to increase mental health care access for underserved populations. Today, her immediate concern is addressing the challenges brought on by COVID-19, which is all at once a medical, social, economic and mental health crisis, she says. Severe economic hardship, social isolation and an uncertain future exacerbate stress and anxiety for people in general. Underserved communities, particularly Latinos and African Americans, are experiencing higher rates of transmission, hospitalization, fatality, and psychological burden.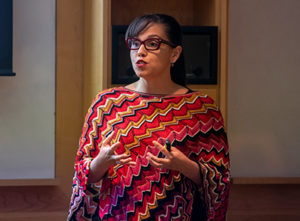 "The privilege to work from home is one that diverse populations don't have," she says, noting that they make up significant portions of the workforce in industries such as hospitality, construction, leisure and agriculture, which makes it difficult – and often impossible – to practice social distancing.
Training Non-Licensed Professionals
The PRIDE program recently launched the PRIDE Training Institute at Mass General with the goal of training non-licensed professionals or "youth development professionals," as Dr. Marques describes them, to deliver cognitive behavioral therapy (CBT) skills to disengaged and disconnected youth. In partnership with Dalio Philanthropies through its Connecticut Opportunity Project initiative, Dr. Marques' team will train 200 youth development professionals across three organizations in Connecticut, that collectively serve 1,150 youth.
"It is not just a scientific mission, but also a personal one."
To help individuals manage strong emotions during the COVID-19 pandemic, the PRIDE Training Institute is producing a free online training course to build resilience and support all who are experiencing the emotional toll of the COVID-19 pandemic. The course consists of five core modules that each showcase a specific cognitive behavioral skill. Due to the generous support of Dalio Philanthropies, the course will be available globally for free in June through the MGH Psychiatry Academy. All videos and supporting materials will be translated and dubbed in multiple languages to ensure that non-English speakers and individuals with reading difficulties can access and benefit from the content.
Always cognizant of the need to get the word out, Dr. Marques is partnering with local celebrities in a half-dozen countries to promote the course, including Paul English, the co-founder of online travel services Kayak and Lola.com in the US, a Mexican pop star, Gilberto Cerezo, and an Indian musician and music producer, Sanaya Ardeshir.
A Personal Mission
Dr. Marques was recently named an MGH Research Scholar. Funded through philanthropy, the Mass General Research Institute's highly competitive MGH Research Scholars program provides talented early- and mid-career scientists with $500,000 over five years to pursue innovative and transformative research. The award will allow Dr. Marques to help grow the PRIDE Training Institute, exponentially increasing its ability to heal communities through training and coaching on evidence-based skills that anyone can learn and share.
"You are not alone. Realize there will be better days. I am certainly living proof of that."
"It is not just a scientific mission, but also a personal one," she says of her commitment to the underserved.
Dr. Marques grew up in poverty in Brazil, raised by a single mother resilient in the face of relentless struggle. When Dr. Marques is asked for coping strategies, she thinks first of her mother.
"Keep trying, don't give up," is her prescription. She recommends that people "leverage their social network," and seek support from friends and loved ones. "You are not alone," is her message. "Realize there will be better days."
She adds, "I am certainly living proof of that."
To learn more about how you can support Mass General's response to the COVID-19 pandemic, click here.