Harold Lancer, MD, is most often seen in his private clinic on the famed Rodeo Drive of Beverly Hills. Dubbed a dermatologist to the stars, he practices medical, surgical and cosmetic dermatology and launched a line of skincare products sold globally. The likes of Ryan Seacrest, Ellen DeGeneres and Kim Kardashian offer testimonials to his practice and products.
"Harold Lancer is partnering with us to create what will be an immortal legacy in our academic mission."
After 37 years on what he calls his "clinical tour of duty," the dermatologist is giving back to Massachusetts General Hospital, the place where he trained as a resident in the Harvard dermatology program in the 1980s. Dr. Lancer's philanthropy has established the Lancer Endowed Chair in Dermatology at Mass General.
"At heart I will always be a Connecticut farm boy and part of the Harvard family that nurtured me, no matter where my office is," Dr. Lancer says.
Accelerating Advances in the Field
Endowed chairs help accelerate advances in the field by providing financial stability for recipients to pursue their research ideas. "It is really one of the greatest honors that we can bestow upon our faculty here, to give them an endowed position like a Mass General Chair," says Peter L. Slavin, MD, president of Mass General.
By creating an endowed chair, "Harold Lancer is partnering with us to create what will be an immortal legacy in our academic mission," adds David Fisher, MD, chief of Dermatology. "This is something enormously special."
The first incumbent of the chair is Richard Rox Anderson, MD, director of the Wellman Center for Photomedicine at Mass General and a Harvard Medical professor of dermatology. An engineer and physicist in addition to a practicing dermatologist, Dr. Anderson has more than 60 patents and inventions. He's been called a modern-day Ben Franklin.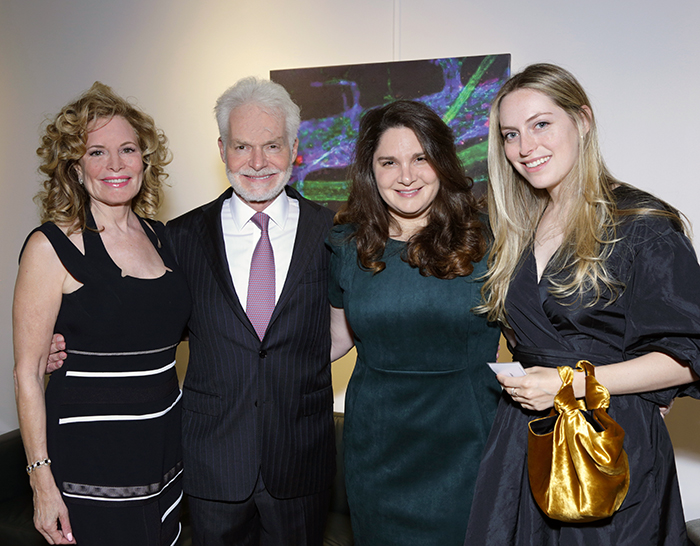 Long List of Innovations
His innovations include many of the laser treatments used in medicine today, including those for removing birthmarks, scars, tattoos and hair. A method using cold to remove fat from targeted areas in the body like the abdomen was his idea. He is currently pursuing multiple strategies to solve the complex problem of curing acne.
He was a dermatology fellow at Mass General when Dr. Lancer was a resident. "He was one of those quiet, incredibly cerebral, methodical types," Dr. Lancer recalls. "So, to create the chair that will be held by the fellow I so admire is an honor and a privilege."
An event held with faculty, friends and family in September celebrated the Lancer chair and its first incumbent. Dr. Lancer, his wife, Dani, and two daughters, Blair and Alexis, were there, as were many members of of Dr. Anderson's family. Guests even included George Daley, MD, PhD, dean of Harvard Medical School.
"Being the Lancer chair is a thrill, but it's also a challenge I take seriously to do something new," Dr. Anderson said. "I want to ensure that patients' problems are what drives new research and innovation."
He said he plans to connect clinicians who know the problems "with the instigation of research that actually solves those problems." Turning to Dr. Lancer, he added, "I think that's probably the best way to honor you because I know you believe in the importance of this too."
"It was here that I learned to learn and adapt, and to create novel solutions and approaches."
The Sweetness of Giving Back
Dr. Lancer, the son of Austrian immigrants, was raised on a farm in Connecticut and as a child suffered burns over more than 10 percent of his body. His painful recovery inspired him to go into dermatology. A graduate of Brandeis University and UC San Diego School of Medicine, he completed a plastic surgery program at the Tel Hashomer Hospital in Tel Aviv, Israel, after his residency.
"I was brought to life here in this wonderful incubator of creative thought," Dr. Lancer says of his years in the dermatology residency program. "It was here that I learned to learn and adapt, and to create novel solutions and approaches."
He acknowledges that his seven-year old self, who was in terrible pain recovering from his burns, would be humbled by all he's been able to accomplish professionally. "That I've been able to get to this point and give back," he says, "is sweet, all right."
For more information about supporting dermatology research and care at Mass General, please contact us.