November 2, 2019
On the Friday before Labor Day, a quiet side street in Canton, Massachusetts, is buzzing with activity. Cars line both sides of the street, and kids ride their bikes back and forth. Local firetrucks and police cars sound their alarms in celebration. In fact, it seems the entire town of Canton has descended upon the neighborhood, all to purchase a 50-cent cup of lemonade from 11-year-old Liam Doherty.
Liam was diagnosed with Crohn's disease at age six and founded Liam's Lemonade Stand two years later to raise money for the Inflammatory Bowel Disease (IBD) Center at MassGeneral Hospital for Children (MGHfC) where he receives care. The IBD Center follows more than 750 patients with inflammatory bowel disease, which includes Crohn's disease and ulcerative colitis. The center prides itself on providing a continuum of care for patients and access to the latest clinical and lifestyle interventions for IBD management.
Liam's journey with Crohn's began when he was in kindergarten. His mom, Lauren, noticed what looked like a skin tag on his bottom. Then she saw blood in his stools.
The Crohn's Disease Diagnosis
The Dohertys' pediatrician referred them to Jess Kaplan, MD, clinical director of the IBD Program at MGHfC. Dr. Kaplan determined that Liam's skin growth was actually a fistula, a tunnel that can grow out from an inflamed part of the bowel to the skin around the anus. Fistulas occur in 25% of children with Crohn's disease.
Crohn's disease is an autoimmune inflammatory bowel disorder that affects both children and adults. A patient's immune system becomes inappropriately overactive and targets the bacteria and other microbes living in the colon and small intestine, causing inflammation in those organs. Typical symptoms of Crohn's disease include abdominal pain, chronic diarrhea, nausea, fatigue and weight loss. Crohn's is a chronic condition with no cure.
Liam's parents were taken aback by his diagnosis. "It hit us pretty hard," Liam's dad Russ recalls. "The unknown was the most worrisome piece for me. The unknown about how Crohn's was going to affect his life, what he was going to have to live with, and how he was going to be treated."
Over the next couple of years, Liam's symptoms worsened. His Crohn's would manifest as a severe pain behind his belly button. By second grade, Liam was missing school and struggling to concentrate when he was there. He was also old enough to understand that he was facing a lifelong battle. "Why did it pick me?" Liam remembers thinking. "Why, why, why did I have to be the one with Crohn's?"
"All the people who have come and all the people who donated, it's just a huge support for me."
A Lesson in Facing Adversity
But the Dohertys decided to teach Liam and his siblings Rose, 8, and Patrick, 4, how to face adversity. "When life hands you lemons, sometimes you have to make lemonade," Lauren told Liam during one challenging bout of symptoms. It was an aha moment for Liam, and the idea for his lemonade stand was born.
The stand meant that Liam, then 8, would need to take his private battle with Crohn's disease public. "If I'm not brave enough to tell people I have Crohn's and fight for a cure, then there might never be one," Lauren recalls Liam saying. The family took to social media, sharing with friends, family and the Canton community that Liam would be holding a lemonade stand to raise money for Crohn's disease research at MGHfC. The response was overwhelming. Even Dr. Kaplan couldn't miss stopping by to purchase a cup of lemonade.
"The turnout of all our friends, family members and even just people who saw our Instagram – it means a ton," Liam says. "All the people who have come and all the people who donated, it's just a huge support for me."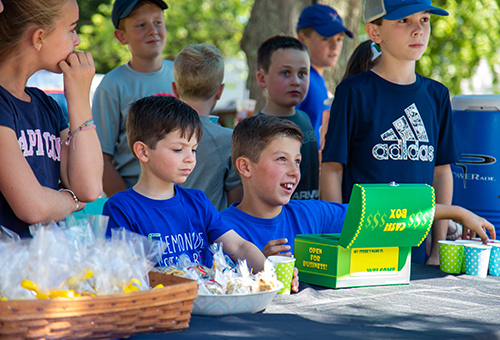 Faith in his Physician
Liam's first lemonade stand in 2017 raised over $3,000. Since then, through a bake sale and the annual lemonade stand, the Dohertys have raised more than $54,000 to support Dr. Kaplan's research at MGHfC*. The family's philanthropy has provided a huge boost to the IBD Center's work, allowing participation in clinical trials to find new ways to treat Crohn's disease and funding programs that provide more complete psychosocial support to patients with inflammatory bowel disease.
"It came from a community and gets channeled into another community," Dr. Kaplan says. "[Liam] has been a major part of building that community. I'm just so impressed with Liam. He is an incredible young man."
Today, Liam is thriving. Under Dr. Kaplan's care, he's begun infusions of Remicade, an immune suppressive medication that helps to control his Crohn's symptoms. He is a three-sport athlete who excels in hockey and baseball. He is also a young boy with high aspirations. "My life goal is to cure Crohn's," Liam says. "I am giving this money to Dr. Kaplan, because I believe he'll be the one to do it."
To support Liam's fundraising efforts, visit his BeCause fundraising page. To learn more about how you can support the Inflammatory Bowel Disease Center at Mass General, please contact us.
*fundraising total updated in August 2021