As chief of Emergency Medicine at Massachusetts General Hospital, David F.M. Brown, MD, has been on the frontlines of the COVID-19 epidemic since the start of the local outbreak. Here, Dr. Brown describes a recent day and how COVID-19 has changed life in the emergency room.
Morning: Anticipation
Today, like every day, starts at 5:00 a.m. Since the start of the pandemic, the first thing I do every morning is text each of the three attending physicians in the emergency department. I ask them how they're doing, how things went on the overnight shift and how their teams are holding up. It gives me a sense of the kind of day it will be, and how to best help my team once I get there.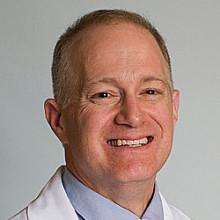 I moved out of my house three weeks ago to try to keep my wife and family safer. At the moment, I'm staying in a small apartment on Beacon Hill, just a short walk from Mass General.
I get to the hospital just before 7 a.m. and immediately head to the emergency department to take the pulse of the team. The day shift has arrived. I check in with the residents and the attendings, the nurses and physician's assistants. They seem focused, positive — and that's a good thing.
In the ED, we're accustomed to things like heart attacks and broken bones. With those interactions, there is no risk to the caregiver or their families, so we can be totally focused on the patient. Now, with COVID-19, there's an added level of anticipation and tension. We have to spend more time getting ourselves ready, making sure we have the proper protective equipment, making sure we are prepared to safely do what needs to be done.
By 9 a.m., things are starting to pick up. Patients are arriving one after another. Again, I check in with my attendings. I ask them whether they feel well staffed, or if they have any need or particular challenges. I resolve what I can before heading off to my 10 a.m. Emergency Medicine faculty meeting, which we now hold by Zoom.
Afternoon: Uncertainty
At noon, I have another Zoom meeting — this time with the residents. Our topic is crisis standards of care — that's COVID-speak for what happens when we no longer have the resources to provide all patients with the critical care that they need. If that day comes, we must decide who gets advanced critical care and who doesn't. It's a very challenging topic and upsetting for everyone.
I believe here at Mass General, we are as well prepared as any hospital could be.
I believe here at Mass General, we are as well prepared as any hospital could be. We have the resources. We have the training. We have drilled. But we are seeing such an unprecedented volume of critically ill patients. The question on everyone's mind is will we continue to have the capacity to care for all the patients as we near the peak.
Part of my job as chief is to encourage and support my people in the face of that uncertainty. So I listen. I make sure they feel valued and that their concerns are heard. I thank them for their incredible dedication and for their willingness to serve in this time of great need.
Evening: Resolve
By the time the evening team arrives, things have gotten extremely busy. There are multiple teams intubating multiple patients. Again, I check in with the individual team leaders to get a sense of who needs support, and make sure we've got the right people in the right places. Again, I am struck by the commitment and determination of each team member.
In spite of the difficulties, I am so proud our entire department — how we have come together and stepped forward to meet the challenge.
One of the strange things about this outbreak is that, at the moment, our ED volume is actually down, but almost every patient we're seeing has COVID — and many are in terrible shape. So we are admitting more patients than ever and our ICU admission rate is enormous. And although our interactions with patients are relatively brief and often intense, we know many of the people we've helped care for over the past few weeks have already gone home to their families, and we take comfort in that.
At 8:30, after my last Zoom meeting, this time with my team of advanced practice providers, I head back to the apartment and try to get some rest. I've worked every day for the last month. The stress on my team has been unimaginable. I feel it too. I worry for the health of my team and the health of my family, whom I miss very much.
In spite of the difficulties, I am so proud of our entire department — how we have come together and stepped forward to meet the challenge. We are together on this. It's inspiring, humbling. It keeps me going. Having the chance to serve this community of patients, with this team, at this moment on the front lines of the COVID-19 pandemic — it's the honor of a lifetime.
To learn more about how you can support Mass General's response to the COVID-19 pandemic, click here.