When the parents and grandparents of three young girls were admitted to Massachusetts General Hospital with COVID-19 last year, no one was available to care for the frightened children — until Mass General stepped in. The girls were admitted to MassGeneral Hospital for Children (MGHfC), where Child Life specialists set to work creating a nurturing, family-like environment for their unexpected stay.
In hours, a hospital room for two became a children's bedroom for three, with cheery bedspreads, stuffed animals, books and toys. For 10 days, the girls followed a reassuring routine. Nursing and child life staff took turns brushing their hair, reading bedtime stories, and becoming temporary parental figures. Using an iPad, child life specialists helped the girls communicate with their hospitalized mother.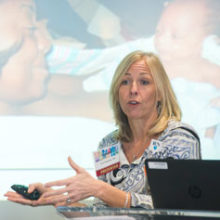 "They would say, 'I'm great, Mom!' and it impacted their mother's recovery," says Lori Pugsley, RN, DNP, MEd, nursing director of Inpatient Pediatrics at Mass General. "The child life specialists do amazing work every day and think nothing of it."
Child Life Training
Child Life specialists work to promote healthy development and to lessen psychosocial trauma and ease anxiety in children facing challenging experiences, especially in health care settings. To become certified, they must hold a graduate or undergraduate degree in child life, complete a lengthy clinical rotation and pass a national exam.
At MassGeneral Hospital for Children, 15 specialists make up The John Hancock Child Life and Wellness Program. They work side-by-side with clinical staff in multiple inpatient and outpatient departments, helping children, adolescents as well as young adults prepare for and successfully complete a plethora of medical encounters. They also help children grieve the loss of a sibling, parent, or in the case of a child who is terminally ill, face his or her own mortality.
The Spirit of Giving 
"When you understand what a child life specialist does it changes your whole perspective on visiting a hospital."
"When you understand what a child life specialist does it changes your whole perspective on visiting a hospital," says Rick Tereo, director of corporate administration at Spencer Spirit Holdings, Inc., and Spirit of Children chair.
Since 2007, Spirit Halloween's pop-up seasonal stores have given more than $520,000 through its Spirit of Children program to Mass General to support child life services. Spirit of Children accrues donations from Spirit Halloween shoppers at local Boston-area stores, business partners and a donation-matching program through coupon redemptions. The yearly grant helps buy supplies that child life uses to help children complete procedures as well as such unplanned extras as making over a sterile hospital room into a cozy children's retreat.
Prepare, Distract, Support
"Our goal is to normalize the hospital experience for children and their families while empowering our patients," says Anne Pizzano, MS, CCLS, child life manager at MGHfC, which aligns with Spirit of Children's mission to make hospitals less scary for kids and their families.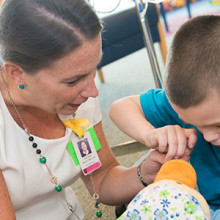 To help children become more comfortable with upcoming medical procedures, child life specialists explain what to expect in age appropriate language. A six-year-old, facing an IV insertion, might hear: "A big blue rubber band is going to hug your arm. The purpose is to wake up your veins," says Ms. Pizzano. Providing children with choice and a level of control is beneficial. An example of this would be the choice of arm to use.
Some patients require distraction to undergo procedures. For toddlers, visual stimulations, blowing bubbles, or using light-up toys, can be effective for a lab draw. For older patients, guided imagery and engaging in therapeutic conversation are effective for an MRI or CAT scan.
"If a child is in the scanner, the specialist would say, 'tell me about your favorite place: the beach, playground, your bedroom. Close your eyes and tell me what you are seeing.' So, you are helping the mind and body to relax," says Ms. Pizzano.
Outcomes also are improved. "It allows us to safely do the procedure," says Ms. Pugsley.  Research shows that children who are helped by child life specialists require less sedation and have shorter hospital stays than children who aren't. There's also a longer-term benefit in that young patients' positive experiences shape their adult perspectives on health care.
Halloween in the Hospital
Hospitalized children often miss out on milestones and holidays. Child Life works passionately to fill that gap, buying cakes and organizing celebrations. Until the Pandemic, Halloween — the ultimate kids' holiday — was celebrated with a party and parade of costumed patients and caregivers through the hospital, all courtesy of Spirt of Children.
"It gives them an escape and a sense of normalcy," says Ms. Pizzano.
This year, thanks to Spirit of Children, the team held a "reverse parade," with staff in Halloween garb, toting "goodie bags" of play dough, slime, sticker books and other fun to the room of each patient — also in costume (princesses and superheroes reigned). The annual party, where volunteers from the local Spirit Halloween stores vied for the honor of entertaining the children with games and pumpkin-painting, was sorely missed.  Some volunteers, once helped by child life specialists in their earlier years, see the specialists in a singular light.
Mr. Tereo agrees: "We call them super-heroes."
To learn more about the Child Life program at MassGeneral Hospital for Children or to make a donation, contact us.