Boston Hope Medical Center is a 1,000-bed facility built within the Boston Convention and Exhibition Center for COVID-19 positive people. It welcomed its first COVID-19 patients on Friday, April 10. Retired Brigadier General Jack Hammond, executive director of Home Base, a Red Sox Foundation and Massachusetts General Hospital program that heals the invisible wounds for Veterans through world-class care, wellness, education and research, leads the build-out and operations of the center. He shares his thoughts on how this project came together and what the team's goals are for the future.
"The high level of collaboration needed to create, launch and sustain Boston Hope is remarkable."
What is Boston Hope?
Boston Hope is both a field hospital and respite site for COVID-19 positive people. The facility is composed of two separate areas. The first is a COVID-19 respite center with 500 beds for low-acuity patients who are either unsheltered or require isolation and convalescing.
The second area is a 500-bed field hospital that serves mild- to medium-acute COVID-19 patients. In addition, if patients become sicker and require a ventilator, we have five acute rooms with the proper equipment needed. The purpose of this site is to relieve pressure on the area hospitals by transferring their non-acute COVID-19 patients here so that they can focus their resources on those who are most sick.
How is Boston Hope staffed?
Our leadership team is comprised of Michael Allard, chief operating officer of Home Base; Jeanette Ives-Erickson, chief nurse emerita at Mass General; and Giles Boland, MD, chief of radiology at Brigham and Women's Hospital. The clinical side is largely led by Partners HealthCare, so we have been fortunate to draw from the Boston-area Partners HealthCare hospitals, the Massachusetts Medical Association, staffing agencies and the Department of Defense to establish a well-rounded team. Every Boston-area teaching hospital has sent resources to support this mission. Schools of nursing, including the MGH Institute of Health Professions, have also provided resources.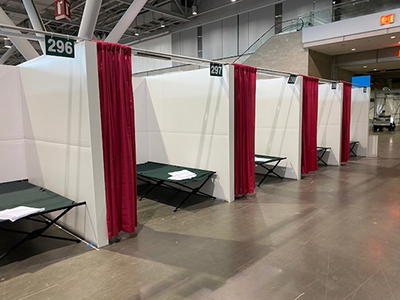 Moreover, we secured 75 members of the Massachusetts National Guard and worked with the federal government to secure an Army Reserve Medical Task Force of 85 soldiers who are doctors, nurses, respiratory therapists and other types of caregivers. In addition, 30 members of the Home Base staff have volunteered to work at Boston Hope.
Several institutions across the city are working together in unprecedented ways as part of the Boston Hope initiative. Why is it important for these groups to collaborate?
The high level of collaboration needed to create, launch and sustain Boston Hope is remarkable. We have formed key partnerships with the office of Massachusetts Governor Charlie Baker; the office of Boston Mayor Martin J. Walsh; Partners HealthCare, Boston Health Care for the Homeless, Beth Israel Lahey Health; Atrius; military members and civilians; and the public and private sectors. Each group is represented, and these partnerships are the reason this initiative has been successful.
What are your short- and long-term goals for Boston Hope?
In the military, we use a methodology called, "crawl, walk, run." Boston Hope's "crawl" phase included planning and construction. One of our most significant accomplishments thus far was working with Suffolk Construction to build the Boston Hope facility in just seven days.
"We have no idea what the future holds or how long this pandemic will affect our lives, so I think we all need a little hope right now."
We transitioned to the "walk" phase shortly after opening our doors on April 10 and will continue to staff up and validate our medical systems to reach full operational capability. Now that the oxygen lines are in place and we are finalizing the pharmacy needs, we will begin the "run" phase. We hope to significantly increase our patient population, so we can begin to relieve the pressure on our hospital partners.
As many of these patients require occupational or physical therapy afterward, we are partnering with Spaulding Rehabilitation Hospital and the Army to develop rehabilitation plans for our patients while they are still with us to ensure that we can assist them in restoring their function.
We will operate at "run" phase and sustain our current operations for the foreseeable future, before beginning parallel planning for the final phase when the mission is completed. Some experts are predicting a second wave of COVID-19 could come this fall. We know this incredible resource might be needed in the future, and we must take care to capture the lessons learned and protect the resources.
As a military veteran, how has your training and experience prepared you for this unprecedented pandemic and specifically this vital initiative?
I spent a good portion of my career preparing for and responding to man-made and natural disasters — including a deployment to New Orleans after Hurricane Katrina. This, combined with my time in Iraq and Afghanistan, helped me to prepare for the current challenge. Despite all of my training and experiences, I don't think anything could prepare any of us for the far-reaching effects of this pandemic.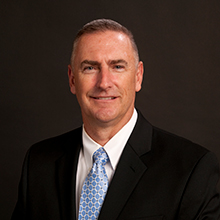 That said, I can't underscore the importance of building an amazing team. Each member of the Boston Hope team has stepped up and volunteered to spend time away from home working in a COVID-19 positive environment. They are working together to do some amazing things to help those affected by this virus. A great team working together can solve 90 percent of your problems, so my approach has always been to find the smartest and most capable people I can and build a cohesive and adaptive team. I'm proud to say we have accomplished that at Boston Hope.
What is the inspiration behind the name "Boston Hope?"
We are living in some pretty difficult times, and we just passed the anniversary of the Boston Marathon bombing. We have no idea what the future holds or how long this pandemic will affect our lives, so I think we all need a little hope right now. Hope for this virus to be defeated and hope for a better future — and that is why we need Boston Hope!