Researchers at Massachusetts General Hospital and Brigham and Women's Hospital have developed a smartphone-based semen analyzer that can be used to test for male infertility in the privacy of your own home. The device can accurately analyze most semen samples in less than five seconds.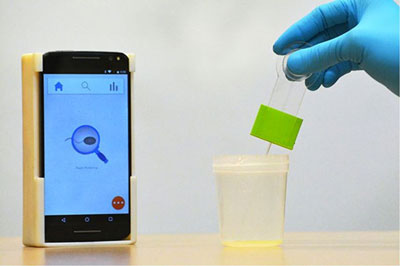 Male Infertility Challenge
Male infertility affects almost half of the 45 million couples worldwide who have trouble conceiving, but current standard methods for diagnosing male infertility can be expensive, labor-intensive and require testing in a clinical setting.
Cultural and social stigma, and lack of access in resource-limited countries may prevent men from seeking an evaluation. To overcome these barriers, researchers wanted to come up with a solution to make male infertility testing as simple and affordable as home pregnancy tests.
The Solution
The analyzer consists of a disposable device onto which a semen sample can be loaded, a miniature weight scale to gauge sperm count, and an optical accessory that can quickly analyze the sperm. The entire kit costs less than less than $5. The team also designed a user-friendly smartphone application to guide users through each step of the testing process.
"The ability to bring point-of-care sperm testing to the consumer, or health facilities with limited resources, is a true game changer."
The Results
To evaluate the device, the research team collected and studied 350 semen samples from the Massachusetts General Hospital Fertility Center. Using the World Health Organization's guidelines for sperm concentration and motility, the screening kit was able to detect abnormal semen samples with 98 percent accuracy. The team also evaluated how well both trained and untrained users performed the test using the smartphone-based device.
What's Next
"The ability to bring point-of-care sperm testing to the consumer, or health facilities with limited resources, is a true game changer," said John Petrozza, MD, a co-author of the study and director of the Mass General Fertility Center.
The device is currently in a prototyping stage. The team plans to perform additional tests before filing with the FDA for approval.
For more information about how you can support Mass General research, please contact us.
The Research Institute: Saving Lives Through Science
The Massachusetts General Hospital Research Institute is the largest hospital-based research program in the United States, with a community of over 8,000 people working across more than 30 institutes, centers and departments.
Our researchers work side-by-side with physicians to pioneer the latest scientific advancements for curing disease and healing patients in Boston, across the United States and around the world.
To learn more about the Research Institute, please visit our website.