Brian Silber was, in his father's words, "the son every parent would have wanted:" bright, athletic, and, most of all, big-hearted. It was only natural that when Brian was struck down by a spinal cord cancer tumor, his final wish, at age 28, would launch an ongoing legacy of giving in support of other patients with the rare form of cancer.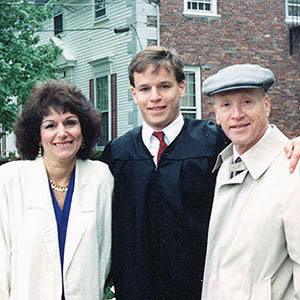 Jay Loeffler, MD, chief of Radiation Oncology at Massachusetts General Hospital, remembers the day Brian brought up the idea. It was toward the end of his life, when the cancer – and efforts to treat it – had left him paralyzed. "He said, 'You guys really don't know a lot about what I have, do you?' And I said, 'No, we don't.' And he said, 'Why don't I ask my family to help raise money for this?'"
In the 20 years since Brian's death in 1996, his parents, Jason and Sharon Silber, of Peabody, Mass., and his sister, Karen Weissel, of Newton, Mass., have carried out his wishes with extraordinary dedication. Through their efforts, the Brian D. Silber Memorial Fund has raised $2.2 million – funds that have helped establish the nation's first spinal cord tumor clinic and make Mass General a world leader in research into the condition. Even at an institution already renowned for neuroscience, the Silbers have had a remarkable impact.
"I don't think anybody would be paying attention to spinal cord tumors except for their efforts," Dr. Loeffler says.
A Search for Treatment
When Brian was diagnosed in 1994, he and his family tried to learn all they could about spinal cord cancer, but they found little information in libraries and no hospitals that specialized in the disease. They felt lost, frustrated and helpless. "We kept looking for help for him, and there was no place to go. There was nothing for spinal cord tumors," Sharon remembers.
He never once said: "Why me?" Instead of lamenting his fate, Brian asked his friends and family to make donations earmarked for research on spinal cord tumors.
Brian eventually found his way to a team of specialists, including Dr. Loeffler, who treated him with radiation, chemotherapy and surgery. Despite these efforts, his condition continued to worsen.
"He never once said: 'Why me?'" Jason recalls. Instead of lamenting his fate, Brian asked his friends and family to make donations earmarked for research on spinal cord tumors. When he died, the number of donations was so great that the Silbers decided to establish a permanent fund to take advantage of this strong base of support.
At Dr. Loeffler's suggestion, the family created a golf tournament, held every July. It is followed that evening by a dinner reception, raffle and auction. While most charity golf events peter out after a few years, the Silbers' tournament has gone on and on, accounting for most of the $100,000 the fund typically raises each year.
Support for Spinal Cord Cancer Patients
The Silbers attribute their success to the strong commitment of the extended family, to corporate sponsors and individual donors who have supported the cause year after year, and especially to Brian's network of friends from work, college and high school. "These guys consider this their 'Brian day,' to remember Brian and have their own mini-reunion," Karen says.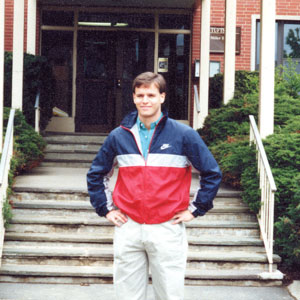 The funds have allowed Mass General to create the Brian D. Silber Spine Tumor Clinic, which pools the expertise of departments ranging from neurology and neurosurgery to radiation oncology. The clinic is a great convenience for patients who live far from Boston: Instead of having to visit different specialists in different buildings, sometimes days apart, patients can see them all at once in a single location. The Silber Fund has also supported a series of lectures, an annual award and the purchase of needed equipment.
Perhaps most important, the Silber Fund has provided seed grants for research, including one recent study that offers hope of a gene-based treatment against the particular type of cancer cell that formed in Brian's spine.
Up to now, progress in treating spinal cord tumors has been slow, in part because of their location in the body. Doctors who routinely use surgery and radiation against brain tumors must wield these techniques more cautiously in the spine to avoid causing nerve damage that results in pain, loss of sensation or paralysis.
A Legacy for Brian
Despite the many challenges that remain, the Silbers' commitment is unwavering. Knowing what they and Brian went through has given them the passion to keep going for the past 20 years. And Sharon and Jason, together with their daughter and grandchildren, vow to carry on in Brian's memory. "He didn't want people to suffer," Sharon says. "He wanted there to be a cure. And that's our goal."
For more information or to make a donation to the Brian D. Silber Memorial Fund, please contact us.