For Judy Lipson and her parents, Ellie Lipson and the late Ben Lipson, supporting excellence in primary care has always been deeply personal. The family's longstanding support for the John D. Stoeckle Center for Primary Care Innovation at Massachusetts General Hospital is inspired by the exceptional care Dr. Stoeckle himself provided them in difficult times.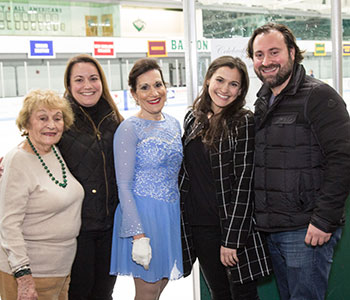 Founded in 2001, the center focuses on enhancing primary care by encouraging clinical excellence, extraordinary care for patients and their families, and by enriching professional lives for practitioners.
"We are so grateful for Judy's hard work and her family's, on behalf of the center, "says Susan Edgman-Levitan, PA, the center's executive director. "It all started with her father, Ben Lipson. He was a passionate patient advocate well ahead of his time."
A Poignant and Perfect Match
The family's impassioned advocacy for primary care and patients' rights began in 1970 when devastating illnesses struck Judy's older sister, Margie. Outgoing, intelligent and athletic, 16-year-old Margie had developed anorexia and bulimia — eating disorders with dangerous medical consequences.
The Lipsons struggled to find a physician who could treat Margie, an engaging person with big brown eyes and a gorgeous smile.
Their search ended when they met John Stoeckle, MD, a primary care physician who served for 65 years at Mass General. Dr. Stoeckle cared for Margie and helped her family members, too, as they tried to cope with her disturbing and complex illness.
Two decades later, when the diseases finally claimed Margie, her family credited Dr. Stoeckle with adding years to her life. Sadly, Margie was not the first child that Ben and his wife Ellie had lost. In 1981, Jane, the youngest daughter, died in a car accident at age 22. Jane was a young woman who loved working with children. She became friends with everyone and knew the true meaning of celebration.
Despite their losses, the family soldiered on, with Judy now bereft of both her older and younger sisters.
Grieving Father Becomes an Advocate
A successful, self-made, insurance broker, Ben Lipson leveraged his knowledge and position to become an author and Boston Globe columnist, where he advocated for patient rights. In Dr. Stoeckle and John Goodson, MD, a Mass General physician who was mentored by Dr. Stoeckle and who cared for other members of the Lipson family, Ben saw kindred spirits. His wife, Ellie, a retired teacher who taught English as a second language, shared Ben's enthusiastic support.
When Ben learned about plans to establish the center in Dr. Stoeckle's name, he saw a way to help patients and honor the family's beloved physician.
"The way Dr. Stoeckle and Dr. Goodson practice medicine is true caring not only for the patient but the entire family," Judy explains. "They are the essence of doctoring."
The physicians returned her father's high regards. "Ben was an advocate's advocate and a strong supporter for healthcare access in the Commonwealth," Dr. Goodson recalls. "Ben stood for social justice."
When Ben learned about plans to establish the center in Dr. Stoeckle's name, he saw a way to help patients and honor the family's beloved physician. At the center's inception, the Marjorie E. and Jane E. Lipson Memorial Fund was established to help educate physicians about primary care and help patients realize their rights. Throughout the years, the family enhanced the fund.
Support for Primary Care
After Ben passed away in 2011, the family began endowing the center's Benjamin Lipson Memorial Lecture series. Their gift covered the expense of an annual, national speaker for primary care providers. Judy also put her own stamp on the family's commitment.
While her father was alive, it was too painful to talk about Jane and Margie, she recalls. But now, chance meetings with their friends tapped into a well of unexpressed feelings. Judy decided to honor her sisters with a fundraiser for the center.
A cocktail party in 2011 at the Hampshire House in Boston evolved into an annual skating event, Celebration of Sisters at the Babson Skating Center in Wellesley. As children, Judy explains, "we all skated together first in Newton and then at Boston College. Of the three of us, Margie was the skater."
Every year, the event grows — from 70 attendees in 2012 to 130 in 2016. Elite and community skaters perform before an audience of skating fans, family and friends, including those once close to Jane and Margie. Judy, who returned in earnest to the sport seven years ago, skates, too, cheered on by her mother and Judy's daughters, Janie and Amy.
For Judy, a self-described "very private person," gliding before the crowd in a sparkly dress and helping the center is cathartic. "They know I'm skating for my heart and my sisters," she says. "I think my dad would be very proud."
For more information about the Stoeckle Center for Primary Care Innovation or to make a donation to the Marjorie E. and Jane E. Lipson Memorial Fund, please contact us.