Even before her cherished therapy dog, Magellan, passed away, Massachusetts General Hospital volunteer Henrietta Gates had decided to help fund the Pet Therapy Program. She had witnessed the tremendous difference a visit from Magellan made in the lives—and health—of patients they visited each week together for more than eight years.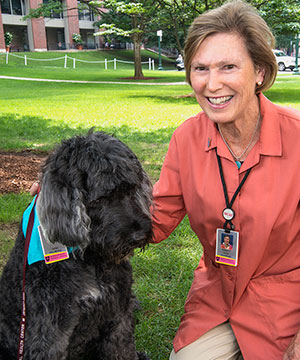 Ms. Gates recalls taking Magellan, a Portuguese water dog affectionately called "Gelly," to visit an elderly patient who was in a semi-coma and nonresponsive. "Gelly walked up to his bed, licked his hand, and the man actually started smiling," Ms. Gates says. "Everyone in the room cried and his nurse said she'd never seen anything so wonderful in her whole career."
After Gelly died last year, Ms. Gates and her husband, Heaton Robertson, knew it was the right time to bolster the Pet Therapy Program and bring therapy dogs to more patients. They created the Magellan Fund in the dog's honor. The fund also supports research into the beneficial effects of pet therapy for patients and staff in a hospital setting.
A Dog Grows into His Role
As Gelly's "handler," Ms. Gates, of South Hamilton, Massachusetts, witnessed the changes that came over people after spending time with a therapy dog, whether the animal was cuddling in bed with a lonely patient, doing tricks for a sick child, being petted by a worried family member or giving a busy nurse a friendly tail wag.
For five years she put her dream on hold to see if the boisterous Gelly would outgrow his youthful behavior.
Ms. Gates had become excited about the prospect of volunteering in Mass General's program years ago after reading an article about another Portuguese water dog owner-volunteer. When Ms. Gates got Gelly as a puppy, she hoped that they might one day volunteer. For five years, however, she put the dream on hold to see if the boisterous Gelly would outgrow his rambunctious, youthful behavior.
Both she and her husband were pleasantly surprised when Gelly sailed through a six-week training program. "He marched by my side, as proud as can be, and he knew how serious it was," she says. Gelly soon joined the other therapy dogs working with patients at Mass General.
Sneaky Visit Becomes Pet Therapy
Amanda Coakley, RN, PhD, staff specialist and nurse scientist, has been associated with the Pet Therapy Program since its informal—and slightly illicit—start in 2003. During the holiday season, a staff member would sneak in her dog, Maggie, to cheer up patients and staff. Dr. Coakley and others noticed the positive effects of the dog's presence right away.
Pet therapy's therapeutic benefits are becoming more established, thanks, in part, to Dr. Coakley's research at Mass General.
Dr. Coakley's research background is in alternative therapies, so the timing was serendipitous. "I love animals and believe that complementary therapies help patients deal with hospitalization and improve their health," she says.
She was interested in determining whether pet therapy interventions improve physiological, behavioral and mood-related factors in hospitalized patients as well as their overall hospital experience. In close collaboration with the Infection Control team, she gained approval to pilot an official pet therapy program.
Flash forward 13 years: Pet therapy's therapeutic benefits are becoming more established, thanks, in part, to Dr. Coakley's investigations at Mass General. Her research has shown that patients have less pain, more energy and are in better moods after a visit from a pet therapy dog. "Patients report that it makes them feel less tired and more connected to the outside world…and it's meaningful to them," she says.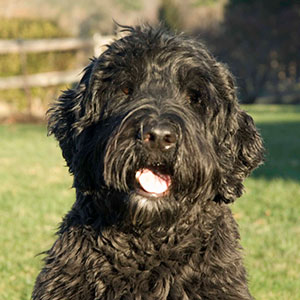 Looking Closer, Looking Forward
Going forward, Ms. Gates' and Mr. Robertson's support for the Magellan Fund will ensure that therapy dogs will continue their visits to nine inpatient units, one intensive care unit and the radiation oncology unit. Their generosity will also enable the program to expand.
In addition, it will allow Dr. Coakley to conduct a new study examining pet therapy impact on patients from a biologic perspective, particularly on cortisol levels, an indicator of stress. Her study will also look at the impact on nurses and the dogs' handlers.
Jacqueline Nolan, director of Volunteer Services, says the program's effects extend into the very culture of the hospital itself. "It is unlike any other volunteer program," she says, "in that it is not only beneficial to the patients but also to the staff who are working in a very stressful environment."
For Ms. Gates and Mr. Robertson, funding this research and sharing it with other institutions, including nursing homes and senior citizens' facilities, is very exciting. "Armed with data, just think of the impact Mass General can have as a model for others," she says.
To learn more or to make a donation to the Pet Therapy Program or to support the hospital through the MGH Fund, please contact us.