Massachusetts General Hospital has been awarded the 2015 Foster G. McGaw Prize for Excellence in Community Service, a national honor recognizing a hospital's commitment to community health. Of more than 100 applicants from around the country, this award recognizes Mass General's longstanding commitment to addressing issues such as the obesity epidemic and opioid crisis, and its dedication to reduce barriers to health care.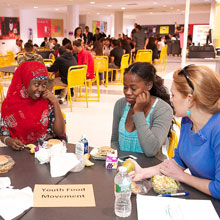 The award – sponsored by The Baxter International Foundation, the American Hospital Association and Health Research & Educational Trust – celebrates how people working together in hospitals and communities can improve the health and well-being of local communities. In the 30-year history of the prize, only one other Massachusetts hospital, Cambridge Hospital in 1993, was awarded this honor.
MGH Deeply Honored
"The MGH is deeply honored to receive the Foster G. McGaw Prize in recognition of our work to partner with local communities to address social determinants of health and to fully integrate community health into our patient care, teaching and research missions," says Peter L. Slavin, MD, MGH president.
In 2013, the MGH established an initiative aimed at improving care for patients with substance use disorders in Charlestown, Chelsea and Revere. The focus moved beyond community-based prevention and into a systemwide approach, becoming the leading clinical priority for the hospital's strategic plan, the first time in MGH's history that the community directly influenced the hospital's clinical agenda.
Community Health Initiatives Recognized
One year later, a multidisciplinary team is in place for staff to consult with when hospitalized patients have substance abuse disorders; a team of recovery coaches have been hired to connect patients with addiction services; connections have been built with community-based providers; and new services are available in MGH health centers in Chelsea, Revere and Charlestown.
In addition, the McGaw Prize recognized the MGH for innovative community initiatives; working toward policy and systems change to reduce substance use and obesity; providing youth health and science opportunities to promote the critical social determinant of educational attainment; and reducing social and economic barriers to care for vulnerable patients through community health workers, navigators and outreach programs.
"Addressing social determinants of health requires more than medical care in underserved communities where social and economic factors have a greater impact on health status. Health care cannot tackle these challenges alone, but we can convene key partners and stakeholders from multiple sectors across the community and bring our collective resources to bear," says Joan Quinlan, vice president for Community Health and director of the MGH Center for Community Health Improvement.
If you'd like to learn more about the Center for Community Health Improvement and how you can help further its progress, please contact us.