The 1811 Society is a special giving circle comprised of the MGH Fund's most generous donors.
Established in Mass General's bicentennial year, The 1811 Society honors our friends who make annual gifts of $1,000 or more to the MGH Fund. The 1811 Society celebrates a tradition of philanthropy that provides energy and support to our hospital as it begins its third century of medicine.
"Mass General is a global leader uniquely positioned at the epicenter of medicine and research. The MGH Fund is the key we use to unlock that potential." – Peter L. Slavin, MD, President, Massachusetts General Hospital
The 1811 Society is comprised of donors who care deeply about health care and are committed to investing in the future of medicine and biomedical science. Mass General is renowned worldwide as an innovator in biomedical research, clinical care and global health solutions. Gifts to the MGH Fund through The 1811 Society make extraordinary advancements possible – from groundbreaking discoveries to lifesaving treatments.
Many members of The 1811 Society have become supporters because they or a loved one were once a patient at Mass General. They have experienced firsthand the cutting-edge, compassionate care the hospital delivers to each person that comes through our doors.
Support the Future of Medicine
In appreciation of your commitment to Mass General's mission of medical excellence and innovation, as a member of The 1811 Society, you will: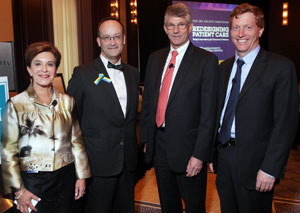 Be appointed a personal MGH Fund contact who can answer questions throughout the year
Enjoy invitation-only special events presented by the MGH Fund
Have the opportunity to interact directly with the world's foremost medical experts and hospital leadership
Receive publications that share how gifts to the MGH Fund are making a difference at Mass General
In short, you will have an insider's view of the groundbreaking work being done every day at Mass General – work that would not be possible without your generous support.
Giving Levels
The 1811 Society donors who give at the following levels are honored as members of special giving circles.
$1,000 annually – Member
$10,000 annually – President's Circle
$25,000 annually – Third Century Circle
You can support the future of medicine as a member of The 1811 Society. Make your gift of $1,000 or more to Mass General today or contact us to learn more about The 1811 Society.
The MGH Fund Leadership Council
The MGH Fund Leadership Council was established in 2013 under the inaugural leadership of Co-Chairs Sandy Edgerley and Carl Martignetti. Comprised of MGH Fund leadership donors who are committed to elevating awareness about the importance of flexible funding, the Council was tasked by Dr. Peter Slavin to grow its annual revenue from $5M to $10M, a goal that was achieved in just five years. Currently Chaired by Kevin Maroni, Leadership Council members contribute to Mass General in a variety of ways, including philanthropy, volunteerism, advocacy, and peer outreach. Gifts to the MGH Fund allow Mass General to act quickly and respond to unexpected needs such as groundbreaking research, clinical projects, education, global and community health, and disaster response.
MGH Fund Leadership Council Members:
Kevin Maroni, Chair
Christopher Choma
Donald Dion
Susan Domolky
Sandy Edgerley
Richard Frisbie
Scott Gieselman
Mike Jones
Darlene Jordan
Fred Lynn
Carl Martignetti
Kevin McCafferty
Ofer Nemirovsky
Ann Prestipino
Patty Ribakoff
Fred Seigel
Eric Slifka
Peter Slavin, MD, ex officio