At what blood pressure is drug therapy necessary? A panel of national experts released controversial new guidelines in December 2013 that would allow blood pressure to sneak higher before treating than the current standard for people 60 and older. But Randall Zusman, MD, director of the Mass General Division of Hypertension, disagrees. He is not alone. Five dissenting members of the 17-member expert panel published a follow-up article warning that the changes could put more people at risk for heart disease and stroke.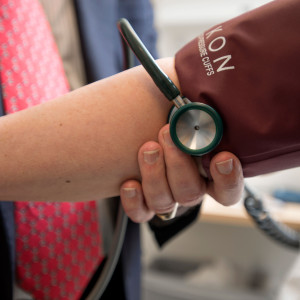 Dr. Zusman points out that the panel's recommendations have not been accepted by any official organization — not by the American Heart Association, American College of Cardiology nor the American Society of Hypertension. He, like many other physicians, has not changed how he treats hypertension and is concerned about the risks of waiting as blood pressure rises.
"Controlling blood pressure is extremely important," he says. The vast majority of people over the age of 55 — 90 percent — will develop high blood pressure at some point in their lives. It can silently damage blood vessels, the heart, kidneys and the brain years before any symptoms show. As it stands now, half of those with high blood pressure are not controlling it sufficiently, he points out.
Raising the Threshold?
Drug therapy is typically considered when blood pressure reaches 140/90 or, for people with other diseases like diabetes, kidney or heart disease, even earlier at 130/80. The top number reflects the pressure in the blood vessels when the heart beats (systolic) and the bottom number is when the heart is refilling with blood between heartbeats (diastolic). Normal pressure is 120/80 or below.
The new guidelines suggest raising the threshold for starting treatment to 150/90 for people 60 and older. They would also raise the treatment target for people with diabetes and kidney disease to 140/90.
"It's important for people to know that if they are experiencing side effects from their current drug therapy that changes can be made."
A tempting reason to start medications later rather than sooner are the potential side effects. Some drugs can cause erectile dysfunction, for example, or dizziness that increases the risk for falling. "I do agree that potential adverse effects of blood pressure medications must be considered," Dr. Zusman says. "It's important for people to know that if they are experiencing side effects from their current drug therapy that changes can be made."
Individualizing Blood Pressure Treatment
There are dozens of medicines available.  They are prescribed alone or in combination. The combination of drugs is individualized for each patient. Dr. Zusman takes into account other diseases his patients have and potential interactions with other medications they're on. "The average person requires two or three drugs to control their blood pressure," he says.
The most common cause of the high blood pressure is a narrowing of the blood vessels. As a result, the heart has to exert more force to push blood through the vessels to supply oxygen to the various organs in the body. Dr. Zusman's approach is to start with so-called vasodilating drugs, which directly address the narrowing of blood vessels by widening them. These include ACE (angiotensin-converting enzyme) inhibitors, angiotensin receptor blockers, and calcium channel blockers.
Although patients who are black are not as responsive to ACE inhibitors as nonblacks, Dr. Zusman has found these drugs are still useful. Discouraging their use among blacks is another recommendation of the new guidelines with which he disagrees.
Lifestyle changes are the other way of controlling blood pressure. Weight loss, regular aerobic exercise, stress reduction and salt reduction may be enough to avert or delay the development of high blood pressure, Dr. Zusman advises.
Dr. Zusman has collaborated with Mass General's Benson-Henry Institute of Mind Body Medicine on research that has demonstrated the value of tapping the "relaxation response" to lower blood pressure. It necessitates taking a course to learn the relaxation technique and practicing it 20 minutes every day.
"This has been a very successful technique alone or in combination with drug therapy," he says. "We now understand the mechanism by which it works is to activate and/or inactivate certain gene groupings that are associated with blood pressure regulation and vascular resistance."
Never Too Early to Avoid Salt
He recommends that everyone consume less salt. There is a lot of salt (sodium) in pretzels and potato chips, but it is also hidden in products like canned soups, breakfast cereals and many types of bread. His basic advice is to never add salt to food.
"A lot of people who are 'saltaholics' have a hard time suddenly putting the brakes on salt intake," says Dr. Zusman. "If salt never becomes part of your lifestyle early in life, it won't be so onerous when I have to tell you to give up your favorite salty food."