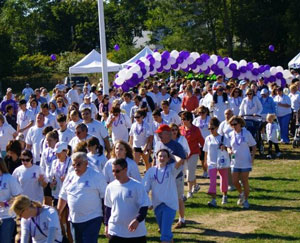 On the face of it, community fundraising at Mass General involves holding an event to support the people and programs behind some of the most advanced medical care in the world. But often the fundraisers themselves experience some of the most profound benefits.
Community fundraising can empower patients, families and friends during a difficult time. It can honor a loved one or a cause in ways that have real and enduring impact. It can allow one person or group to make a meaningful difference in the lives of others for many years to come.
Depending on Every Dollar
The causes that MGH community fundraisers of all ages champion include ALS, cancer, epilepsy and absolutely everything in between. The initiatives they undertake are equally varied. To raise money to support the Mass General doctors, researchers and caregivers involved, community fundraisers hold bake sales, golf tournaments, black-tie galas and ice skating performances. Couples donate wedding gifts. The fitness-minded organize walk-a-thons, distance runs and spinning events.
Mass General depends on every dollar raised by these efforts, which are growing rapidly in scope. Eight years ago, 50 individuals and groups collectively raised $400,000. In 2014, more than 200 individuals and groups collectively raised nearly $3 million. Meanwhile, online donations have also skyrocketed. A decade ago, $54,000 was raised online from community fundraising. In 2015, the program is on track to exceed $1.5 million in online donations.
You can learn more about community fundraising at Mass General by visiting our website.