Mass General expert laser and cosmetic dermatologist Mathew Avram, MD, answers questions about new attitudes and growing trends in men's skin care.
Is men's skin different from women's skin?
Men's skin is different from women's skin, both in structure and function, and therefore requires specialized knowledge and tailored treatment approaches.
What mistakes do men make in regard to skin care?
The men who come to our practice have specific goals in mind. They want to look as good as they feel, but they don't want to look artificial.
Basically, many men neglect their skin. If men want their skin to look youthful and healthy, they've got to make skin care part of their daily routine. Sun and smoking are the chief culprits that lead to skin damage. Smoking cessation is an obvious solution. In terms of sun exposure, many men do not wear sunscreens, thus leading to increased sun-damaged skin. A moisturizer that contains a sun block can provide preventative protection against skin cancers, aging, and wrinkling and can be easily incorporated into a daily skin care regimen.
How can men protect their skin when shaving?
Here are a few helpful tips:
1. Shave in a warm shower or put a hot towel over your face prior to shaving.
2. Massage shaving creams or gels into the skin.
3. Don't shave too close against the skin and use a single edge blade to protect your skin from irritation. This
helps to reduce ingrown hairs.
4. Shave in the direction of your hair growth – not against the grain.
5. Use plenty of water when shaving; pat gently with a towel, do not rub.
What do you recommend for controlling acne?
Daily use of a benzoyl peroxide wash or gel can help. However, you may want to see a dermatologist to evaluate whether a prescription retinoid or other medication would be beneficial. If you are concerned about acne scars, there are safe and effective laser treatments that require little to no downtime. Many of these laser technologies were developed here at Mass General Dermatology, in association with the Wellman Center for Photomedicine, including laser skin resurfacing, laser tattoo removal, and CoolSculpting®, which are now used around the world.
Are more men seeking cosmetic dermatology and why?
Yes, there is a growing trend nationally as well as in our practice. Today the viewpoint has shifted. Increasingly men are concerned about their appearance. Now that there are noninvasive treatments with little to no downtime, men are seeking treatments to give them a healthy, refreshed look. Many men believe that in our current youth-oriented culture looking good gives a competitive advantage in today's job market. When they look good, they feel more confident.
What types of cosmetic procedures are men seeking?
The men who come to our practice have specific goals in mind. They want to look as good as they feel, but they don't want to look artificial. Our noninvasive and minimally invasive treatments fit well into this desire. After a consultation, a tailored treatment is selected.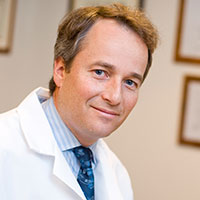 Mathew M. Avram, MD, director of the Massachusetts General Hospital Dermatology Laser & Cosmetic Center,
has earned the reputation as a leader in the field of cosmetic dermatology. He is a frequent expert guest on ABC, NBC, FOX, news and has appeared multiple times in the New York Times, Wall Street Journal, Washington Post and numerous media.