As a healthy woman delivering her first baby at full term, Lesley Carvalho expected blissful bonding with her newborn son, Roman. Instead, on their first evening together, a Massachusetts General Hospital maternity nurse noticed he had turned gray and wasn't breathing. She whisked him away to the Patty Ribakoff Newborn Intensive Care Unit (NICU), where neonatologists and neurologists were prepared to deliver the most advanced medical care.
Launched recently to optimize outcomes for infants with brain problems like Roman, the Infant Brain Center at MassGeneral Hospital for Children is a collaboration of experts that includes neonatology, neurology, neuroradiology, neurosurgery, maternal fetal medicine, placental pathology and neonatal nursing. Neonatologist Sara V. Bates, MD, and pediatric neurologist Kevin Staley, MD, created the center.
Strokes in newborns are a particular concern. Stroke is one of the top ten causes of death in children. Perhaps one-third of pediatric stroke patients experience no long-term effects. For others, the lasting disabilities can include cerebral palsy, epilepsy and learning disabilities.
Good outcomes depend on speedy diagnosis, expert treatment and careful rehabilitation.
"In the NICU, I work with some of the most fragile and vulnerable patients, many of whom are at risk for brain injury because of prematurity, stroke, seizures, brain malformations or infection," Dr. Bates says. "In order to maximize every patient's greatest potential, we need strong collaboration across disciplines."
Members of the Infant Brain Center team work together to plan treatment and coordinate care in conjunction with families, while infants with brain disorders are in the hospital and after discharge.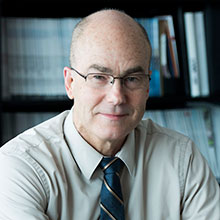 Accelerating Research
The center is also designed to accelerate research efforts and educational opportunities for faculty, trainees and families. "We want to better understand causes of brain impairments, improve our diagnostic capabilities, expand treatment options and help create positive parenting opportunities during this very stressful time," Dr. Bates says.
She is the principal Mass General investigator of a multicenter clinical trial investigating whether a baby's own umbilical cord blood stem cells can reduce brain injury resulting from a condition called hypoxia ischemic encephalopathy (HIE). Potentially life-threatening, HIE develops when an infant's brain doesn't get enough oxygen and blood. Cerebral palsy and other disabilities can result.
"There is an ongoing need to develop additional therapies for this often devastating injury," Dr. Bates says.
Ongoing collaborative research also includes infant epilepsy studies by pediatric neurologist Catherine Chu, MD, and studies looking at pain responses in premature infants, led by Kim Francis, RN, PhD. Researchers are also examining how to evaluate and help moms who experience post-traumatic stress disorder (PTSD) as a result of the NICU experience.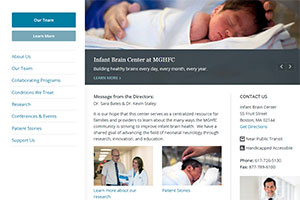 Infant Brain Center Website
The Infant Brain Center has launched a website where parents and providers can find information and resources and read other families' stories. "It can be a terrifying and overwhelming time in a family's life," Dr. Bates says.
It turns out that Lesley Carvalho's son had a stroke during delivery. That was why Roman suffered nonstop seizures throughout the night. In the NICU, they stabilized his airway and were able to control his seizures. By morning, he was off the ventilator, but he required ten days of hospitalization and three years of outpatient care to manage his seizures and support his developmental needs.
"I was beside myself with worry because I didn't know if he would recover," recalls Ms. Carvalho, who developed postpartum PTSD as a result of the experience. Emotionally distressed, hyper vigilant and in constant motion, "I was in a delicate place," she says. "But hope and confidence in his care team kept me going."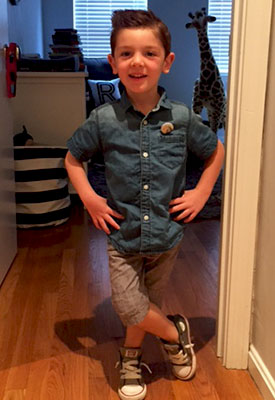 Thriving Toddler
Roman recently turned three years old and is thriving. "He's probably one of the most happy and charismatic toddlers you'll ever meet," Ms. Carvalho says. "He's my hero."
He still favors his left hand and works with occupational therapist Suzanne Curley. He has been closely followed by Melissa Woythaler, DO, in the MGHfC Newborn Developmental Follow-up Clinic and sees a dedicated stroke specialist, Patricia Musolino, MD, PhD.
"The greatest gift of all is that his care team is challenging Roman and getting results," Ms. Carvalho adds.
With the support and encouragement of family, friends and the community at Mass General, she says she is doing better too. She won't forget the darkest moments. But this self-described "mother bear," who will never stop advocating on behalf of her son, can breathe a little easier these days.
"He's a miracle," she says. "His Mass General team gave me hope and made it possible for this miracle to happen."
For more information on how you can support the Infant Brain Center, please contact us.