Behind the headlines about immigrants and refugees are Massachusetts General Hospital staffers who, for decades, have been helping the newly arrived with their health and psychosocial needs. Sarah Abernethy Oo, MSW, director of Community Health Programs at the MGH Chelsea HealthCare Center, has seen such immigrants and refugees thrive "with just a little support and guidance."
"People are hungry for hope," says Ms. Oo, who has directed the program for 20 years.
"Most have trauma histories and many have escaped horrific war situations or fled for their lives."
Some are refugees who have spent years in refugee camps before formal admittance into the United States. Others have immigrated recently, with or without documents. "But most have trauma histories," she says, "and many have escaped horrific war situations or fled for their lives."
Community Service Part of Mission
A core tenet of Mass General's founding philosophy for more than 200 years has been that "when in distress, every man becomes our neighbor." Ms. Oo is part of the Center for Community Health Improvement (CCHI), which is tasked with carrying out the community service arm of the hospital's mission. In Boston and the communities where the hospital operates healthcare centers — Revere, Charlestown and Chelsea — CCHI brings together people and resources to address community-prioritized health problems. These include obesity, cancer, family violence and substance use.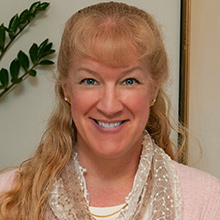 Ms. Oo has seen many different waves of migration while overseeing the Immigrant and Refugee Health Program at the MGH Chelsea HealthCare Center. Chelsea, located north of Boston, has for generations welcomed immigrants and refugees. At first, the healthcare center's program assisted refugees coming from Vietnam, then Bosnia, Afghanistan and Sudan. There were two waves of Somalis and over time people from Iraq, Nepal and Eritrea.
To date, the Mass General Chelsea programs have served more than 1,900 newly arrived refugees and, within the past two years alone, more than 400 immigrants from Central America — Honduras, Guatemala and El Salvador. They provide health assessments, connections to primary and specialty care and to other essential resources, and assistance with the integration of children and their families into schools. Most of the people they see have many medical complications and are traumatized and fearful.
"We are constantly trying to adapt to meet the needs of the newly arriving populations," Ms. Oo explains. "We hire people who speak their languages and provide in-service training so staff understand the culture, religions and the relationship that people have with health care in their countries."
Recovering from Trauma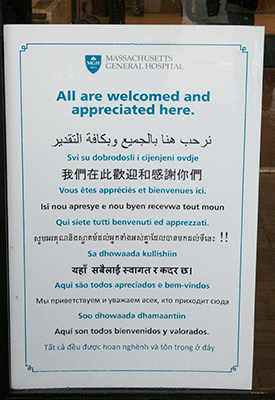 Some of the newcomers arrive from countries where a healthcare provider is only seen when someone's very sick. Having an appointment and arriving on time may be a new concept. For those not accustomed to living their lives by the clock, her staff have come up with creative ways to use the sun's position in the sky to instruct patients when to take medications, for example. Many patients don't have experience with basic screenings for cancer.
Ms. Oo and her staff work with them on building resilience, to recover from the traumas they've experienced and to feel more in control of their lives again. "Our health care and services focus on empowering them, letting them be decision-makers in the process, not something else done to them," she says.
Because of the current political climate, people are afraid, Ms. Oo reports. They are missing appointments because they don't want to register for health care or fear giving their names at the pharmacy to get their medications.
"I used to see so much laughter and joy," she says. "I haven't seen that lightheartedness in months."
Commitment to the Vulnerable
"We are inspired by the commitment of Sarah Oo and her team to the most vulnerable in our communities," says Joan Quinlan, MPH, vice president for Community Health at Mass General. "The life experience of our community health workers often mirrors that of their patients, which allows them to bring a special empathy to their work. But that shared experience also means we must guard against re-traumatizing our staff as they help patients with their fears and worries."
Adds Ms. Quinlan, "We are also grateful to work at Mass General where leadership has made such strong and unequivocal statements of support for our staff, patients and community members, regardless of race, ethnicity, religion or immigration status."
Signs all over the MGH Chelsea HealthCare Center proclaim in different languages that all are welcome. Staff reassure people that the healthcare center is a safe place where their information is protected and private. "But if someone doesn't want to give their name, we'll still help them," Ms. Oo says.
She thinks of it as an honor and privilege to work with people from other countries. "Their well being is intimately bound up in ours as well," she says. "When they are well, so am I."
To learn more about how you can support Mass General's Center for Community Health Improvement and its programs, please contact us.