Ernesto Gonzalez-Martinez, MD, has not forgotten the poverty and discrimination he first experienced as a boy in Puerto Rico. Instead, that personal history has provided the inspiration for the dermatologist and Harvard Medical School professor to give back — as a healer, a teacher, an advocate and a humanitarian.
"He wants Latinos to succeed. He was one of the first, and he understands how hard and lonely it can be."
His altruism has touched medical professionals like Alexy Arauz Boudreau, MD, now a pediatrician and associate director of Population Health at MassGeneral Hospital for Children. In the 1990s, an interview with Dr. Gonzalez-Martinez helped convince her to attend Harvard Medical School. That conversation was the beginning of a treasured mentoring relationship that continues today.
"It was obvious that this was a person who cared," recalls Dr. Arauz Boudreau, whose family is from El Salvador. "He wants Latinos to succeed. He was one of the first, and he understands how hard and lonely it can be."
Dr. Gonzalez-Martinez admits having a chip on his shoulder when he arrived at Mass General as its first Latino dermatologist in 1976. "I had a language barrier and I came from a different place, many people did not even know that Puerto Rico was part of the United States," he recalls. "I had to prove to myself and to everybody that I could be here as a faculty member and compete with people who were stellar."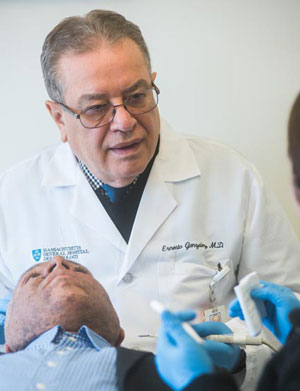 Setting Stage for Diversity
Not only did Dr. Gonzalez-Martinez become a stellar doctor, he also helped set the stage for diversity at Mass General. Key to his approach was an understanding that healthcare diversity was an issue with multiple layers, including access, education and financial resources. Colleagues from across the hospital say he combines humility with a leadership style that is thoughtful, persuasive and effective.
"While we have a long way to go, the agenda is moving in the right direction and Ernesto deserves much credit for that," says Peter L. Slavin, MD, Mass General's president. "To have accomplished so much, especially given the obstacles he's had to overcome, is proof of his skills. It is breathtaking, humbling and inspiring."
As a member of the Harvard Medical School admissions committee for 14 years, Dr. Gonzalez-Martinez advocated for hundreds of minority applicants. In 2000, he established the Hispanic Medical Students Mentorship Program for students at the four Boston medical schools, the first of its kind in the country. At Mass General, he was the associate director of the Multicultural Affairs Office, what is now known as the Center for Diversity and Inclusion, whose programs help students, physicians and scientists from underrepresented minorities advance their careers. (Dr. Arauz Boudreau is an associate director.)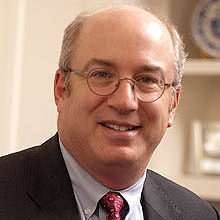 A Mentor for Latino Leaders
"Things that were intimidating to others to discuss are second nature to him," says Arturo Saavedra, MD, PhD, vice chair of Dermatology. "It took true leadership and foresight to recognize that the make-up of the country was changing and how that needed to be represented in our hospital to take care of those patients.
Along the way, Dr. Gonzalez-Martinez has made health care for the homeless a personal priority and served as a mentor for Latino leaders like Joseph Betancourt, MD, founder and director of the MGH Disparities Solution Center, which is devoted to eliminating racial and ethnic inequities in health care.
"Ernesto's advocacy with hospital leaders was essential for my coming to MGH," says Dr. Betancourt, who moved to Boston from New York in 2001. "In me, I think he saw that same drive and determination to help vulnerable populations. The work I do in disparities and health equity certainly rests on his shoulders."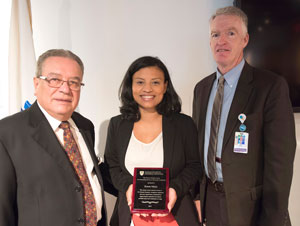 One Patient's Happier Life
And, first and foremost, Dr. Gonzalez-Martinez has always been a doctor dedicated to his patients. Five years ago, Rafael Bernard was referred to him for treatment of a systemic congenital condition with unsightly facial lesions because both spoke Spanish. Isabel Bernard, the patient's mother, says her son used to be sad because he thought he was ugly.
"At the first visit, Dr. Gonzalez told Rafael that he was handsome already but he could make him more handsome," she says. "He looks forward to appointments and has a happier life because of the treatments."
Humble Beginnings
It's not likely anyone would have predicted that Dr. Gonzalez-Martinez would become the first Puerto Rican professor at Harvard Medical School. He grew up in the slums of Aguadilla, a city of 60,000 on the northwest tip of Puerto Rico. Young Ernesto shared a bed with his brother. Rats roamed the dirt floor of their two-room house, which lacked running water.
His father, an alcoholic, died of tuberculosis when the boy was five. To support her sons, Aurora Martinez served as a maid to her husband's family. She was black and often faced discrimination from lighter-skinned relatives, the doctor recalls.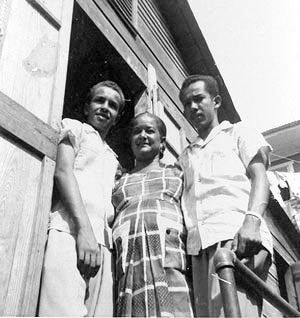 Although his mother's schooling ended after fifth grade because of a lack of shoes, she saw education as the answer to a better future and kept after her sons to do their homework. Eventually, both received full scholarships to the University of Puerto Rico, where Dr. Gonzalez-Martinez discovered a talent for the natural sciences.
His first taste of dermatology came from a two-week elective at the University of Puerto Rico Medical School. During his second year as a resident in Puerto Rico, he got a job recruiting patients for a local research study led by Thomas Fitzpatrick, MD, a renowned dermatologist at Harvard and Mass General.
A few years later, Mass General recruited Dr. Gonzalez-Martinez to head the first center for photochemotherapy, a treatment that combines ultraviolet light with drugs. In 1977, he became chief of the MGH dermatology outpatient service, which he would expand to include surgery, a center for laser treatments and relocated the melanoma clinic to dermatology.
A Talent for Teaching
Well known for a calm, unhurried manner, Dr. Gonzalez-Martinez is always listening to patients. "He is quiet," says Dr. Saavedra, a former mentee. "Nothing is wrong — he is putting the pieces together and thinking about what to do next. He never interrupts a patient, which is rare in a busy clinical practice and great for residents to see."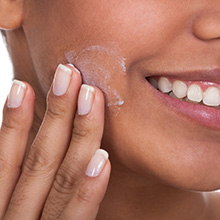 Teaching is a passion. Dr. Gonzalez-Martinez's influence as a role model in this area is deep and wide. Other chiefs sent their residents to him to learn about dermatology. Dr. Slavin, the MGH president, was one of those medicine residents and remains a fan as well as a patient. "Ernesto can see someone's skin and immediately know the problem," Dr. Slavin says. "He has incredible ability to diagnose in a timely way."
That skill proved to be crucial in the volunteer work Dr. Gonzalez-Martinez undertook with the Boston Health Care for the Homeless Program (BHCHP) where facilities to perform biopsies and other dermatology procedures were not available. In 1994, he began leading monthly BHCHP clinics for homeless men and women. "Ernesto was a godsend to us from the beginning," says Jim O'Connell, MD, BHCHP director, who calls Dr. Gonzalez-Martinez a cherished friend and mentor.
The Homeless Connection
Dr. Gonzalez-Martinez's connection to the homeless world is also personal. In Puerto Rico, before he was born, his mother and siblings, some of them suffering from tuberculosis, lived in cramped, unsanitary space beneath a neighbor's house, shielded by cardboard while sleeping on bare ground.
"The important thing was to see the patients with respect, to try to solve their problem, to show them that you're empathic with their needs," Dr. Gonzalez-Martinez says.
During one of his first BHCHP clinics, Dr. Gonzalez-Martinez saw a patient he previously had treated at Mass General for psoriasis. Her condition had deteriorated and he asked her why she stopped coming. The woman explained that she had become homeless and was too ashamed to go to the hospital.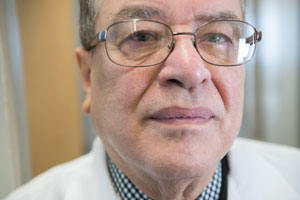 "I'll be here if you want to come see me here," he recalls telling the woman, who returned frequently and became a grateful patient.
Force for Change
At Mass General, Dr. Gonzalez-Martinez was committed to linking the care of the poor and vulnerable to the mission of the academic medical center. Teaching doctors and nurses how to provide ongoing skin care part of every BHCHP clinic. As a result of a proposal put together by Jennifer Tan, MD, a former resident and mentee, the homeless program is now part of the Mass General dermatology curriculum.
"Every resident has to do that rotation," says Dr. Gonzalez-Martinez, who views the requirement as a major legacy. "Not only is their medical knowledge expanded with uncommonly seen diseases like infestations, scurvy and frostbite, they learn important lessons in developing empathy, something not taught in a classroom."
Beyond the hospital walls, Dr. Gonzalez-Martinez has also been a force for institutional change. He spent two years working with the Puerto Rico legislature to change a law so that he could create an in-kind telemedicine program for poor children between the Pediatric Intensive Care unit of the MGH and a community hospital in Aguadilla, his hometown. Carlos Delgado Jr., a retired major league baseball player, also from Aguadilla, funded this project.
A Continuing Dedication
Now 78, Dr. Gonzalez-Martinez plans to retire in two years. While looking forward to spending more time with his six grandchildren, it doesn't mean his teaching or advocacy efforts will end. Although a kidney transplant has forced him to halt his homeless visits because of the risk of infection, his dedication continues thanks to a telemedicine program he established.
Dr. O'Connell, the BHCHP director, is grateful. "I can be out in the van, see someone, take a picture of his rash with my iPhone and send it to Ernesto," he says. "He will get back to me with the diagnosis and what to do before the night is over."
To learn more about how you can support the Ernesto Gonzalez-Martinez, MD Chair in Dermatology at Massachusetts General Hospital, please contact us. This chair will provide resources that support Dr. Gonzalez-Martinez's commitment to teaching, diversity and underserved populations.