Sunglasses and sunscreen offer us much needed protection during sun-filled days. But fresh fruits and vegetables can act as summertime safeguards too. Even plant-based seasonings, like herbs and garlic, can offer benefits. So don't forget your health when deciding how to fill your picnic basket this season.
Mighty Herbs
We often neglect herbs when it comes to improving our diets, but these plants are abundant during summer months in New England.  They are relatively inexpensive and are powerful suppliers of nutrients.
As is the case with many leafy greens, basil is an excellent source of vitamin K. A quarter cup of leaves provides a hefty dose of the nutrient — over 25% of the recommended daily intake. (If you are taking a blood thinner, be sure to keep your vitamin K intake consistent.) Some studies link higher consumption of vitamin K with better bone mineral density and lower risk of hip fractures. Basil is also a good source of vitamin A, which plays an important role in keeping your immune system healthy.
To increase your intake of basil, try making pesto — a summertime favorite that features the herb as its primary ingredient along with a healthy dose of nuts, garlic, olive oil, plus some parmesan cheese. At your next cookout, use pesto as a sandwich spread or in place of a mayo-based dressing on potato and pasta salads. Or add vinegar to the condiment and use it as a salad dressing or sauce to perk up fish or chicken. (Check out this recipe for a lemon pesto version.)
Summer is also the season for grilling and a reemergence of charcoal often carries questions about the health risks of grilled foods.
Tips for Safe Grilling 
Summer is also the season for grilling and a reemergence of charcoal often carries questions about the health risks of grilled foods. When meat is heated to high temperatures, compounds are created that may cause cell mutations and increase cancer risk. Barbecuing has been shown to generate some of the highest levels of these potential carcinogens, as does a preference for eating very well-done meats.
While there is some controversy as to precisely how risky flame-cooking is, we know diets high in red meat (more than 18 ounces per week) put you at increased risk for cancer. So it is best to keep the grilling of steaks and hamburgers to special occasions if you can.  (Try this stacked portobello burger with rosemary instead.)
When you do grill, there are strategies you can employ to lesson your risk.  Protective chemicals in rosemary have been found to inhibit the formation of these compounds when added to meat prior to cooking. Including garlic in your marinades may also help reduce these compounds.  Research suggests the more garlic you add, the greater the benefit.  Switching from one to seven cloves in a marinade has been shown to reduce the generation of these compounds by 70%. That said, this is also enough of the allium to fend off a flock of vampires, so add an amount that feels sustainable to you (and those around you). The bottom line is adding seasonings like rosemary and garlic will taste good — and may offer some protection too.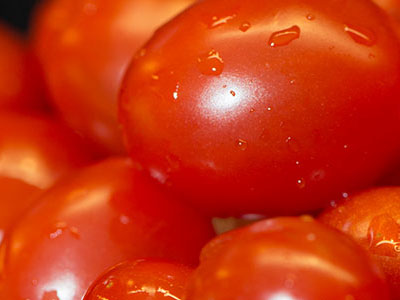 Protective Power of Summer Fruits
Summer is also a great time to take advantage of seasonal fruits.  Research shows berries, specifically blueberries and strawberries, may help protect brain function as we age.  Eating berries at least twice per week is associated with lower rates of mental decline.  In particular, women with higher berry intakes have been shown to delay cognitive aging by two and a half years compared to those who eat them less frequently.
In addition, red fruits like tomatoes and watermelon contain lycopene, a pigment responsible for the plants' lipstick-colored hues. High intakes of lycopene are associated with a lower risk for certain types of cancer. The protective plant compound has also been shown to help reduce skin damage from the sun, though this does come with some caveats.  Research suggests it may take over two months to acquire this protection, and it requires a fairly high dose — about the equivalent of four cups of cherry tomatoes, two cups of fresh watermelon, or at least one cup of cooked tomato sauce daily.
Luckily, if you are not currently eating five cups of fruits and vegetables a day, now is the perfect time to increase your intake.
So while your diet may help protect your skin, it certainly should not take the place of sunscreen. Like most other food-related benefits, regular consumption is needed for meaningful protection. That said, making a salad that is heavy on seasonal heavyweights like tomatoes and basil, such as a caprese salad, probably won't hurt.
So what is the best way to maximize your diet this summer?  Since roughly 80% of us to do not get enough fruits and vegetables, simply increasing your intake of them is a good place to start. We also must remember that the protective chemicals from the foods we eat typically work better when consumed as part of a diverse plant-rich diet — rather than sporadic bouts.
Luckily, if you are not currently eating five cups of fruits and vegetables a day, now is the perfect time to increase your intake. Summer is ripe with fresh produce that provides delicious protection.
Emily Gelsomin, MLA, RD, LDN, is a senior clinical nutrition specialist at Massachusetts General Hospital. As a registered dietitian, she counsels on medical nutrition therapy on an outpatient basis and works extensively with Be Fit, the hospital's employee wellness program.
Jointly sponsored by The Clubs at Charles River Park and MGH Nutrition and Food Services, the 10-week program focuses on helping participants "Be Fit and Eat Right." Every ten weeks, employees from different departments within the hospital compete with each other as they make a commitment to Be Fit. Through the creation of a social environment at the workplace, participants are supported to make progress in personal lifestyle changes with the help of a unique support system that includes a dedicated nutritionist and personal trainer.
Be Fit strives to create a milieu of wellness that extends beyond the 10-week curriculum by offering features to those who are not part of the intensive program. This includes the creation of Choose Well, Eat Well, a rating system designed to help both employees and patients increase awareness of healthy choices at retail eateries within the hospital. It also includes a monthly e-mail with a timely nutrition tip.