For about 161,000 men annually in the United States, a prostate cancer diagnosis can be shocking news. Many times, early symptoms may not present until the disease has progressed, leaving patients, family and friends startled by an unexpected diagnosis. In 2017, approximately 26,730 deaths will occur from prostate cancer, according to the American Cancer Society. Without regular evaluation and screening, this life-threatening disease will continue to see its numbers grow.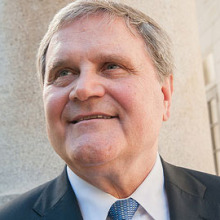 The Massachusetts General Hospital Department of Urology is working to increase awareness of the second leading cause of cancer death in men and other prostate-related health concerns. Michael Blute, Sr., MD, chief of the Department of Urology, answers questions about prostate health and what men can do to protect themselves and their loved ones.
What are the warning symptoms of prostate cancer? Do these symptoms differ from other prostate health concerns? 
Unfortunately, prostate cancer is truly the definition of a "silent killer." To detect prostate cancer in its curative stage, men must regularly undergo an exam that includes a blood test for serum prostate specific antigen and a digital rectal exam by their physician.
Are there symptoms that men should be aware of? If a person has these symptoms, how should they go about getting help?
Prostate symptoms are commonly caused by an enlarged but benign gland. However, because of cancer concern, these symptoms rightly generate requests for further evaluation. Problems with urination in men as they age are common, but can be associated with prostate cancer. Prevalence of the disease increases in the older population. In fact, about six cases in ten are diagnosed in men age 65 or older, and it is rarely diagnosed before age 40. If you are experiencing frequent urination, difficulty starting the stream, slowing or difficulty emptying, awakening at night and most importantly, noticing blood in the urine, you should call your doctor and have a physical for further evaluation.
Those who have a strong family history of prostate cancer – a father, grandfather, uncle or brother – are at increased risk of developing prostate cancer.
Who is at risk? 
Those who have a strong family history of prostate cancer – a father, grandfather, uncle or brother – are at increased risk of developing prostate cancer. Some studies have suggested that men with a history of breast cancer or colorectal cancer on their maternal side have increased risk for prostate malignancy. Family history of BRCA1 or BRCA2 genetic mutations has been identified as an inherited risk factor for prostate cancer.  It also appears that African-American men are at increased risk of developing the disease.
How does a patient get screened for prostate problems?
First, speak with your doctor about any symptoms you are experiencing. Those symptoms, combined with your family history, will determine your physician's next steps. In 2012, the U.S. Preventive Services Task Force (USPSTF) advised against routine prostate screening. However, a more recent analysis of PSA screening supports decreased rates of developing metastatic cancer, so baseline testing of PSA and screening based on risk factors is recommended. Patients should have an open discussion of the pros and cons of screening with their physician as part of their overall health care.
What is the best treatment for these men's health issues? Are there any new therapies on the horizon for patients? 
Again, talk to your physician. There are different courses of treatment for prostate cancer compared to other prostate issues. For individuals with early-stage cancer, active surveillance, surgery and radiation are options for treatment. Advances in research, particularly in imaging and biomarkers, are enhancing clinicians' ability to better detect advanced cancers that need more aggressive treatment. This also allows for increased active surveillance of cancers that appear to carry a low burden of risk for men in terms of their health or quality of life. Medical, minimally invasive and traditional surgical options exist for managing voiding problems due to enlarged benign prostate glands.
For more information about prostate health, visit the website for Department of Urology's Prostate Health Program.
To support urology care and research at Mass General, please contact us.