Lynn Brennan of Stow, Mass. liked living a healthy life, exercising and eating lots of vegetables and tofu. So when she was diagnosed with breast cancer at age 33, she and her whole family were stunned.
Ms. Brennan quickly began treatment at Massachusetts General Hospital. Almost as quickly, her father, Albert Cohen, started the ESSCO-MGH Breast Cancer Research Fund. He was determined to find a cure.
Since then, Ms. Brennan has regained her health and, with her sister, Missy Cohen-Fyffe, has kept ESSCO running for 20 years even after their father passed away in 2006.
This year, ESSCO is celebrating its 20th anniversary. The fund's endowment has reached its $5 million goal and ESSCO has pledged an additional $1 million to help endow a new MGH Chair in Surgical Oncology in the Mass General Cancer Center. ESSCO is joined in its support by Ellen Slater, an ESSCO board member, and her family, who are also contributing $750,000 toward the endowed chair. An additional $250,000 is needed to reach the $2 million mark to endow a chair.
The intended first recipient of the chair is Kenneth Tanabe, MD, chief of Surgical Oncology at Mass General. ESSCO, the Cohen family and the Slaters have developed a deep appreciation for Dr. Tanabe's multifaceted leadership and innovative approach to cancer research over more than a decade of working together.
High Impact Cancer Research
ESSCO's goal, right from the start, was to help cancer researchers bypass the time-intensive process of grant writing, Ms. Cohen-Fyffe says. "My father thought, 'What if we supplied the funding so they can skip right to the research and explore out-of-the-box ideas?'"
The funds support high-risk, high-reward early-stage projects that hold promise for making an important impact.
Beginning with the family's first $25,000 endowment, all of the donations from the volunteer-run fund have gone directly to cancer researchers at Mass General. The funds support high-risk, high-reward, early-stage projects that hold promise for making an important impact.
For their part, the Slaters point to Dr. Tanabe's strength of leadership and his encouragement of innovative areas of cancer research. "While it's important to try to find the next, greatest chemotherapy, I want to be part of a group that is thinking bigger, and that will do unconventional research that leads to incredible things," Ms. Slater says.
She has a very personal interest in the work of Dr. Tanabe's team. Her mother was diagnosed with cancer at age 42 and died of it a few years later. Ms. Slater, her sister and her daughter all have the BRCA2 gene that can be linked to early onset breast cancer. "The cancer cause is near and dear to my heart and any progress will directly affect my little family," she says. "I want to be in on it."
A Productive Partnership
As chief of Surgical Oncology, Dr. Tanabe helps oversee the direction of cancer research at Mass General, guiding a large team of investigators, clinicians, PhD scientists and epidemiologists. He ensures that they pursue the full spectrum of cancer research, from prevention and early detection to treatments, rapid detection of recurrence and late-stage cancer.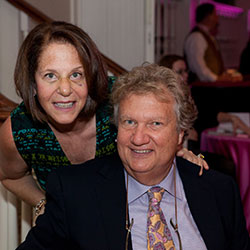 As a clinician at Mass General, Dr. Tanabe has devoted more than 20 years to caring for patients with advanced cancers. As a scientist, his research has led to innovative standards of care, therapies and surgical techniques to treat malignancies.
At Mass General, Dr. Tanabe has spearheaded innovations ranging from the first treatment of liver tumors with radio waves, known as radiofrequency ablation, to a procedure for treating advanced melanoma tumors while avoiding amputation of the affected limb. He has also served as a mentor to MGH surgeons and physician-scientists who have become national and international leaders in cancer research.
Shyamala Maheswaran, PhD, is an associate professor in Surgery and a molecular biologist who Dr. Tanabe hired more than a decade ago. Dr. Maheswaran and colleagues have taken a radical approach to detecting rare, hard to detect circulating tumor cells (CTCs) in the blood of people with invasive cancer. These cells can be studied for genetic mutations and other analysis.
Funded in part by ESSCO, Dr. Maheswaran and a team of bioengineers, molecular biologists and clinicians created a business card-sized "chip" that could identify and separate out CTCs. One hundred times more sensitive than existing technologies, the chip eventually might help replace some biopsies, shape and monitor the course of treatment, catch indicators of recurrence, and even detect cancer early as part of routine screening.
20th Anniversary Event
Dr. Tanabe is surprised to be singled out for the honor of an endowed chair. "I'm shocked, delighted, humbled, appreciative—and all that's just the beginning," he says. "ESSCO and the Slaters have incredible vision and my fondness and appreciation for them is limitless."
Dr. Tanabe is looking forward to the fund's annual fundraising gala on Oct. 16, 2015, which will also honor Bill Leisman, a passionate supporter of the fund since its inception. There, they and a host of committed supporters will have plenty to toast. In addition to 20 years of extraordinary partnership, they will celebrate reaching Albert Cohen's original $5 million goal, plans for the endowed chair and the beginning of Lynn Brennan's 21st cancer-free year.
For more information or to support cancer research, please contact us.