Inspired by her late father's life-saving care and her own patient care work at Massachusetts General Hospital, Helena Diodati Thorne is running to support Mass General's Emergency Response Team in the 2017 Boston Marathon.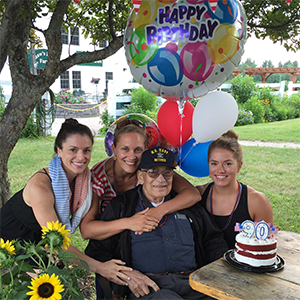 In 2001, Helena's father, Ronald Diodati, arrived unconscious at Mass General's Emergency Department (ED) after suffering cardiac arrest. Emergency staff revived his erratic heart several times before he moved to the Cardiac Intensive Care Unit. With further treatment and outpatient care, Ronald recovered.  A decade later, a car crash left Ronald with a severe concussion, a fractured cervical vertebra and a punctured lung. A medical helicopter whisked him to Mass General's ED.
This time, the retired dentist was conscious, joking with the nurses. "He knew he was in a place that was going to take care of him very well," Helena says. Ronald made a full recovery.
"Because of Mass General, my dad was able to experience three of his daughters' college graduations, three weddings, two more grandchildren, three great-grandchildren and countless sporting events," the 28-year-old Helena says. "I want to run for Mass General in honor of my father because my life and my community are better because of its care."
Inspired by Work with Patients
For Helena, the decision to run on the Emergency Response Team grew from both personal and professional experience at Mass General.

In 2014, she joined Mass General as an occupational therapist — a move influenced as much by her father's care as the hospital's reputation as a world-renowned medical center.
Helena's occupational therapy patients are often people who were first treated in the ED for brain injuries from stroke, trauma and tumors.
When patients receive good immediate care, as they do in our ED, they have much better outcomes, especially with brain injuries," she says. "Running on the Emergency Response Team is allowing me to support the front-end of that care."
As a gymnast at the University of New Hampshire, Helena was only a casual runner. In 2016, her marathon ambitions changed all that. "It's a dream a lot of people have. I wasn't sure if I could do it," she says. Last summer, she began to train.
Training to Support Emergency Response
Her father offered constant encouragement. "He liked to hear about where I do my training runs," she says. A graduate of Northeastern University and Tufts University School of Dental Medicine, her father taught pediatric dentistry at Boston University. "I told him about the streets I run down and buildings I pass by and he enjoyed recalling the time he spent in Boston."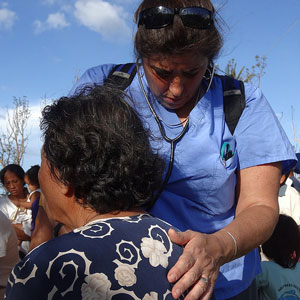 Her summertime five-mile, weekday runs along the Charles River turned into 10 miles on weekends. By December, she completed two half-marathons. Now, her weekday runs are up to seven miles; weekends average 14. Her co-worker at Mass General, Kelly Kreisher, a physical therapist also running on the emergency response team, often joins her.
Helena is aiming to raise $10,000. She ran a spinning class in February to raise money and is also planning a raffle event at The Mission Bar and Grill in Boston on April 1, 2017.
Helena's father passed away on Feb.12, 2017 after a long, accomplished life. She knows her father was proud of her efforts. "He would tell me to train smart and never give up," she says.
Please consider supporting Helena and other runners raising money for Mass General.
John Hancock and Mass General Celebrate 20 Years of Marathon Partnership
This year marks the 20th anniversary of John Hancock's partnership with the Mass General Marathon Program. John Hancock provides Mass General runners with bib numbers for the race.
Since it was formed in 1998, Mass General's Pediatric Oncology Team has raised more than $12 million to support research and child life activities for children with cancer. In 2014, John Hancock worked with the Boston Athletic Association to award the hospital additional bib numbers to create the Emergency Response Team. That effort acknowledged the lifesaving response of hospital personnel following the Boston Marathon bombing in 2013. Since then, that team has raised more than $1 million for the hospital's emergency preparedness and disaster training.
In addition to these teams, runners who obtained their own bib numbers for the Boston Marathon will run for the Miles for Mass General program, which raises funds for hospital programs that are close to their hearts. Programs being represented by 2017 runners include Botswana Oncology Global Outreach, Caring for a Cure, Cystic Fibrosis, Down Syndrome and the Lurie Center for Autism.
To learn more about the Mass General Boston Marathon Program, please visit our website.