Hope underpins the work of the Massachusetts General Hospital Global Disaster Response Team when it deploys after a catastrophe like Hurricane Matthew.
"It's tough when so many lives are vulnerable," says Hilarie Cranmer, MD, MPH. "But we're grateful and humble that we have a chance to make a difference."
In October, 2016, the powerful storm devastated parts of the Caribbean and the United States, leaving more than 1.4 million people in need of assistance in all forms.
Ten Mass General staffers who are part of the federal DMAT MA-1 (Disaster Medical Assistance Team for Massachusetts) were dispatched to hard-hit areas in the United States. The Mass General Center for Disaster Medicine, led by Paul Biddinger, MD, works closely with federal agencies on such efforts.
Disaster Response in Haiti
The hurricane was especially catastrophic for Haiti, where hundreds of people were killed. Many hundreds of thousands more were left without basic needs and threatened by illnesses such as cholera. Five Mass General staffers, organized by Mass General's Office of Global Disaster Response, joined relief efforts there.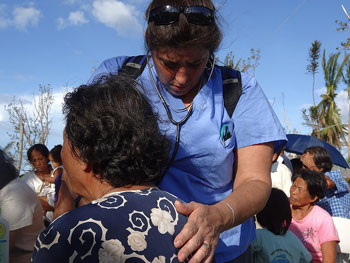 The Global Disaster Response Team's doctors, nurses, pharmacists, therapists, security guards and others strive to serve as beacons of hope to disaster victims, according to Hilarie Cranmer, MD, MPH, director of the Office of Global Disaster Response at Mass General Global Health.
But team members reach out for hope themselves when they're providing aid. They hope they can reach and treat as many victims as possible in the face of disease, crumpled infrastructure and other hurdles.
"It's tough when so many lives are vulnerable," Dr. Cranmer says. "But we're grateful and humble that we have a chance to make a difference."
When Mass General opened in 1811, its founders promised unfettered assistance in an open letter to the Boston area. "When in distress, every man is our neighbor," they wrote.
A Promise's Far Reach
The recent work of the disaster response team demonstrates that the reach of that promise now extends far beyond Massachusetts. In 2015, Mass General staffers represented more than 10 percent of the registered emergency medical responders in Nepal after its devastating earthquake. In 2013, Mass General volunteers went to the Philippines after Typhoon Haiyan killed thousands. The first response team treated more than 3,000 Filipinos within 15 days of the storm.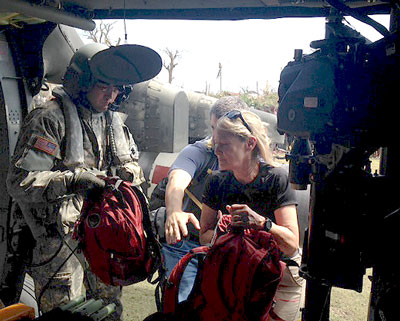 In the United States, Mass General professionals joined recovery efforts following Hurricanes Katrina and Rita, which affected the Gulf Coast in 2005, and Hurricane Sandy, which hit metropolitan New York and New Jersey in 2012. They acted in their own backyard after the 2013 Boston Marathon bombings.
Mass General responders faced enormous challenges after a magnitude 7.0 earthquake struck Haiti in 2010. The disaster killed hundreds of thousands and affected the lives of more than three million. Haiti stands out for Dr. Cranmer because it prompted reflection on how humanitarian organizations can best help people in dire conditions.
After the earthquake, nearly 100 Mass General volunteers helped establish field hospitals and reopen damaged ones. As Mass General collected donations to help in this country, the team in Haiti assisted the injured and ill while trying to surmount sanitation, safety and supply issues that sometimes threatened their own well being, recalls Dr. Cranmer, who ran a field hospital in Haiti for five months.
Disaster Response Accountability
Though thousands were helped, many parts of Haiti did not receive adequate aid because there was no reliable system in place to process and deliver it. After Haiti, the international relief community recognized there was a need for accountability so that disaster-relief logistics complemented the reality on the ground.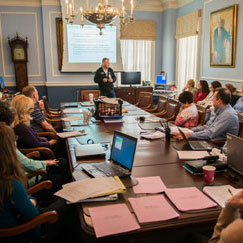 One step toward accountability has been a push for professional accreditation for medical teams responding to disasters. Even though a doctor has years of medical training, treating patients at the scene of a disaster requires a new skill set. "We know you're a doctor, but can you provide sanitized water?" posits Dr. Cranmer.
The global relief community is starting to establish an accreditation pathway, she explains. Mass General Global Disaster Response is one of only a handful of teams in North America that is in the process of earning a form of accreditation by the World Health Organization (WHO).
Preparation and Planning
Planning and preparation continues to determine the success of missions undertaken by the Mass General team, which often collaborates with other disaster-relief organizations. About 90 percent of relief work occurs before a team even leaves Boston, with training and education preparing volunteers for the many known and unknown health and safety challenges they'll face in the field.
Mass General, in collaboration with partner organizations, trains providers with online, face-to-face and simulation-learning experiences. Every year, Global Disaster Response Team members can participate in intensive face-to-face hands-on simulations in North America. In April, 2017, the team will join the National Disaster Medical System for a mock relief exercise. And recently, members of the Mass General team got to train in Columbia as part of a WHO earthquake simulation drill.
Charitable gifts are critical to helping the Center for Global Health maintain the level of training and readiness needed to mount a professional response to disasters worldwide.
To learn more about supporting Mass General's Global Disaster Response program, please contact us.