It was the finale of the Friends of the Mass General Cancer Center's fashion show fundraiser in November 2015 and everyone was on their feet applauding, tears in their eyes. Eleven-year-old Nicole Schindler, still weak after eight months of cancer treatment, had just walked the runway with one of her nurses, Rachel Bolton, RN. The two raised their hands in victory. "It was awesome," Nicole recalls.
Diagnosed in March 2015, Nicole had undergone surgery to remove a brain tumor. The procedure was followed by 30 proton beam radiation treatments, five times a week for six weeks. She also had six months of chemotherapy, which ended just in time for the fashion show, Couture for Cancer Care. Through it all, Nicole was known for her beautiful smile.
The Schindlers, from Norwell, Massachusetts, originally came to Mass General for proton beam radiation treatments at the Francis H. Burr Proton Therapy Center. Few places in the world offer this precisely focused means of destroying tumors, which uses the energy from the protons of atoms rather than x-ray beams.
Always with a Smile
"The first day we went to Mass General, we fell in love with the doctors and nurses we met and knew we weren't going to leave," says Nicole's mother, Maureen Schindler. "We felt like Dr. David Ebb and Dr. Nancy Tarbell were not just compassionate, they could feel our sadness." Dr. Ebb is a pediatric hematologist-oncologist and Dr. Tarbell is a pediatric radiation oncologist.

That first day, they also met Rachel Bolton, RN, the proton beam nurse who held Nicole's hand and helped her through difficult days of treatment. "Nicole is such an inspiration," Ms. Bolton says. "She always came to treatment with a smile and a positive attitude, even if she was feeling nauseous, tired or weak. She may be only 11, but she played a large part in her treatment plan."
Nicole, like all children undergoing proton beam treatment, received one of Ms. Bolton's hand-sewn hospital gowns. She personalizes them with colors, characters or themes of the child's choosing. Ms. Bolton started putting her sewing talent to work about ten years ago, after noticing that children were not happy to remove their shirts for treatment. Ladybugs and flowers adorn the gown that Nicole wore for 30 treatments.
Funds for Cancer Care Extras
Nicole may have been nervous to step onto the fashion show stage but, says Ms. Bolton, "like the true champion that she is, she took my hand and walked proudly down that runway."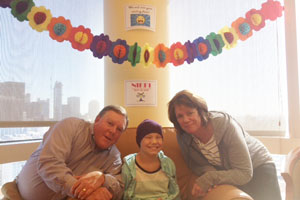 The fashion show is a fundraiser hosted by the Friends of the Mass General Cancer Center. The group raises money for supportive services that are integral to cancer care. Besides massage, acupuncture, yoga, and music and art therapy, the Friends also provide toys for the "toy closet" in the proton beam facility. Every Friday, after a week of daily treatments, children get to pick one toy to take home. They can also bring one for their siblings from the sibling toy closet. That's something Nicole's twin brother, Gerald, and her younger brother, Brian, appreciated.
Nicole asked to meet a girl who'd had a similar tumor to hers and was paired with a girl whose treatment finished five years ago. "This matchmaking was one of the many nice touches during our Mass General experience," points out her dad, Gerald Schindler. The girls still get together, as do the parents.
There for Other Families
Nicole is looking forward to returning to dance lessons, where she specializes in hip hop and jazz, and rejoining her softball teammates in the spring. The family will also be going to Disney World in March. But what she is most looking forward to when she's feeling better, she says without hesitation:  "Getting my nails done," a mother-daughter tradition that's been on hold so as not to risk infection. In the meantime, Nicole is relaxing, cozied up next to her dog, JoJo, her best friend, who just wasn't herself when Nicole was in the hospital.
"We'll do whatever we can to help others. Because right behind us is another family."
The Schindlers say they want to help others like they were helped. They are available to mentor other families experiencing cancer and want to increase awareness about the need for more federal research funds going to study child cancers.
"We've always been a keep-to-ourselves family," Mr. Schindler says. "But we'll do whatever we can to help others. Because right behind us is another family."
For more information about Mass General cancer care and the services supported by the Friends of the Mass General Cancer Center, please contact us.