Created and supported by the Massachusetts General Hospital Cancer Center, the one hundred is an awareness and fundraising initiative that celebrates hope in the cancer community. Each year, we honor 100 Everyday Amazing individuals and groups — caregivers, researchers, philanthropists, advocates and volunteers from around the globe — whose commitment to the fight against cancer inspires us all to take action. This story highlights the contributions of one of the 2016 honorees.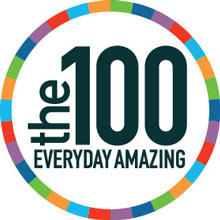 The day after receiving the devastating diagnosis of stage IV colon cancer, 28-year-old TJ Baudanza launched a blog to keep friends and family informed about his treatment and to share his journey with others facing the disease.
From his first entry on July 14, 2011 until his last, TJ's posts reflect his indomitable courage and his irrepressible spirit: "Life throws challenges at you. Stay positive and beat them. In the end, it will make you stronger," signed "Teej," as he was known to his friends. Thanks to social media, his words reached many fellow cancer patients: "I never met you in person, but you were a strong, shining light in my darkest hour," wrote one follower.
Passionate about Philanthropy
As determined as he was to overcome his illness, TJ was even more passionate about raising money for cancer research. Just five weeks after undergoing liver surgery, TJ participated in the Colon Cancer Coalition's 2011 Get Your Rear in Gear 5K. TJ's team of nearly 200 supporters led the walk with $60,000 in pledges.
To date, Mass General has received nearly 200 gifts totaling $56,000 in TJ's memory.
In 2014, TJ and his family donated $50,000 to support an immunotherapy clinical trial conducted by Theodore S. Hong, MD, and Janet E. Murphy, MD, of the Mass General Cancer Center. Before he passed away in October 2015, TJ asked his family to continue raising money for cancer research through his website: beatthechallenge.org. To date, Mass General has received nearly 200 gifts totaling $56,000 in TJ's memory.
To help advance discoveries and change how we fight cancer, please donate to the one hundred.