Two youth hockey players collide at center ice. A high school running back is tackled at the line. The center forward on a soccer team bangs into a defender while going for a header on goal.

Events like these happen every day in youth sports. Sometimes, they result in a sport-related concussion, which the Centers for Disease Control and Prevention calls an "epidemic." Among high school athletes, concussion rates have steadily increased for a decade; estimates suggest as many as 300,000 concussive injuries occur each year.
Parents, coaches and even physicians vary widely in their understanding of the causes, symptoms and treatments. For example, did you know a blow to the body may cause a concussion? A violent body shot can jerk the neck, generating more g force than a car accident; when enough rotational force is applied to the brain, a concussion may result.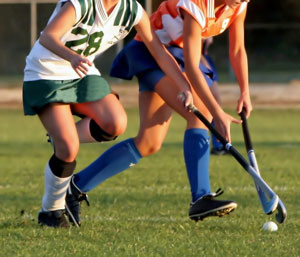 "There's still a lot of work to do to understand how to best prevent, diagnose and manage this problem, and how to counsel individuals about how to weigh risks against the obvious benefits of sports participation," notes neurosurgeon Ann-Christine Duhaime, MD, of the Sports Concussion Clinic at MassGeneral Hospital for Children.
Thanks to the generosity of Jim and Lisa Mooney, the Sports Concussion Clinic specializes in treating children and adolescents who sustain concussions. Because we are an academic hospital, our research can be translated quickly into better care for patients
Safe, Swift and Effective Care
Every state in the United States now has passed legislation relating to education, identification, and/or medical management of concussions among young athletes.
"Our research program is designed to improve concussion care locally, regionally, nationally and internationally."
Yet, despite all this concern, much is still unknown. For example, there is no consensus about the long-term impact of multiple concussions. Answering this question is one of our top priorities at the Sports Concussion Clinic.
"Our research program is designed to improve concussion care locally, regionally, nationally and internationally," says Grant L. Iverson, PhD, director of the Sports Concussion Clinic and a professor at the Department of Physical Medicine & Rehabilitation, Harvard Medical School. "Our team of specialists helps student athletes safely, swiftly and effectively return to school, sports and life."
A Holistic Treatment Approach
The Sports Concussion Clinic follows a highly personalized, holistic treatment approach. Our multidisciplinary patient care team includes specialists in sports medicine, neurology, physical medicine and rehabilitation, sports psychology, neuropsychology and physical therapy.
Concussion symptoms can vary widely; patients may experience headache, nausea, sensitivity to light or noise, dizziness, depression, sleep disturbances, or changes in attention, concentration and/or memory. Some patients recover quickly; others can take many months. Because each case is unique, every patient receives a detailed evaluation by a specialist trained in concussion management. They are then given a personalized plan of care based on their specific injury and circumstance.
What the Future May Hold
There is much work still to do. Dr. Duhaime says, "Unlike some common disorders, there is no one number or clinical profile to indicate risk, and the specific consequences of head impact appear to vary from one individual to another." As we learn more about the effects of sports-related concussion and repetitive impacts in young athletes, Mass General will continue to lead the way in treatment and research.