Ellen Sullivan came for her first appointment at the Massachusetts General Hospital Cancer Center's Pulmonary Nodule Clinic in December 2016. After 40 years of smoking, she'd finally quit a year earlier. She knew from a previous lung cancer screening that she had suspicious spots called nodules on her lungs, but no one had been particularly concerned then.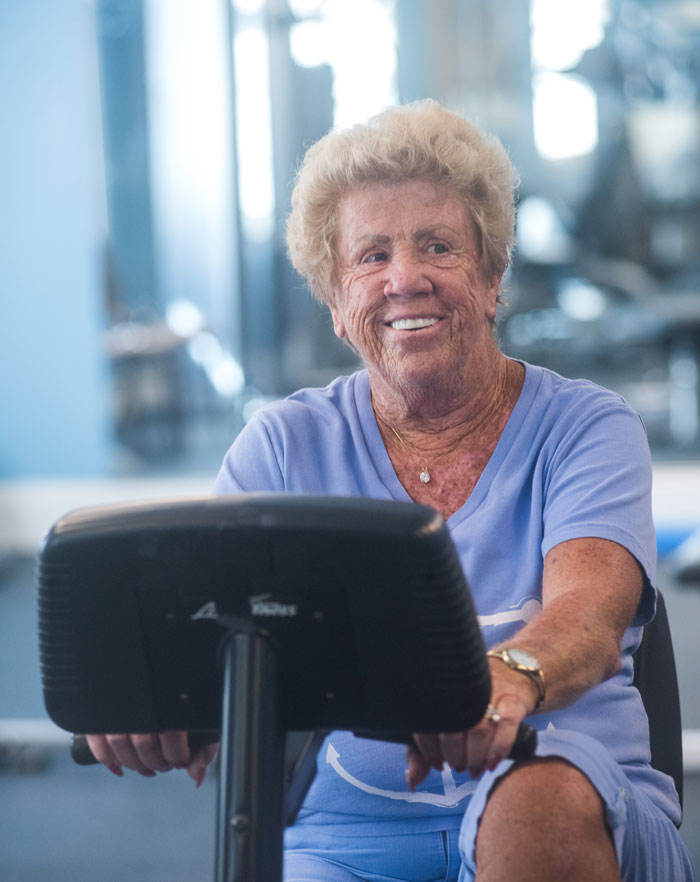 But after a repeat CT scan, the Pulmonary Nodule Clinic's experts now thought otherwise. The clinic's team included a medical oncologist, a radiation oncologist, a thoracic radiologist and a pulmonologist. They met and concluded that one of the nodules was cancerous and needed to be removed as soon as possible.
Ms. Sullivan had been getting ready for Christmas and planning a trip to Florida. "Can't this wait until I return in March?" she recalls asking the surgical oncologist.
Lung cancer is the deadliest cancer. But if found in early stages, before there are symptoms, it is curable in 80 percent of cases. The likelihood of survival at five years drops to 25 percent, however, if the cancer is not detected early and spreads.
"The ultimate goal of cancer is to detect it fast enough that it can be treated and never come back again," says Inga T. Lennes, MD, MPH, MBA, founder and director of the Pulmonary Nodule Clinic, and a medical oncologist specializing in lung and esophageal cancers. The Pulmonary Nodule Clinic is focused on that goal.
Stopping Lung Cancer
Five years ago, CT scans using low amounts of radiation were found to be better than X-rays at detecting lung cancer early. The U.S. Preventive Services Task Force now recommends that all heavy, long-term smokers between ages 55 to 80 get annual lung cancer screenings.
"We are just scratching the surface of all the patients with nodules who we can help assess and route faster to care."
By far, most nodules found by scanning are not cancerous. They may be benign tumors or scar tissue left by an infection and will either stay the same size or disappear. Patients with nodules thought to be benign, between the size of a pencil eraser and a penny, are followed in the clinic for two years, with a CT scan every three to six months.
Sometimes, the team determines the nodule has features, like size or shape, known to suggest cancer. Suspicious nodules are biopsied first or surgically removed right away.
If lung cancer is discovered early enough, surgical removal may stop it. Otherwise, treatment at the Center for Thoracic Cancers may include chemotherapy, radiation, targeted drug therapy and immunotherapy.
"Tens of thousands of nodules are detected annually by Mass General's Radiology Department alone," Dr. Lennes says. Often, they're detected when scanning for something else. "We are just scratching the surface of all the patients with nodules who we can help assess and route faster to care."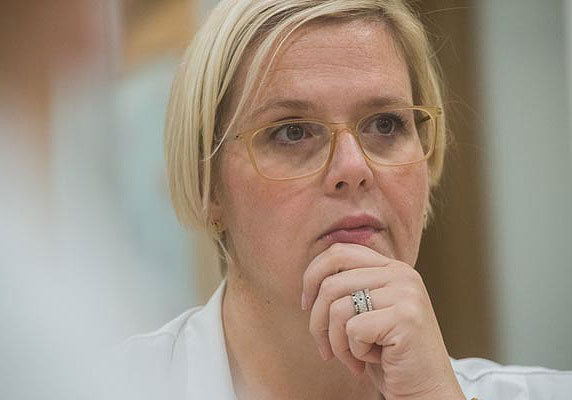 Revolution in Cancer Diagnostics
Efforts in the Pulmonary Nodule Clinic reflect the Mass General Cancer Center's emphasis on accelerating the early detection of all cancers to save more lives. Mass General researchers have a strong track record of innovating new ways to diagnose cancers early. They include looking for molecular markers like "circulating tumor cells" (CTCs) in the bloodstream.
"The concept of early detection of cancer is ready to be rediscovered using new and sophisticated molecular tools that we didn't have in the past," says Daniel A. Haber, MD, PhD, director of Mass General Cancer Center and co-developer, along with Mehmet Toner, PhD, of the CTC-chip, a device able to detect these rare CTCs in a patient's blood sample. "I believe we are poised for a new revolution in cancer diagnostics."
There are screening methods for some cancers — the Pap smear for cervical cancer, colonoscopy for colon cancer, mammogram for breast cancer, CT imaging for lung cancer and PSA for prostate — but they are not perfect. For example, they can indicate cancer where there is none, causing worry and needless follow-up tests. But other cancers — including some highly-lethal cancers like pancreatic and ovarian cancers — don't have any early screening test at all.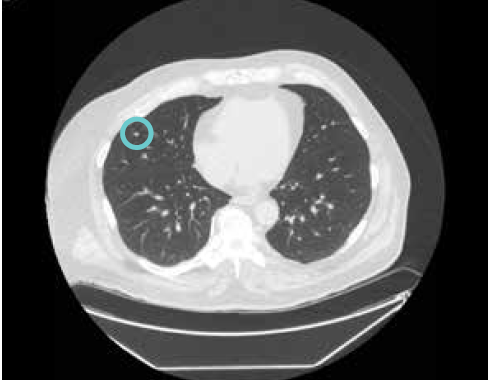 The Mass General Cancer Center aims to change that. A new Center for Innovation in Early Cancer Detection (CIECD) is consolidating and expanding clinical and research efforts throughout Mass General.
Early Signs of Cancer
Components of blood, urine and even breath are being investigated as possible indicators of early cancers. Dr. Haber and colleagues, for example, recently reported that a CTC approach is promising for diagnosing hepatocellular cancer, which begins in the liver.
Lecia V. Sequist, MD, MPH, director of the CIECD, has been investigating CTCs for improving early lung cancer diagnosis. She is also studying circulating tumor DNA, which reflects genetic changes that go along with cancer.
"We think CTCs may help us tell the difference between a cancer that is not invading the blood system of the lungs and a cancer that is," Dr. Sequist comments. CTCs and circulating tumor DNA provide different information that together with imaging could improve the accuracy of early diagnosis and inform the best course of treatment.
"I can't say enough good things about Mass General and the Pulmonary Nodule Clinic. They saved my life."
Dr. Sequist and her research team are also about to launch a study looking at compounds in exhaled breath for early signs of lung cancer. The idea is that by doing a sophisticated protein-based analysis of breath compounds, they can identify patients with traces of a small cancer before it grows.
"We're optimistic about the future because these new types of tests have reached a whole new level lately," Dr. Sequist says. "They are ripe for expanding the menu of what we can offer patients for cancer screening."
The Fortunate 70 Percent
Dr. Lennes estimates that about 70 percent of patients followed in the Pulmonary Nodule Clinic have nodules that do not grow and are not cancerous.
Those patients include Jim Linskey, age 60, who was a two-pack-a-day cigarette smoker for more than 40 years, until he quit 5 years ago. Because of his age and smoking history, he was referred by his primary care physician to Dr. Lennes for a lung cancer screening.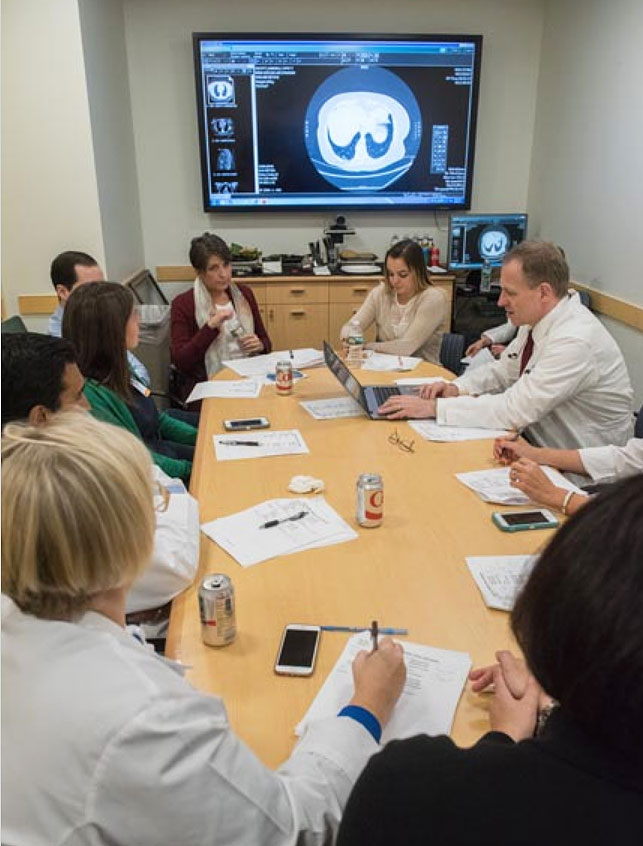 It turned out he too had a noncancerous nodule, but didn't need a biopsy. "It was great because I didn't have to wait weeks or months bouncing around between appointments with different specialists before they decided what to do for me," he says. He's been having CT scans every three months the past year and none have grown.
But for those who are not as fortunate, "knowledge is power," says Ellen Sullivan, whose nodule was cancerous.
Persuaded of the urgency, she had it removed on Dec. 29, 2016. And as her thoracic surgeon, Henning Gaissert, MD, promised her, "I was on the plane and headed to Florida by Jan. 24," Ms. Sullivan says.
A Lot to Live For
Though she has another nodule that doctors will continue to monitor, she is currently cancer-free. "I didn't even need chemo or radiation," she adds.
Ms. Sullivan is very grateful the screening found her cancer early. Her husband was diagnosed with lung cancer in 1980 but it had already spread. He lived another 19 years only because of pioneering surgery at Mass General by the late Hermes Grillo, MD.
"Mass General has played a big part in our lives," she says. "I can't say enough good things about Mass General and the Pulmonary Nodule Clinic. They saved my life."
With three children, four grandchildren and many friends, "I have a lot to live for," she adds.
To learn more about how you can support the Mass General Cancer Center's Pulmonary Nodule Clinic, please contact us.