Meghan Connors is running the 2016 Boston Marathon for MassGeneral Hospital for Children's (MGHfC) pediatric cancer team because she knows exactly what it's like to be one of the young cancer patients who benefit from the team's fundraising efforts.
As a 3-year-old, Meghan was treated at Mass General for neuroblastoma, a childhood cancer that develops when immature nerve cells in a gland in the abdomen become cancerous. After two surgeries – both at Mass General – she's been cancer-free ever since.
"I want to help other children get the lifesaving care that I received," says Meghan, who will turn 31 on April 17, the day before the Boston Marathon.
This will be her second year running for the Pediatric Hematology and Oncology team.
Feeling Fortunate
Last year, she ran for a patient-partner, a teenage boy with lymphoma. That kept her centered amid the frustrations of training through last winter's snow and ice. "I may have aches, pains and mental blocks, but I know I can get through them," says Meghan, who feels lucky that her cancer was caught early as a result of a routine exam by her pediatrician.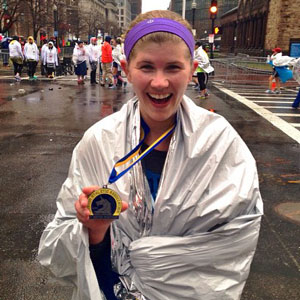 A portion of the funds raised by the pediatric cancer team support the MGHfC Child-Life Program. Along with therapeutic play, the program offers music and art therapy, massage and acupuncture. The program aims to help cancer patients and their families cope emotionally and developmentally with their illnesses.
That is a goal that resonates with Meghan as she raises funds to support such programs. "One of my first memories in life is being in the hospital at Mass General and playing with shaving cream and food coloring," she recalls.
Wants Other Kids to Benefit
She wants to make sure other kids benefit from such programs and from research that will lead to more cures like hers.
Perhaps as a result of her experience with cancer, Meghan has never been afraid to take risks or make changes in her life. "I feel like it helps to know you've gone through obstacles before and overcame them," she says.
A year after graduating from Bentley University with a degree in business management, she moved to Utah for a change of scenery and to ski. She later returned to the Boston area to attend culinary school. Now back to her business interests, she is in charge of quality content at Trip Advisor, and lives in Somerville, Massachusetts.

Meghan did volunteer work at Mass General while in college, but always wanted to do more for the hospital. Running the Boston Marathon with the pediatric cancer team is a satisfying way to achieve that. "I love training with the team," she says. "It makes a huge difference to do it for something bigger than just for myself."
Boston Marathon Raises Millions
Since 1998, John Hancock has provided Mass General's Marathon Program with the bib numbers necessary to run the race. This has enabled the hospital to raise a total of more than $11 million to support research and child life activities for children with cancer and, for the past two years, nearly $700,000 for the hospital's emergency preparedness and disaster training.
In addition to the pediatric and first-response teams, 32 individuals who obtained their own bib numbers for the Boston Marathon will run and fundraise for the Miles for Mass General program. It raises funds for hospital programs that are close to their hearts – including cystic fibrosis, pediatric palliative care, Caring for a Cure, the Mass General Cancer Center, the Lurie Center for Autism, and Huntington's disease research at the MassGeneral Institute for Neurodegenerative Disease.
Please support Meghan and the other dedicated runners raising funds for the pediatric cancer team.