Created and supported by the Massachusetts General Hospital Cancer Center, the one hundred is an awareness and fundraising initiative that celebrates hope in the cancer community. Each year, we honor 100 Everyday Amazing individuals and groups — caregivers, researchers, philanthropists, advocates and volunteers from around the globe — whose commitment to the fight against cancer inspires us all to take action. This story highlights the contributions of one of the 2016 honorees.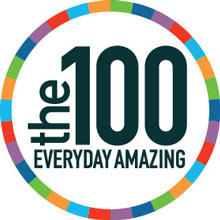 An attentive listener with a gentle touch, oncology social worker Natasha Johnson, MSW, LICSW, takes special care to understand each patient, tailoring suggestions to reflect his or her needs.
Natasha meets with patients individually and runs the Lung and Esophageal Cancer Support Group at the Mass General Cancer Center. She guides patients and helps them cope with the demands of diagnosis, treatment and recovery. Natasha's quiet manner and ready smile encourage dialogue and foster an atmosphere of trust.
Standing by Cancer Patient's Side
One patient, James Petri, a lung cancer survivor, had been unable to work because of his disease. At her suggestion, he joined the hospital's Patient and Family Advocacy Council (PFAC) and has become a very active member.
"Natasha has stood by my side through all the storms of lung cancer."
"Natasha figured out what makes me tick. I have been unemployed and needed something to do. She recommended I get involved with the PFAC. This has transformed me—one of the many suggestions she has made that have been positive steps for me."
James also credits Natasha for helping him learn to live with cancer.
"Natasha has stood by my side through all the storms of lung cancer," he says. "She listens with a keen ear; she speaks with a soft, but clear and guided tongue. When additional direction is needed, she recommends resources for me to explore. As a result, I have become a better person and started to learn how to live with lung cancer as a chronic disease. My family is much happier."
To help advance discoveries and change how we fight cancer, please donate to the one hundred.