Latoya Reddick listened as a toddler's cry rippled through the waiting room at Massachusetts General Hospital Bridge Clinic. Her own 3-year-old daughter was temporarily in state custody. But Latoya, a woman recovering from heroin addiction, was soon to be reunited with her child with the help of the new Bridge Clinic.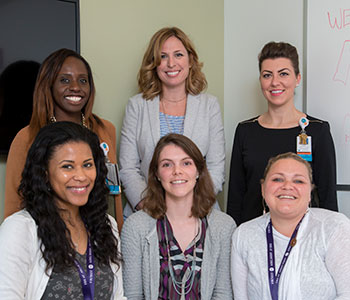 "The Bridge Clinic helped me with everything," says Latoya, a 35-year-old U.S. Army veteran from Cambridge, Mass., who was admitted to Mass General with a severe infected abscess caused by intravenous heroin use.
In March, the Bridge Clinic began working with Latoya in collaboration with the hospital's Addiction Consult Team (ACT) during her hospital stay. As she left the hospital, they helped her determine the types of programs and medications she would need to stay in recovery. They located a residential program where her daughter could live with her with approval from the Massachusetts Department of Children and Families which held the child in temporary custody.
"The Bridge Clinic is an immediate connection between a patient's hospital stay and their reentry into the community," Medical Director Laura Kehoe, MD, MPH, says. "We try to really work with people to understand where they are in terms of their readiness to engage in recovery from addiction and what kind of care they think they need in the community."
The Bridge Clinic accepts patients from Mass General's inpatient units, the Emergency Department, the Psychiatry Department and from its community health centers, who have been identified as having substance use disorders by physicians. Patients usually come to the Bridge Clinic for about three to six months as they transition into the community.
Answering a Cry for Help
As part of Mass General's Substance Use Disorders Initiative, the Bridge Clinic is an answer to a cry for help from communities in the Boston area. In 2012, Mass General conducted a community survey asking what people saw as the biggest health problems. Substance use was named number one in all communities surveyed.
In response, Mass General launched an initiative, funded at $2 million per year, to develop a new model of care in which people with substance use disorders are identified, treated and carefully transitioned into community programs to help them maintain their recovery from addiction over the long term.
Psychologist Martha Kane, PhD, the initiative's clinical director, says the Bridge Clinic is filling a large gap for patients with substance use disorders. Patients leaving the hospital after detoxification or other treatment need immediate entry into a recovery program and access to medications to help them stay in recovery. But often, it can be days or weeks before patients can get access to such a program.
It is a time of great danger of relapse. That's when the Bridge Clinic plays a crucial role.
Bright and Busy Bridge Clinic
Fresh carpet, paint and cheerful paintings brighten the atmosphere in the Bridge Clinic high above Boston in Mass General's Founder's Building. On one recent day, the waiting room is busy with young patients, their children and the bustle of staff.
"The Bridge Clinic is remarkably different because it is truly a walk-in clinic," says Dr. Kane, who also co-founded the Psychiatry Department's Addiction Recovery Management Service.
The lives of patients with addictions can be chaotic because of homelessness, poverty, or mental health issues. Just getting to an appointment can be challenging. That's why the clinic welcomes patients who are late for appointments or who just walk in, no matter what stage of recovery they are in.
On a recent day, Latoya had a 10:00 a.m. appointment at the clinic. At 10:15 a.m., Patient Service Coordinator Jasmine Webb began calling her. Latoya was on her way. By 10:30 a.m., another call determined that she was on the subway. By 11:00 a.m. she was in the hospital but still not at the clinic. Leaving her desk, Ms. Webb went in search of Latoya in the hospital. At 11:20 a.m., Latoya arrived in a bright pink top, neatly arranged hair and a shy smile. Staffers welcomed her, offered her coffee and chatted while she waited to be seen.
"For someone like Latoya, the Bridge Clinic helps with her transition out of the hospital," Dr. Kehoe says. "By meeting her where she is in terms of her understanding of her disorder, acknowledging her competing life priorities, and knowing that acceptance of care can take time, we work with her to help her move along toward recovery."
A Future with Promise
Latoya receives her medical care from Dr. Kehoe, including medication to treat her heroin addiction. Psychiatric Nurse Practitioner Hasena Omanovic, NP, works with Latoya to gauge what kind of treatment she needs outside the hospital.
Recovery Coach Nicole Bourgeois, 10 years into her own recovery, helped Latoya sort out her insurance coverage and locate a residential program. Clinical Pharmacist Jessica Moreno, PharmD, facilitates patient support and education groups with Ms. Bourgeois. Resource Specialist Sophia Volcy works with Latoya and the other patients at the clinic to connect them with ongoing services once they transition out of the Bridge Clinic.
So far, the clinic has built a case load of more than 125 patients. The clinic accepts patients with any kind of substance use disorder.
With the clinic's help, Latoya is now attending Mass General's West End Clinic for ongoing addiction treatment and counseling. Her daughter has rejoined her to live at the Phoenix House for Families in Boston.
What keeps Latoya coming back to the Bridge Clinic?
"People here are not just looking at you like you're a heroin addict," she says. "They know it is a sickness. It is a struggle." For her daughter's sake, and for her own, she is working to stay drug-free.
To learn more about how you can support Mass General's Substance Use Disorder Initiative, please contact us.